About Us
No cutting corners for Street
Lincoln Farms poised to get even more powerful
Visit Lincoln Farms down the tree-lined drive at Pukekohe and it's odds-on you'll see a lone figure on a ride-on mower manicuring one of the 61 paddocks.
It takes plenty of staff to run this 60 acre property and train the 30 standardbreds on it, but this isn't one of them, it's owner John Street himself, doing what he loves best.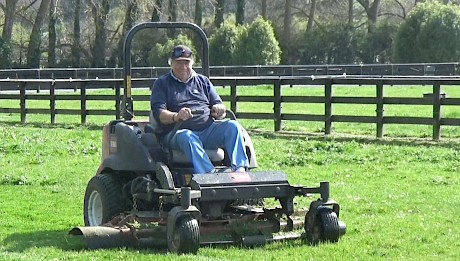 John Street doing what he loves best at Lincoln Farms.Street makes the 40 minute drive from his Half Moon Bay home most days of the week to maintain the property which adjoins the local training track, helped by brother Kevin and odd jobs man Les Purdon, brother of former iconic trainer Roy Purdon.
Lincoln Farms moved here lock stock and barrel in 2014, leaving behind its showplace 40 acre Kumeu property, developers softening the blow with a $12 million cheque.
It took Street $500,000 to bring the former National Bloodstock property up to standard and a few million more to add on some neighbouring land. But in a sweet twist, he's since doubled the $9 million all-up price tag by selling to Asian developers with the caveat he can continue to lease it for the next eight years.
"That'll just about see me out,'' says Street, 73. "I don't know how long I'll be around but I'm going to enjoy it while I can.''
Anyone who knows Street won't be surprised to hear, however, that he's going to be far from idle. He has big plans to pour millions more into the harness industry in the next two to three years, bolstering his pacing band from 30 to 45 and taking in dozens more people in his unique partnerships scheme.
Buoyed by the Auckland Trotting Club's building development at Alexandra Park which will underpin massive stake rises in the future, and the vibrant market for selling pacers who have reached their mark here, Street is going all out.
"If you're going to do it, there's no point in doing it half cocked,'' says Street, a motto which he has lived by since he and his wife Lynne raced their first horse in 1985.
Street only dabbled in racing to start with while he developed his Pak 'N' Save supermarket in Lincoln Road into the biggest of its kind where he fostered staff like family.
Street recalls paying for life-saving operations for a couple of his workers and helping other families in trouble - "I think in life you help people when you can.''
But when he had some spare money he began to develop Lincoln Farms into a real force, owning hundreds of winners and in 2004-05 he was awarded harness racing's mantle of owner of the year.
And now that he can afford it, Street is continuing to help others, bringing the joy of racing horses to an entire new audience.
In Street's partnership scheme, he makes ownership affordable by fixing costs, and he reduces the risks by not putting people into a horse until he knows it is good enough to win a race.
With it comes a money back guarantee, or the option of taking a share in another horse if it fails or is sold.
Sharing the joy … hugs all round with a big team of ecstatic owners after Northview Hustler's Spring Cup winNow, when Lincoln Farms' green silks flash across the line first at the trots, there are a throng of often newbie owners there to cheer them home.
"When we win a race I'm more excited for them than myself,'' says Street.
"A lot of people who could never afford to race a horse before are having a ball.''
Street has lost count of the number of winners he has had himself but reckons it is around 750.
"We used to get a framed photo of each win but we gave that up when we ran out of room on the walls.''
Today every room at the Pukekohe stable is lined with photos, with lots more stored away in boxes.
Harness Racing New Zealand statistics credit Street with 405 winners, and along with 25 more Australian harness wins and at least 315 gallops winners, our count establishes 745 at least.
Street has no particular leaning to either code. While Fort Lincoln won him the $1 million Karaka Million at Ellerslie, nine of his 11 Group I winners have come with standardbreds. And the best of all, says Street, was Sir Lincoln's win in the Auckland Trotting Cup.
Exciting times ahead with Latta gallopers
John Street, right, Lisa Latta and business manager Ian Middleton get the lowdown after a winBut Street is excited about what his gallopers, in particular, might achieve in the next few seasons with Awapuni trainer Lisa Latta.
"We have a lot of nice gallopers at the moment - seven Savabeels among them. I invested in a lot of good horses in the last couple of years and while they've taken time, they're now showing their promise.
"We're not money hungry, I told Lisa we would be patient and wait until they matured and are ready.''
Street and his partners have already turned down $1 million for impressive three-year-old Lincoln Falls and Princess Amelie is also making a case for fillies' honours this season.
"It costs a million a year to run this - the wages bill at Pukekohe is $10,000 a week - but so long as we're not losing too much money I'm more than happy.''
That's where Street's business manager Ian Middleton comes in, reigning in the bottom line to ensure everything keeps ticking over.
Middleton would like to see more of their gallopers racing in Singapore where the returns to owners are among the best in the world.
Lincoln Farms has 14 horses in training in Singapore, with the recent retirements of their best performer Lincoln Road, who bled, and Lincoln Fame.
"We've won a million dollars up there,'' says Street.
But who's counting. Certainly not the man who in 2002 paid $75,000 for a round of golf alongside Tiger Woods at a Paraparaumu pro-am tournament.
Street has been hitting eagles ever since.
Our latest winners
Congratulations to
Debbie Green for My Copy's win at Auckland.

Dave and Dawn Kennedy, John and Lynne Street and Merv and Meg Butterworth for Beaudiene Rocknroll's win at Cambridge.

John and Lynne Street, Gareth Paddison, the Green Machine Racing Syndicate, Grant Dickey, Peter Dougherty and Ian Middleton for Captain Nemo's eighth win in Queensland.

Ian Middleton, Ian Harris and Paul Humphries for Obadiah Dragon's win at Manawatu.

John and Lynne Street, the Yellow Barn Syndicate, David Turner, Phil Kelly, David Hooker, Barbara O'Mara, Dave Jones and Lin and Tina Guo for Lincoln River's win at Auckland.

John and Lynne Street for Frankie Major's win at Auckland.

Debbie Green for My Copy's win at Auckland.

John and Lynne Street, David Turner, Barry and Marie Jones and Friday Frenzy Racing for Argyle's win at Albion Park.

John and Lynne Street for Frankie Major's win at Cambridge.

Trevor Casey, John and Lynne Street, Excell Syndicate, Lance Myocevich, Red and Blue Syndicate, Margaret Rabbitt and the Four Legs Syndicate for Major Achievement's win at Cambridge.
Our runners this week
Tuesday night at Albion Park
Tommy Lincoln, Captain Nemo.
Thursday night at Cambridge
Beaudiene Rocknroll, Major Achievement, Obadiah Dragon (Scratched).
Friday night at Auckland
Leo Lincoln, My Copy, Onyx Shard, Lincoln River, Simply Sam.
Saturday at Trentham
Platinum Invador, Lincoln's Kruz, Lincoln Falls, Platinum Assault.
Saturday night at Albion Park
Tommy Lincoln, Argyle.