Our People
Ray Green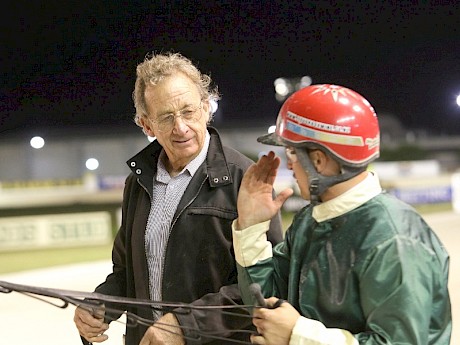 Green's been there, done that, but now he's staying put churning out the winners
Johnny Cash could well have been referring to Ray Green when he sang "I've been everywhere, man".
From the day Lincoln Farms' main man set off in 1977 on a boat to Prestatyn in North Wales, looking after 10 horses en route through the Panama Canal, he's experienced all kinds of harness racing.
During six years training and driving there, when he escaped the harsh winters moving to places like Pompano Park in Florida or in Italy, Green picked up all manner of skills.
And while he returned to New Zealand for a stint working for Ron Hanford in Mangere, and even went fruit picking in Australia, he ended up back in Britain training and driving for a wealthy owner.
Five years later he was on the move again, this time to Maryland in the United States to train and drive for three years.
Green and his wife Deborah eventually returned home, young toddler in tow, to find the industry booming amid a bullish sharemarket.
Green continued pottering round with horses and when Ray Norton retired in 2004 he landed the job as co-trainer for Lincoln Farms, along with Robert Mitchell.
In five seasons the pair notched 80 winners before Green took over sole responsibility for the team in 2009.
And he has never looked back. Now in his 11th season solo at the helm, Green has 230 more winners to his name, continuing to develop good pacers for John and Lynne Street.
It's a far cry from the future predicted for Green by his first employer in the industry, the late Doug Grantham.
The 16-year-old had been with Grantham for only three months when he was told he'd never be any good at it and he should try something else "like sheep farming.''
Green, unperturbed, set about ringing trainers in the north and one of the first he called was the maestro Peter Wolfenden.
"I told him I'd been sacked and when he heard I'd lasted as long as three months with Grantham he said I'd better come and see him.
"I was with Wolfie for five years and even got to drive Cardy a few times.''
Cardigan Bay had only just returned from Perth, where his Interdominion trip ended in disaster after a training mishap, and Green says it wasn't known if he'd ever race again.
Green has trained some special horses in the interim and while has yet to find that out and out champion, he says at Lincoln Farms he has every chance to do so.
"Training is easy now but the key is you're only as good as your stock and your help.
"We have a good bunch here at the moment - I've got four drivers helping, Zachary Butcher, Andre Poutama, Craig Sharpe and our junior Andrew Drake.
"My wife comes in in the afternoons and does all the massaging and treats all their lumps and bumps and we have Phil Satler, Leigh Argue and Crystal Delaney doing the stalls and sweeping.''
Add to that the vital farm and paddock maintenance carried out by Street, on his tractor, and his brother Kevin, and the odd jobs done by "gopher" Les Purdon and you have a solid unit.
Green says while he learned a lot overseas, much of it can't be implemented here with different medication rules and styles of racing.
"Young horses is where it is at for us now, it's all about two-year-olds and three-year-olds.''
Bread and butter horses don't get to enjoy the facilities at the Pukekohe barn for long, Street replacing them every year with another bunch of well bred yearlings in his hunt for the best.
Even horses like the well performed four-race winner Lincoln Road are given their marching orders.
"It's got a lot harder for him now with the open class horses all over him. He'll pick up the crumbs at best and there's no future in that.''
His globe-trotting days might be over but Green, 72, is showing no sings of slowing down.
"I've been blessed with good health, I'm 72 going on 40, so I think I have a few good years left in me yet.''
Craig Sharpe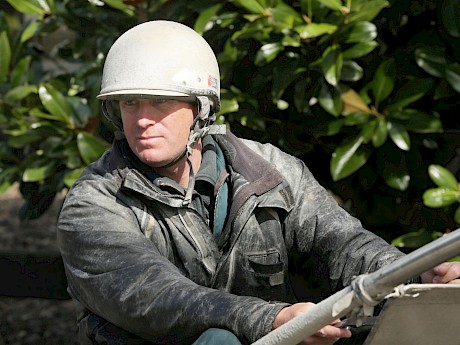 Lincoln Farms' foreman Craig Sharpe cut his teeth in the training ranks when in partnership with fellow Pukekohe horseman Todd MacFarlane, winning 80 races in eight seasons.
Among the highlights of his time were a Group I win in the 2012 Harness Jewels with Cyclone U Bolt and a Group III win in the 2013 Gold Coast Oaks with Splendour.
Sharpe, who has been with Lincoln Farms for three and a half years, notched three winners in the cart earlier in his career and scored another win in the amateur ranks in May.
But he his more proud of his training achievements and apart from being an integral cog in the Lincoln Farms' wheel, he potters round training the odd horse himself.
Sharpe took over veteran trotter Rarangi Jewel when he saw the horse advertised for sale - "I thought he would give me something to do in my lunch hour.''
Rarangi Jewel credited Sharpe with his maiden win when scoring at Cambridge in September, 2016 and he has gone on to claim five more winners with Rarangi Jewel twice more, Vanhalem (2) and Prime Lustre.
Zachary Butcher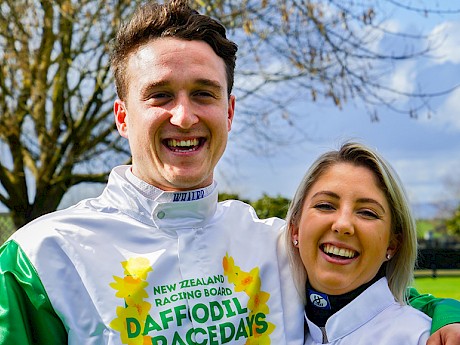 Lincoln Farms pulled a masterstroke in April when it lured Zachary Butcher from the leading stable of Barry Purdon.
Few young reinsmen have made such a fast impact as Butcher, 26, who in just 10 full seasons in silks has already notched 634 wins from 4622 drives, earning more than $7.5 million in stakes for connections.
Butcher hogged all the headlines in 2012, his fifth and last season as a junior driver, winning 114 races to finish second only to champion driver Dexter Dunn.
And who could forget his triumphant celebration in the final race of that season at Alexandra Park when he stood high on the sulky shafts after getting Jonny Wilkinson home to pip his dad David by one win.
But it didn't take Butcher long to eclipse his 322 wins as a junior after he teamed with Purdon, driving a succession of big race winners, not the least the second and third Harness Jewels wins bagged by Sky Major.
Head-hunting Butcher made perfect sense for Lincoln Farms as the young gun had already driven 35 winners for the stable in the previous three seasons.
Leading driver at Alexandra Park last season with 42 wins, when he relegated dad to second (34 wins), Butcher's skill in the cart is a real asset for Lincoln Farms.
Andre Poutama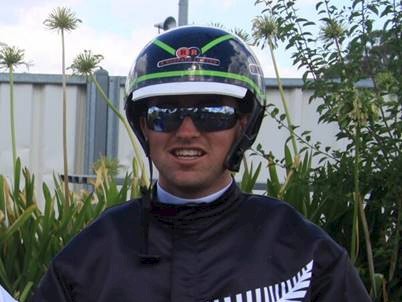 It was the best decision Andre Poutama made in his life when he packed up the family and moved north from Palmerston North early in 2016.
Along with wife Amy and young children Penny and Finlay, Poutama, 26, could see the only real future he had in harness racing was to get closer to the action.
Poutama's talent in the sulky was plain for all to see when he drove as a junior for Stephen Doody, claiming his debut win in 2011.
Poutama climaxed his fledgling career with a win in the Australasian Junior Drivers' Championship at Menangle in Sydney in 2014.
Under the wing of Lincoln Farms' trainer Ray Green Poutama knuckled down to his new job and in his first season as an open driver exceeded his target, reining home 33 winners.
Poutama now boasts a driving record of 167 wins from 1699 drives, his greatest achievement a Group I win behind Jo's Dream when the mare dead-heated with Partyon in a thrilling finish to the $100,000 Queen Of Hearts at Auckland in December, 2017.
Poutama recently added another string to his bow, taking out a trainer's licence, and scored his first win with Beg For Chevron at Auckland in August.
Andrew Drake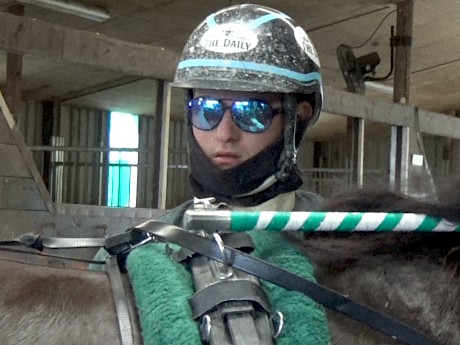 Andrew Drake really landed on his feet when he found himself out of work in August, 2016.
Drake, 22, had only just resigned from his job with Cambridge trainer Todd Mitchell when his big OE to Scandinavia fell through.
But luckily for the junior driver, Lincoln Farms' trainer Ray Green heard of his plight and took him on at the leading Pukekohe barn.
Green was on the lookout for another junior with the stable's own Andre Poutama just having come out of his time.
Drake, Palmerston North born and educated, started in harness racing with Stephen Doody, then partner of his mum Tracey.
And while it took him 47 drives to notch his first winner - Eyre Hostess at Manawatu in February, 2105 - he never lost his enthusiasm.
A nine month stint in Perth proved frustrating for Drake, who had few opportunities, so he returned to Doody before moving north to work for Mitchell in January, 2016.
Drake has now racked up 13 wins from 292 drives.
Our runners this week:
How our trainer rates them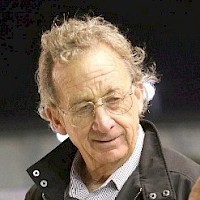 Ray's tips
Thursday night at Cambridge
Race 5: Vinibaka
"He had a beautiful trip last week at Auckland and either wasn't ready for it or wasn't good enough. We'll see how he goes this time but I'm not holding my breath. He's better off going forward. He's done his best work at the trials on the front end.''
Race 7: Lincoln's Girl
"She hasn't raced for five months but Zac was very happy with her at the workouts last Saturday and she can give them a fright. She's got some speed, but I'd just like to see her beat something of note before I start labelling her as anything special.''
Lincoln light
News in brief
TIGER ROARS: Tiger Tara cemented a trip to Christchurch for the New Zealand Trotting Cup with a dominant display to win Saturday night's Victoria Cup at Melton. Driven to the front by Todd McCarthy, Tiger Tara scored by 12 metres over Chicago Bull, who was forced to breeze most of the way, in a 1:53.4 mile rate for the 2240 metre mobile. Tiger Tara has run third in the New Zealand Cup for the last two years behind Lazarus.
IN THE SWING: Former Lincoln Farms pacer In The Swing continued his march through the grades in Perth when he scored at Gloucester Park last Friday night. The Rocknroll Hanover colt has now had 11 starts in Western Australia for nine wins and two seconds.
STAYING PUT: Smart three-year-olds Make Way and Trojan Banner won't be going south with stablemate Beaudiene Western on Tuesday, trainer Ray Green opting to concentrate on the fourth Sires' Stakes heat at Auckland on October 26 then keep them fresh for the Sales Series Final on New Year's Eve.
SPRING IN STEP: Spring Campaign is proving a good buy for his Australian connections. Since being sold by Lincoln Farms he has won four races at Albion Park in Brisbane.
BLUE GLORY GONE: Lincoln Farms has sold Blue Glory to Queensland in a package deal with Lincoln Road. The American Ideal filly raced only twice here, winning on debut at Cambridge.