Our Winners
Total
430 wins
$5,844,008
Harness winners by season
2018 – 2019
9 wins
$78,946
| | | |
| --- | --- | --- |
| Northview Hustler | September 28 | Auckland |
| Make Way | September 21 | Auckland |
| Rupert Of Lincoln | August 30 | Cambridge |
| Vasari | August 23 | Shepparton |
| (Let's) Strike The Gold | August 17 | Melton |
| Blue Glory | August 16 | Cambridge |
| Lincoln Road | August 16 | Cambridge |
| Rupert Of Lincoln | August 16 | Cambridge |
| Vasari | August 4 | Melton |
2017 – 2018
41 wins
$703,080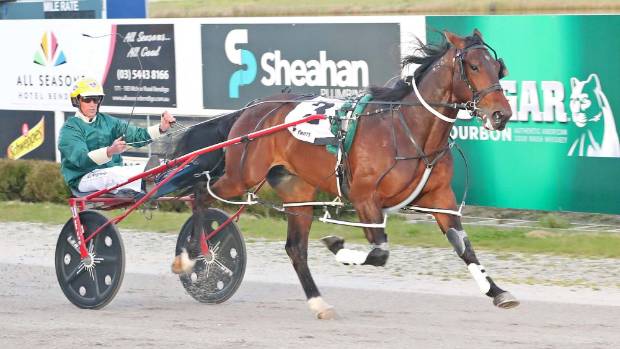 | | | |
| --- | --- | --- |
| Vasari | July 30 | Melton |
| Lincoln Road | July 1 | Cambridge |
| Royal Lincoln | June 29 | Cambridge |
| Lincoln's Girl | June 1 | Auckland |
| Lincoln's Girl | May 25 | Auckland |
| Besotted | May 17 | Gloucester Park |
| Spring Campaign | May 17 | Cambridge |
| Trojan Banner | May 17 | Cambridge |
| Beaudiene Western | May 11 | Auckland |
| Make Way | May 11 | Auckland |
| Trojan Banner | May 4 | Auckland |
| Besotted | April 20 | Gloucester Park |
| (Let's) Strike The Gold | April 13 | Melton |
| (Let's) Strike The Gold | April 7 | Melton |
| Lincoln Road | April 6 | Auckland |
| Annaliese Lincoln | March 31 | Hawera |
| (Let's) Strike The Gold | March 28 | Kilmore |
| Vasari | March 2 | Melton |
| (Let's) Strike The Gold | February 21 | Bendigo |
| Vasari | February 18 | Yarra Valley |
| Yasmine Bromac | February 16 | Auckland |
| Beaudiene Western | February 9 | Auckland |
| Lincoln Road | February 9 | Auckland |
| Northview Hustler | February 9 | Auckland |
| Vasari | January 26 | Stawell |
| Yankee Lincoln | December 24 | Cambridge |
| Linc's Grace | December 6 | Cambridge |
| Lisa Lincoln | November 3 | Auckland |
| Northview Hustler | October 27 | Auckland |
| Onedin Amethyst | October 13 | Auckland |
| King Of Swing | October 5 | Cambridge |
| Alta Shangri La | September 29 | Auckland |
| Recco Lover | September 22 | Auckland |
| Naya | September 7 | Cambridge |
| King Of Swing | August 27 | Melton |
| Recco Lover | August 25 | Auckland |
| Royal Lincoln | August 25 | Auckland |
| King Of Swing | August 19 | Bendigo |
| Linc's Tiger | August 17 | Cambridge |
| Rocknroll Lincoln | August 17 | Cambridge |
| King Of Swing | August 3 | Cambridge |
2016 – 2017
42 wins
$479,347
| | | |
| --- | --- | --- |
| Northview Hustler | July 28 | Auckland |
| Spring Campaign | July 21 | Auckland |
| Alta Intrigue | July 21 | Auckland |
| King Of Swing | July 21 | Auckland |
| Rocknroll Lincoln | July 16 | Cambridge |
| Alta Shangri La | July 14 | Auckland |
| Royal Lincoln | July 14 | Auckland |
| Vasari | July 7 | Auckland |
| Northview Hustler | June 30 | Auckland |
| Lincolns Delight | June 23 | Auckland |
| (Let's) Strike The Gold | June 12 | Fairfield |
| King Of Swing | June 9 | Auckland |
| Best Shot | June 8 | Cambridge |
| Royal Lincoln | June 2 | Auckland |
| King Of Swing | May 26 | Auckland |
| Sky Diamond | May 18 | Cambridge |
| Northview Hustler | April 21 | Auckland |
| (Shesa) Killer Queen | April 18 | Menangle |
| Onedin Amethyst | April 13 | Cambridge |
| King Of Rock | April 7 | Auckland |
| Sky Diamond | March 31 | Manawatu |
| Northview Hustler | February 24 | Auckland |
| (Let's) Strike The Gold | February 21 | Menangle |
| (Shesa) Killer Queen | February 14 | Menangle |
| Alta Intrigue | February 10 | Auckland |
| Rocknroll Lincoln | January 13 | Cambridge |
| Rocknroll Lincoln | December 30 | Cambridge |
| (Let's) Strike The Gold | December 23 | Penrith |
| Northview Hustler | December 22 | Auckland |
| (Let's) Strike The Gold | December 13 | Menangle |
| Strike The Gold | December 2 | Auckland |
| Strike The Gold | November 4 | Auckland |
| Vasari | October 28 | Auckland |
| Lincolns Keepsake | October 11 | Manawatu |
| Killer Queen | October 7 | Auckland |
| Spring Campaign | September 16 | Auckland |
| Thephantomtollbooth | August 18 | Cambridge |
| Spring Campaign | August 12 | Auckland |
| Killer Queen | August 12 | Auckland |
| Zach Maguire | August 12 | Auckland |
| Lincolns Keepsake | August 4 | Cambridge |
| Thephantomtollbooth | August 4 | Cambridge |
2015 – 2016
28 wins
$397,799
| | | |
| --- | --- | --- |
| Zach Maguire | July 29 | Auckland |
| Zach Maguire | July 10 | Cambridge |
| Reins Des Gitans | July 1 | Auckland |
| Perfect Storm | July 1 | Auckland |
| Like A Hurricane | June 3 | Auckland |
| Like A Hurricane | May 6 | Auckland |
| Awesome Dude | May 5 | Cambridge |
| Vasari | April 29 | Addington |
| Reins Des Gitans | April 25 | Cambridge |
| Angus Fogg | April 25 | Cambridge |
| Vasari | March 24 | Cambridge |
| Perfect Storm | February 12 | Auckland |
| Alta Intrigue | December 18 | Auckland |
| Ideal Quest | December 17 | Cambridge |
| Killer Queen | December 11 | Auckland |
| Vasari | December 4 | Auckland |
| Alta Intrigue | November 27 | Auckland |
| Killer Queen | October 30 | Auckland |
| Zach Maguire | October 9 | Auckland |
| Reins Des Gitans | October 9 | Auckland |
| Besotted | October 9 | Auckland |
| Designer Arden | October 8 | Cambridge |
| Ideal Quest | October 8 | Cambridge |
| Beaudiene Beaufighta | October 1 | Auckland |
| Lincolns Keepsake | September 25 | Cambridge |
| Tuapeka Sky | September 18 | Auckland |
| Lincolns Keepsake | September 10 | Cambridge |
| Killer Queen | August 14 | Auckland |
2014 – 2015
13 wins
$204,539
| | | |
| --- | --- | --- |
| Chachingchaching | June 12 | Auckland |
| Zach Maguire | June 5 | Auckland |
| Chachingchaching | May 8 | Auckland |
| Chachingchaching | April 10 | Auckland |
| Killer Queen | April 2 | Cambridge |
| Strike The Gold | March 6 | Auckland |
| Chachingchaching | January 23 | Auckland |
| Starlight Brigade | November 16 | Cambridge |
| Lincolns Megastar | November 14 | Auckland |
| Lincolns Megastar | November 7 | Auckland |
| Strike The Gold | October 17 | Auckland |
| Strike The Gold | October 10 | Auckland |
| Starlight Brigade | September 25 | Cambridge |
2013 – 2014
21 wins
$392,659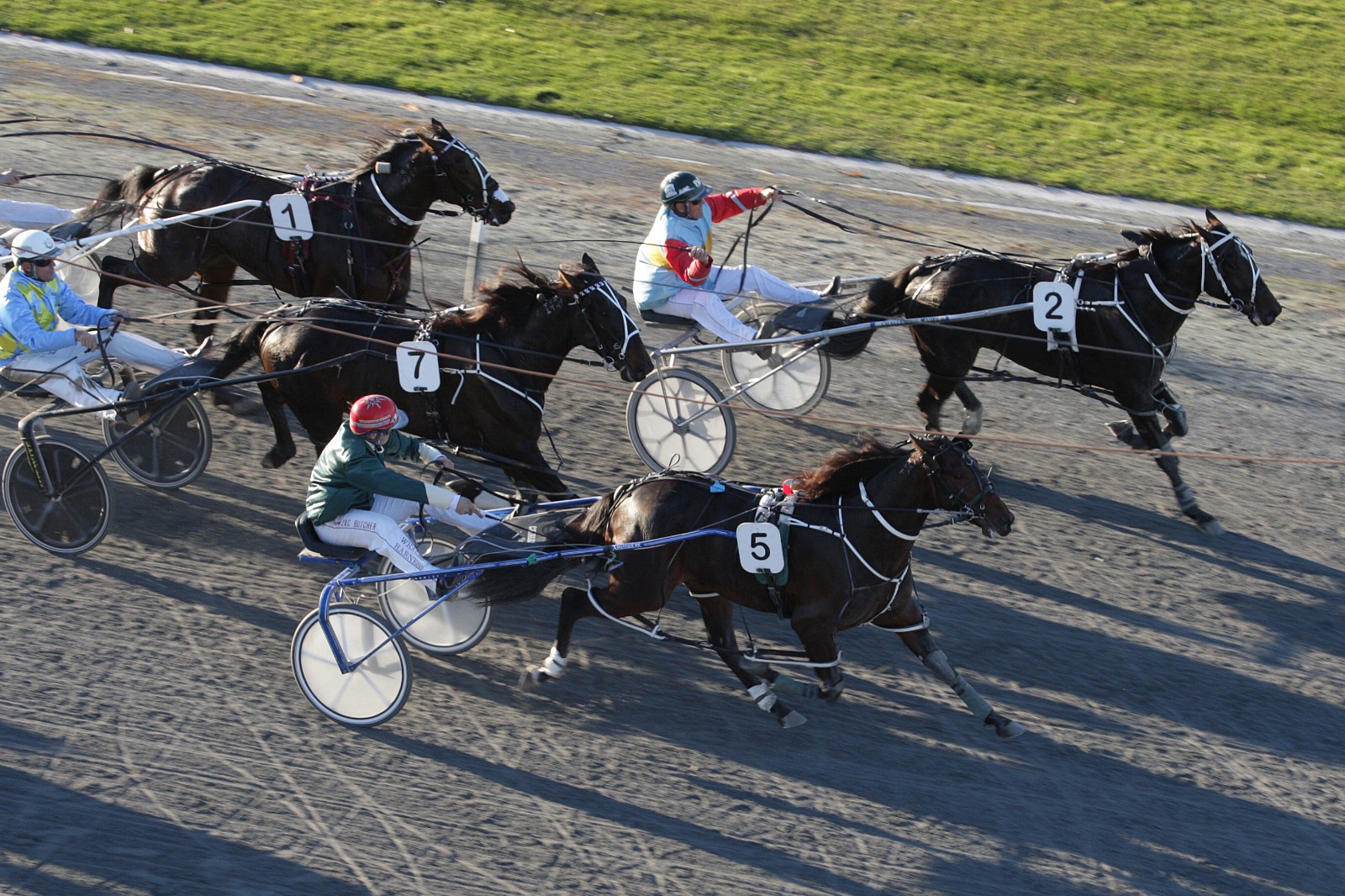 | | | |
| --- | --- | --- |
| Ideal Quest | July 4 | Cambridge |
| Beaudiene Boaz | May 31 | Cambridge |
| Besotted | May 2 | Auckland |
| Beaudiene Boaz | April 25 | Auckland |
| Strike The Gold | April 25 | Auckland |
| Major Ouch | March 30 | Taranaki |
| Chachingchaching | March 20 | Cambridge |
| Major Ouch | March 4 | Pukekohe |
| Chachingchaching | February 28 | Auckland |
| Medley Moose | February 14 | Auckland |
| Beaudiene Boaz | February 14 | Auckland |
| Chachingchaching | December 31 | Auckland |
| Medley Moose | December 20 | Auckland |
| Besotted | November 29 | Auckland |
| Hawkeye Bromac | November 1 | Auckland |
| Medley Moose | October 25 | Auckland |
| Besotted | October 18 | Auckland |
| Besotted | October 11 | Auckland |
| Lincolns Megastar | October 11 | Auckland |
| Lincolns Megastar | September 20 | Auckland |
| Besotted | August 2 | Auckland |
2012 – 2013
15 wins
$137,220
| | | |
| --- | --- | --- |
| | | |
| Besotted | July 26 | Auckland |
| Lincolns Megastar | July 26 | Auckland |
| Imhisdaughter | July 25 | Cambridge |
| Imhisdaughter | July 12 | Auckland |
| Besotted | July 5 | Auckland |
| Lincolns Megastar | June 14 | Auckland |
| Hawkeye Bromac | May 5 | Auckland |
| Nimble Jack | March 21 | Cambridge |
| Nimble Jack | February 8 | Auckland |
| Sir Lincoln | January 25 | Auckland |
| Nimble Jack | January 25 | Auckland |
| Medley Moose | November 30 | Auckland |
| Mexicano | November 2 | Addington |
| Sir Lincoln | September 21 | Auckland |
2011 – 2012
27 wins
$497,072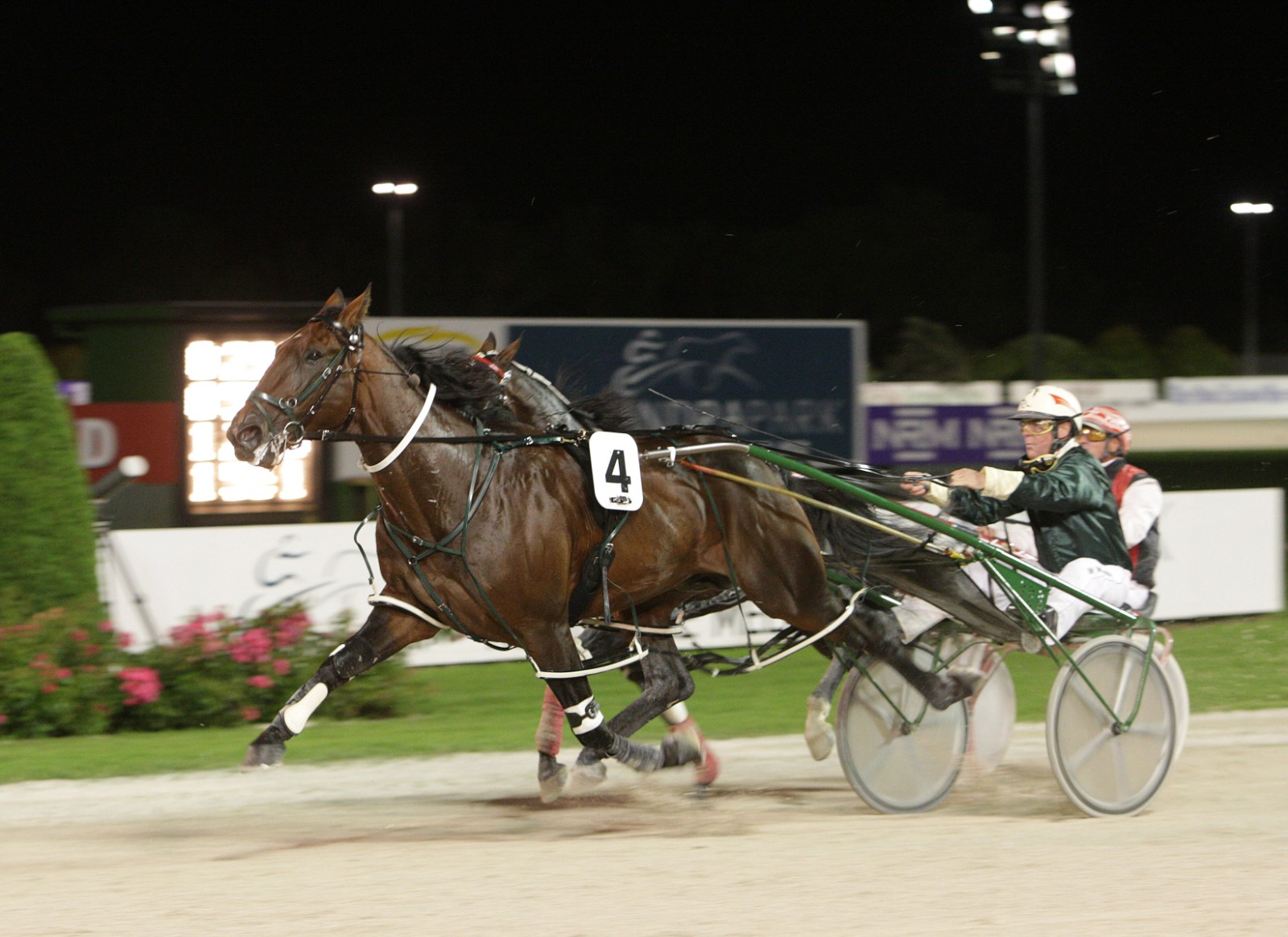 | | | |
| --- | --- | --- |
| Sir Lincoln | June 22 | Auckland |
| Besotted | June 15 | Auckland |
| Besotted | April 27 | Auckland |
| Besotted | April 20 | Auckland |
| Besotted | March 22 | Cambridge |
| Sir Lincoln | March 9 | Auckland |
| Sir Lincoln | March 2 | Auckland |
| You Rock | March 1 | Addington |
| Sir Lincoln | February 11 | Ashburton |
| Bernie Maguire | February 10 | Auckland |
| Sir Lincoln | February 4 | Addington |
| Sir Lincoln | December 31 | Auckland |
| Sir Lincoln | December 9 | Auckland |
| You Rock | December 9 | Auckland |
| Mexicano | December 2 | Auckland |
| You Rock | November 11 | Auckland |
| You Rock | October 28 | Auckland |
| Fusion Power | October 22 | Auckland |
| Bernie Maguire | September 29 | Cambridge |
| Besotted | September 16 | Auckland |
| Major Ouch | September 8 | Auckland |
| Sir Lincoln | September 2 | Auckland |
| Besotted | September 2 | Auckland |
| Major Ouch | August 12 | Auckland |
| Indigo Joe | August 5 | Auckland |
| Major Ouch | August 5 | Auckland |
| Royal Affair | August 5 | Auckland |
2010 – 2011
16 wins
$94,932
| | | |
| --- | --- | --- |
| Indigo Joe | July 29 | Auckland |
| You Rock | July 28 | Cambridge |
| Sir Lincoln | July 15 | Auckland |
| Fusion Power | June 30 | Cambridge |
| Another Gladiator | June 21 | Auckland |
| The Dip | June 21 | Auckland |
| Sir Lincoln | June 10 | Auckland |
| You Rock | June 7 | Cambridge |
| Pay Me Bro | June 7 | Cambridge |
| Rommel | May 27 | Auckland |
| Sir Lincoln | May 13 | Auckland |
| Pay Me Bro | May 12 | Cambridge |
| Besotted | April 7 | Cambridge |
| Clyde Maguire | November 12 | Auckland |
| Major Ouch | October 22 | Auckland |
| Valeo | September 30 | Cambridge |
2009 – 2010
23 wins
$463,159
| | | |
| --- | --- | --- |
| Sir Lincoln | June 29 | Melton |
| Sir Lincoln | June 5 | Cambridge |
| He's My Hero | April 16 | Auckland |
| Bute Pacer | March 19 | Auckland |
| Correct Protocol | March 2 | Auckland |
| Sir Lincoln | January 8 | Cambridge |
| CC Star | January 5 | Ruakaka |
| Badlands Bromac | November 20 | Cambridge |
| Sir Lincoln | November 10 | Addington |
| Sir Lincoln | October 23 | Auckland |
| BK Commando | October 23 | Auckland |
| He's My Hero | October 16 | Auckland |
| Sir Lincoln | October 16 | Auckland |
| Maheer Major | October 1 | Cambridge |
| Bute Pacer | October 1 | Cambridge |
| Badlands Bromac | September 17 | Cambridge |
| Sir Lincoln | September 11 | Auckland |
| Sir Lincoln | September 4 | Auckland |
| Bute Brother | September 4 | Auckland |
| Badlands Bromac | September 4 | Auckland |
| Roll On Red River | August 20 | Cambridge |
| Badlands Bromac | August 7 | Auckland |
| Maheer Major | August 7 | Auckland |
2008 – 2009
17 wins
$239,389
| | | |
| --- | --- | --- |
| Galleons Sunset | June 12 | Auckland |
| CC Star | May 5 | Auckland |
| He's My Hero | May 1 | Auckland |
| He's My Hero | April 24 | Auckland |
| He's My Hero | April 17 | Auckland |
| Galleons Sunset | April 17 | Auckland |
| He's My Hero | April 3 | Auckland |
| Bute Brother | April 3 | Auckland |
| Galleons Sunset | March 20 | Auckland |
| He's My Hero | March 13 | Auckland |
| Galleons Sunset | February 20 | Auckland |
| Maheer Major | January 23 | Auckland |
| Roll On Red River | December 5 | Auckland |
| Tuapeka Tiz | October 31 | Auckland |
| He's My Hero | October 31 | Auckland |
| BK Commando | October 17 | Auckland |
| Watt A Getaway | August 1 | Auckland |
2007 – 2008
23 wins
$545,319
| | | |
| --- | --- | --- |
| Roll On Red River | June 20 | Auckland |
| Watt A Getaway | June 17 | Auckland |
| Roll On Red River | June 6 | Auckland |
| BK Commando | June 6 | Auckland |
| He's My Hero | April 11 | Auckland |
| Justa Tiger | March 14 | Auckland |
| Tuapeka Tiz | March 7 | Auckland |
| Galleons Sunset | March 1 | Moonee Valley |
| Cast Adrift | February 29 | Auckland |
| Cast Adrift | February 15 | Auckland |
| Tuapeka Tiz | February 15 | Auckland |
| Cody Banks | January 25 | Auckland |
| Justa Tiger | January 25 | Auckland |
| Justa Tiger | January 18 | Auckland |
| He's My Hero | January 4 | Cambridge |
| Cast Adrift | December 31 | Auckland |
| Justa Tiger | December 21 | Auckland |
| Galleons Sunset | December 15 | Moonee Valley |
| Cody Banks | December 7 | Auckland |
| Justa Tiger | November 30 | Auckland |
| Justa Tiger | November 16 | Auckland |
| Cody Banks | October 19 | Auckland |
| Justa Tiger | August 3 | Auckland |
2006 – 2007
24 wins
$239,494
| | | |
| --- | --- | --- |
| Justa Tiger | July 20 | Auckland |
| Lively Royce | July 20 | Auckland |
| Galleons Sunset | June 8 | Auckland |
| Christian Spirit | May 18 | Auckland |
| Christian Spirit | May 11 | Auckland |
| Christian Spirit | May 4 | Auckland |
| Cody Banks | April 27 | Auckland |
| Galleons Sunset | April 20 | Auckland |
| Christian Spirit | March 23 | Auckland |
| Cody Banks | March 16 | Auckland |
| Badlands Bute | February 16 | Auckland |
| Christian Spirit | February 16 | Auckland |
| Tuapeka Tiz | February 9 | Auckland |
| Christian Spirit | January 26 | Auckland |
| Tuapeka Tiz | January 19 | Cambridge |
| Elite Lad | January 4 | Ruakaka |
| Justa Tiger | December 31 | Auckland |
| Cast Adrift | December 1 | Auckland |
| What Ever You Like | November 9 | Cambridge |
| Caesars Art | October 20 | Auckland |
| Murillo Bromac | September 29 | Auckland |
| Caesars Art | September 22 | Auckland |
| Badlands Bute | August 18 | Auckland |
| Badlands Bute | August 4 | Auckland |
2005 – 2006
20 wins
$230,669
| | | |
| --- | --- | --- |
| Brooklyn Guy | July 13 | Cambridge |
| Mister M | July 7 | Auckland |
| Galleons Sunset | June 9 | Auckland |
| Brooklyn Guy | May 19 | Auckland |
| Galleons Sunset | May 19 | Auckland |
| Galleons Sunset | April 28 | Auckland |
| Redlands | April 20 | Manawatu |
| Christian Spirit | March 24 | Auckland |
| Galleons Sunset | March 10 | Auckland |
| Reunion | March 7 | Auckland |
| Badabing Badaboom | March 3 | Auckland |
| Cast Adrift | March 3 | Auckland |
| Galleons Sunset | February 17 | Auckland |
| Galleons Sunset | January 20 | Cambridge |
| Christian Spirit | December 2 | Auckland |
| Christian Spirit | November 11 | Auckland |
| Beach Romance | November 4 | Auckland |
| Badabing Badaboom | October 21 | Auckland |
| My Chavo | September 9 | Auckland |
| My Chavo | August 5 | Auckland |
2004 – 2005
29 wins
$464,796
| | | |
| --- | --- | --- |
| Big Al | July 28 | Auckland |
| Badlands Bute | July 22 | Auckland |
| Badlands Bute | June 24 | Gold Coast |
| Live To Reign | June 10 | Auckland |
| No Shortcutz | April 29 | Auckland |
| Jay Bees Blackjack | April 22 | Auckland |
| Badlands Bute | April 15 | Addington |
| Attorney General | April 1 | Addington |
| No Shortcutz | March 31 | Auckland |
| Badlands Bute | March 31 | Auckland |
| Badlands Bute | March 4 | Auckland |
| Monarch Of The Glen | February 4 | Otaki |
| Badabing Badaboom | February 3 | Auckland |
| Badabing Badaboom | January 28 | Auckland |
| Live To Reign | January 7 | Cambridge |
| No Shortcutz | December 31 | Auckland |
| Monarch Of The Glen | December 30 | Cambridge |
| Badlands Bute | December 17 | Auckland |
| Live To Reign | December 10 | Auckland |
| Attorney General | November 26 | Auckland |
| No Shortcutz | November 26 | Auckland |
| Live To Reign | November 18 | Auckland |
| Derek Bromac | November 18 | Auckland |
| Attorney General | November 9 | Addington |
| Pleiades | November 5 | Addington |
| Badlands Bute | October 22 | Auckland |
| Pleiades | September 19 | Timaru |
| Beach Romance | September 2 | Auckland |
| Badlands Bute | September 2 | Auckland |
2003 – 2004
14 wins
$142,504
| | | |
| --- | --- | --- |
| Attorney General | May 21 | Auckland |
| No Shortcutz | April 30 | Auckland |
| Derek Bromac | April 23 | Auckland |
| Derek Bromac | March 18 | Auckland |
| Derek Bromac | March 4 | Cambridge |
| Monarch Of The Glen | February 27 | Wanganui |
| Badlands Bute | February 20 | Cambridge |
| Badlands Bute | February 12 | Auckland |
| Monarch Of The Glen | February 1 | Otaki |
| Derek Bromac | January 29 | Auckland |
| Derek Bromac | December 31 | Auckland |
| Monarch Of The Glen | December 21 | Ruakaka |
| Monarch Of The Glen | November 21 | Taranaki |
| Sempre Veloce | October 31 | Addington |
2002 – 2003
10 wins
$87,168
| | | |
| --- | --- | --- |
| Beach Romance | July 24 | Auckland |
| Beach Romance | July 17 | Auckland |
| Attorney General | June 20 | Auckland |
| Attorney General | June 6 | Auckland |
| Sempre Veloce | March 27 | Auckland |
| Steady Motoring | January 30 | Auckland |
| Falcon Forte | November 29 | Auckland |
| Attorney General | October 11 | Auckland |
| Attorney General | October 3 | Auckland |
| Attorney General | September 6 | Auckland |
2001 – 2002
8 wins
$67,770
| | | |
| --- | --- | --- |
| Jimeoin | January 31 | Auckland |
| Sempre Veloce | November 30 | Auckland |
| Sempre Veloce | November 1 | Auckland |
| Falcon Forte | November 1 | Auckland |
| Versace | October 26 | Auckland |
| Versace | October 5 | Auckland |
| Sempre Veloce | September 21 | Auckland |
| Versace | September 21 | Auckland |
2000 – 2001
11 wins
$69,236
| | | |
| --- | --- | --- |
| Versace | May 3 | Auckland |
| Sempre Veloce | April 12 | Auckland |
| Versace | March 23 | Auckland |
| Sempre Veloce | March 2 | Auckland |
| J D's Atom | January 26 | Auckland |
| Versace | September 22 | Auckland |
| Cool Hand Royce | September 22 | Auckland |
| Grieco | September 8 | Cambridge |
| Versace | August 18 | Auckland |
| Versace | August 10 | Auckland |
| J D's Atom | August 10 | Auckland |
1999 – 2000
12 wins
$87,570
| | | |
| --- | --- | --- |
| Grieco | July 27 | Auckland |
| Tabac | July 7 | Auckland |
| Tabac | May 26 | Auckland |
| Izitagun | May 26 | Auckland |
| Izitagun | May 11 | Auckland |
| Cool Hand Royce | March 31 | Auckland |
| Cool Hand Royce | March 24 | Auckland |
| J D's Atom | March 3 | Auckland |
| Cool Hand Royce | January 21 | Auckland |
| Pot Black | December 23 | Auckland |
| Tabac | November 26 | Auckland |
| Smooth Latin | November 18 | Auckland |
1998 – 1999
7 wins
$31,527
| | | |
| --- | --- | --- |
| | | |
| Smooth Latin | July 30 | Auckland |
| Smooth Latin | June 18 | Auckland |
| Pot Black | April 9 | Auckland |
| Pot Black | April 1 | Auckland |
| Izitagun | February 6 | Auckland |
| Pot Black | November 7 | Auckland |
1997 – 1998
4 wins
$56,960
| | | |
| --- | --- | --- |
| Brocketsbrae | March 6 | Auckland |
| Brocketsbrae | February 13 | Cambridge |
| Brocketsbrae | January 9 | Auckland |
| Brocketsbrae | August 8 | Auckland |
1996 – 1997
1 wins
$8,470
| | | |
| --- | --- | --- |
| Brocketsbrae | June 20 | Auckland |
1995 – 1996
2 wins
$15,550
| | | |
| --- | --- | --- |
| Brocketsbrae | March 30 | Cambridge |
| Brocketsbrae | February 2 | Auckland |
1994 – 1995
3 wins
$35,790
| | | |
| --- | --- | --- |
| Brocketsbrae | November 25 | Auckland |
| Brocketsbrae | October 14 | Auckland |
| Brocketsbrae | September 10 | Auckland |
1993 – 1994
3 wins
$31,390
| | | |
| --- | --- | --- |
| Franco's Notion | March 4 | Auckland |
| Franco's Notion | February 19 | Auckland |
| Franco's Notion | January 26 | Hutt Park |
1992 – 1993
2 wins
$14,805
| | | |
| --- | --- | --- |
| Franco's Notion | February 27 | Auckland |
| Franco's Notion | November 27 | Auckland |
1990 – 1991
1 wins
$4,031
| | | |
| --- | --- | --- |
| Perfect Guest | May 9 | Claudelands |
1989 – 1990
2 wins
$12,372
| | | |
| --- | --- | --- |
| Perfect Guest | November 24 | Auckland |
| Perfect Guest | November 17 | Auckland |
1988 – 1989
1 wins
$6,025
| | | |
| --- | --- | --- |
| Vindicator | July 14 | Auckland |
1987 – 1988
0 wins
$1,015
1986 – 1987
1 wins
$3,405
| | | |
| --- | --- | --- |
| Agent Orange | July 17 | Auckland |
Our runners this week:
How our trainer rates them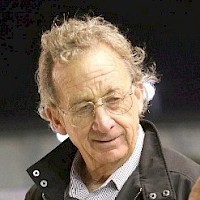 Ray's tips
Thursday night at Cambridge
Race 5: Vinibaka
"He had a beautiful trip last week at Auckland and either wasn't ready for it or wasn't good enough. We'll see how he goes this time but I'm not holding my breath. He's better off going forward. He's done his best work at the trials on the front end.''
Race 7: Lincoln's Girl
"She hasn't raced for five months but Zac was very happy with her at the workouts last Saturday and she can give them a fright. She's got some speed, but I'd just like to see her beat something of note before I start labelling her as anything special.''
Lincoln light
News in brief
TIGER ROARS: Tiger Tara cemented a trip to Christchurch for the New Zealand Trotting Cup with a dominant display to win Saturday night's Victoria Cup at Melton. Driven to the front by Todd McCarthy, Tiger Tara scored by 12 metres over Chicago Bull, who was forced to breeze most of the way, in a 1:53.4 mile rate for the 2240 metre mobile. Tiger Tara has run third in the New Zealand Cup for the last two years behind Lazarus.
IN THE SWING: Former Lincoln Farms pacer In The Swing continued his march through the grades in Perth when he scored at Gloucester Park last Friday night. The Rocknroll Hanover colt has now had 11 starts in Western Australia for nine wins and two seconds.
STAYING PUT: Smart three-year-olds Make Way and Trojan Banner won't be going south with stablemate Beaudiene Western on Tuesday, trainer Ray Green opting to concentrate on the fourth Sires' Stakes heat at Auckland on October 26 then keep them fresh for the Sales Series Final on New Year's Eve.
SPRING IN STEP: Spring Campaign is proving a good buy for his Australian connections. Since being sold by Lincoln Farms he has won four races at Albion Park in Brisbane.
BLUE GLORY GONE: Lincoln Farms has sold Blue Glory to Queensland in a package deal with Lincoln Road. The American Ideal filly raced only twice here, winning on debut at Cambridge.