Partnerships
The Lincoln Farms way: Enjoying the thrills of racing - with a money back guarantee
Racing is littered with the rich and famous who have thrived on the public exposure of racing big race winners. But while the glory seekers come and go there have been few, if any, who have made it their business to share the joy with others like Lincoln Farms' boss John Street.
Street has been a headlining owner of both the harness and thoroughbred codes for years, experiencing the thrills of winning races like the 2012 Auckland Trotting Cup with Sir Lincoln and 2011 Karaka Million with Fort Lincoln.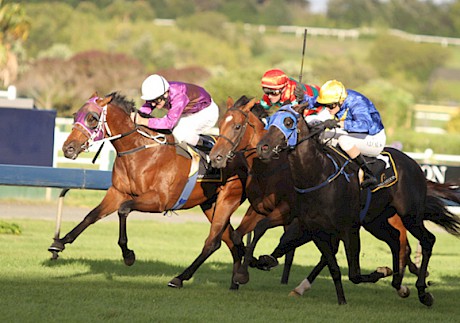 Fort Lincoln, rails, beating Antonio Lombardo, outer and Planet Rock in the 2011 Karaka Million at Ellerslie.He won hundreds of races and millions of dollars in stakes before setting his mind to bringing the excitement of racing to a whole new audience.
And today, in what his business manager Ian Middleton calls "a great service for the industry" Street has dozens of people racing horses with him and his wife Lynne in special partnerships, the likes of which you won't find anywhere else in the world. With a money-back guarantee and incredibly cheap cost structure, the Lincoln Farms partnership concept is generous to the point of "being ridiculous from a financial perspective," says Middleton.
Not only are prospective owners not even put into partnerships until the horse has shown it is good enough to win – the cost of which Street bears himself - but, if the horse doesn't win, people can choose to either get their money back or be transferred into another horse. "John wants to make it possible for first time owners to get into racing without it costing them a lot of money and to eliminate a lot of the risks," says Middleton.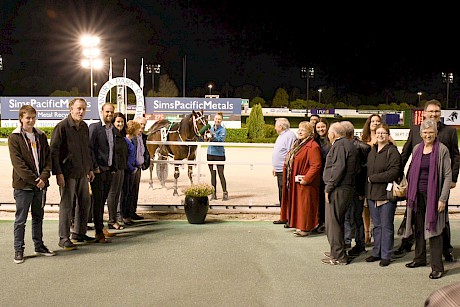 John Street, at right nearest rail, enjoys a recent win by Make Way at Auckland with his big team of partners. PHOTO: Race Images.The bills in racing a horse are comparatively light too, with owners paying their share of monthly training fees for standardbreds capped at $2300 plus GST a month and thoroughbreds at $2500 plus GST a month. Lincoln Farms bears all the other myriad of costs that go with racing horses, like vets' bills, blacksmith bills, transport etc.
"We don't advertise or promote the partnerships – it's mainly word of mouth – but there are plenty of John's friends and others he didn't know who are now having a lot of fun. Lincoln Farms always keeps 50% of the horses and I don't think we've had a losing partnership."
Some groups have even had windfalls, like the team which raced Harness Jewels winner Beaudiene Boaz. When the horse they had a 40% share in was sold to Perth for $250,000 their $40,000 investment turned into $100,000.
People are matched into horses they can afford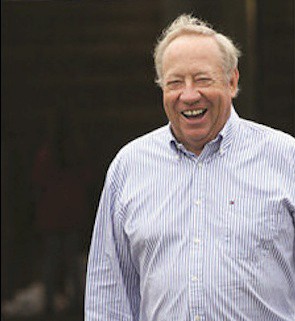 John Street… spares nothing in his demand for excellence.Horses who look like they've reached their mark are sold too – and Street's generosity often sees those owners put into more valuable horses. With 71 thoroughbreds and 29 standardbreds on the books, people are matched into horses they can afford. Harness partnerships number eight at present and thoroughbreds 38, but the number is growing all the time.
Lincoln Farms has 40 thoroughbreds in work in New Zealand at any one time, mostly with leading Central Districts trainer Lisa Latta, and 30 standardbreds at Pukekohe with respected trainer Ray Green whom Middleton calls "an astute old dog."
The harness horses are trained out of the former National Bloodstock barn adjacent to the track which Street spent more than $500,000 on, upgrading it into a facility matching his demand for excellence.
Only the best of the 14 two-year-olds which Green is educating will be raced by the partnerships, the likely non performers weeded out before anyone starts paying. And we're not talking run-of-the-mill animals here. Among the production line are a number of top quality yearlings Street bought at the sales.
It's a big operation and one which Middleton says the former Pak 'N' Save king of West Auckland is happy to fund.
"John has made a lot of friends in the racing industry and this is his way of giving something back."
Our latest winners
Congratulations to
Bob Best, Merle Gradwell, Pat Gubb, Lance Myocevich, Steve Beckett, Kevin Bell, Joeraeme Syndicate, Margaret Rabbitt, Athenry Syndicate and John and Lynne Street for Bondi Shake's last stride win at Albion Park.
John and Lynne Streeet for Larry Lincoln's sixth win at Albion Park.
Four Legs Syndicate, Ian Gradwell, Chris Western, Shannon Flay, Ian Middleton and John and Lynne Street for Northview Hustler's eighth win at Albion Park and 16th in all.
Gareth Paddison, Green Machine Syndicate, Grant Dickey, Peter Dougherty, Ian Middleton and John and Lynne Street for Captain Nemo's win at Cambridge.
Neville McAlister and John and Lynne Street for Platinum Petals' win at Wanganui.
John and Lynne Street for Lincoln Hanover's win at Wanganui.
Merv and Meg Butterworth for Copy That's Flying Mile win at Cambridge.
Neville McAlister and John and Lynne Street for Platinum Spirit's win at Otaki.
Four Legs Syndicate, Ian Gradwell, Chris Western, Shannon Flay, Ian Middleton and John and Lynne Street for Northview Hustler's 1:52.5 win at Albion Park.
Jeff and Vicky Roach, Peter and Bridget Morris, Sue Croft, Steve Haylock, John and Lynne Street and Ian Middleton for Lincoln's Kruz's win at Tauherenikau.
Our runners this week
Tuesday at Albion Park
Bondi Shake.
Friday night at Auckland
Copy That, American Dealer, Tartan Robyn, Smokinhotcheddar, Captain Nemo, Argyle.
Saturday at Otaki
Father Lenihan, Lincoln's Kruz, Platinum Spirit.
Saturday night at Albion Park
Larry Lincoln, Bondi Shake.
Lincoln light
News in brief
$100,000 Harness Jewels
Harness Racing New Zealand will reinstate the Harness Jewels next year at Cambridge with nine $100,000 races set to be run on Queen's Birthday weekend, Sunday, June 6. A maximum of 12 will start in each race over a mile and no invitations will be issued to Australian horses.