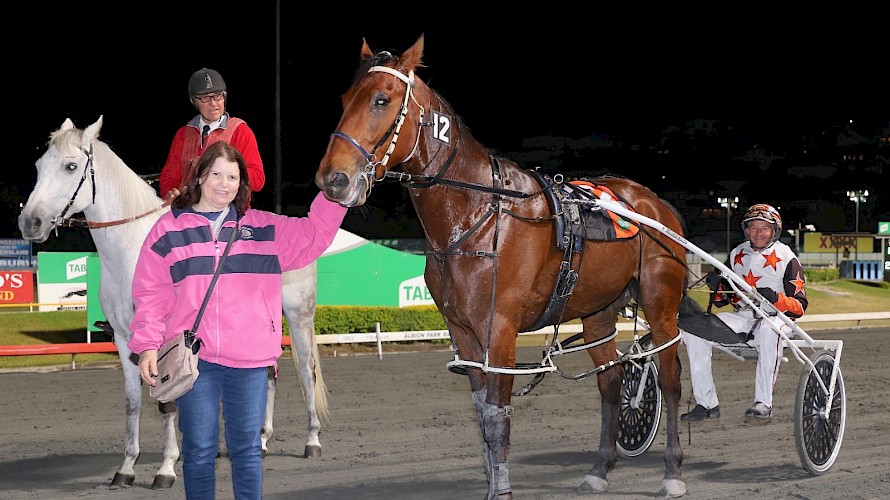 10 out of 10 drive on Captain Nemo earns Mark title of Dux of the class, 60 years and all
They say you're only as old as you feel and when trainer Mark Dux reined home Captain Nemo at Albion Park on Friday night with a 10 out of 10 drive you can bet he didn't feel like a 60-year-old saluting the judge.
Dux hasn't driven much since he had a quadruple bypass in late 2019 but after Captain Nemo ran an inglorious last a week ago he donned the silks again for a spin round.
And while he has notched more than 1100 winners in the cart since his first in 1980, Dux admitted to a sense of satisfaction in getting Lincoln Farms' pacer across the line ahead of drivers mostly less than half his age.
"I used to drive all mine before my heart operation but I didn't drive for 12 months after it and have been happy just having a drive here and there since.
"I'm not at the stage where I need to drive a lot, I've driven for long enough and it has taken me all around Australia and New Zealand."
Dux competed in transtasman junior driving championships in the mid-1980s, bumping sulkies with the likes of Anthony Butt, David Butcher and David Butt and won races at Auckland and now defunct tracks like Claudelands and Forbury Park.
Nearly four decades later Dux says racing has been good to him, even driving winners in the States.
"I don't think I'm that old, though some days I feel it."
With Captain Nemo, Dux enjoyed the challenge of getting the best out of the horse, knowing he was much better than the one who pulled himself into the ground at his previous start for Paul Diebert.
"I was surprised he pulled that hard as that's not his character, he's such a relaxed horse. I don't know what kind of bee he had in his bonnet that night but once we got to the chair last night he travelled just beautifully."

Captain Nemo is too tough for Moresco and Toro Delago at Albion Park on Friday night.Dux, who mounted a run from the rear 1300 metres out, said he was intending to move sooner.
"I knew I had to get around as quick as I could. I actually went to take off 400 metres earlier, before the other guy went round (Ricky Thurlow on Shadow Minister) but one came out in front of me for a second.
"I was never going to sit back. If I had, I couldn't have got into it. They ran a 56.4 final half, so what would I have had to run from the back? It would have been impossible as the lead time was way too easy."
Dux said even though Captain Nemo must have run a 28.5 quarter to get round the field, and took some hard driving to get there, he had "plenty of horse" left and going down the back straight he knew he had the leader Moresco covered.
And while Captain Nemo's winning margin for his seventh win was only 2.1 metres, Dux said the horse was switching off a bit going to the line.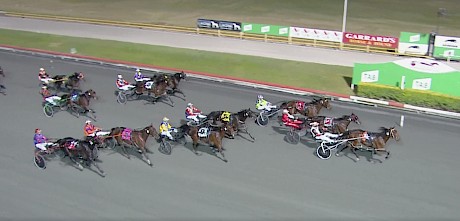 Captain Nemo takes his Queensland record to two wins and two seconds from seven starts for $11,020 in stakes."Once he gets past them he thinks he can take it easy. I'd rather it was decisive though and he ran past them by a length and a half. But I suppose he's doing what he has to and I'm sure if something was with him, he'd fight with them.
"I think he's got a few wins in him yet as he's no slouch. He's not a superstar but he's better than your average horse. He's got a little bit of get-up-and-go and strength. You can drive those ones and put them into the race."
Dux says he's sure Captain Nemo will handle a rise in class and won't have to be driven the same way all the time.
"If they went 1:51 or 1:52 it wouldn't worry him, sitting back.
"He certainly hasn't reached his mark yet. He'll keep rolling along and be more than competitive."
Captain Nemo, who is likely to start next at Albion Park on Friday night, has now notched two wins, two seconds and A$11,020 in earnings from seven starts in Queensland for Lincoln Farms owners John and Lynne Street, Gareth Paddison, the Green Machine Syndicate, Grant Dickey, Peter Dougherty and Ian Middleton.
Our runners this week
Friday at Albion Park
Captain Nemo.
Friday night at Auckland
Copy That, Pasquale, Louie LeBeau, Bet On The Tiger, Arden's Horizon.
Saturday night at Albion Park
Tommy Lincoln.