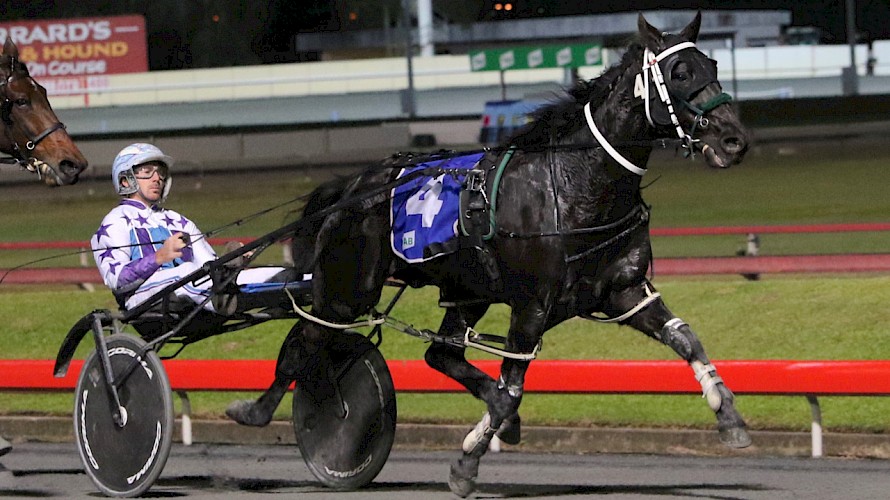 Al: Cruel outside draw makes it tough and we'll have to drive Hustler for luck
Hayden Barnes will have to drive for luck after the barrier draw virtually took Northview Hustler out of play for the first of Albion Park's three winter features on Saturday night.
Stranded on the outside of the arm, the Hustler looks to face an impossible task in the A$21,160 Wondai's Mate with Queensland champion Colt Thirty One drawn inside him along with a number of other gate flyers.
Lincoln Farms' trainer Al Barnes is resigned to the Hustler going back at the start.
"I could see a bit of power early so the plan will be to try and find a hole and slot in.
"I just hope we don't end up back last as that puts us out of the race.
"Gate seven isn't so bad over 2600 metres but over a mile it's tough."
Barnes doesn't buy into the theory that the Hustler isn't a miler even though he has yet to win in 17 starts over a short course in Brisbane and New Zealand.
"He just hasn't had the chance to win over a mile, certainly since he's been here. He's always drawn out wide or on the second row.
"If he could lead, they wouldn't beat him."
Barnes can see an exciting race unfolding with the Darren Weeks' pair Lilac Flash and Major Cam drawn the two inside slots, Colt Thirty One in five and gate blazer Glenferrie Hood in six.
Al Barnes, left, checks out the pedigree of a yearling with Lincoln Farms boss John Street at the Karaka standardbred sale.Chuck in the second rowers which include in-form new-kids-on-the-block, former All Stars' pacer Speech Is Silver, winner of 14 of his 18 starts, and Menangle visitor One Hell Of A Ride and the stage is set for a pearler.
"There's plenty of high speed in the race and if they go silly it might suit a little swooper like the Hustler. If we drive for luck and things go his way he could earn a cheque.
"He's honest and he'll do his best."
Barnes says he's glad the Hustler had a week off racing after his massive second in the Redcliffe Gold Cup (2613m), when he mounted a solo run three wide for the last 900 metres and went down by only a nose.
"He jarred up a little after the race because the track was pretty hard and he doesn't have the greatest of legs.
"It took a while for the jar to come out of his legs so we just jogged him for a week, enough to keep him ticking over. But he's had plenty of fast work in the last week and he'll do a good job."
Barnes says it's impossible to predict how the race will be run and the favourite won't have things his own way.
"Colt Thirty One has five and will have respect so he may find the top or the chair but I don't believe he's as good when they fire him out hard.
"It's going to be an exciting race."
In early markets Northview Hustler is equal rank outsider at $41, with Menangle visitor Cruz at $2.70, Colt Thirty One at $2.80, Lilac Flash $5.50, Speech Is Silver $6 and One Hell Of A Ride $13.

Northview Hustler races at 8.12pm NZ time at Albion Park on Saturday night.
Our runners this week:
How our trainers rate them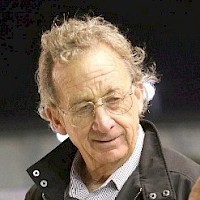 Ray's comments
Thursday night at Auckland
Race 1: Franco Nandor
5.24pm
"From a decent draw this time he'll be one of the hardest to beat because it's not a strong field. He lost a lot of muscle and strength when we gelded him but he should do better from now on."
Race 4: Larry Lincoln
6.49pm
"He'll lead easily and he's good in front so he's a chance to run a hole. But he can't burn at both ends so it depends on how the race is run and in these junior drivers' races they can be quite aggressive."
Race 6: Louie The Punter
7.41pm
"He's a big, dumb sort but he goes well enough. If he could be put on the front end on a nice steady rhythm I think we'd see a different horse. He just gets a bit lost and awkward in the field and the stop-start racing confuses him."
Race 6: Apieceoflou
7.41pm
"Second row draws can be good and if Gopati goes out he'd be right in it. He's come from way back in all his runs and he got held up in the run home last time. He's developing into a tidy horse."
Race 7: Tommy Lincoln
8.06pm
"The wide draw shouldn't worry him - he'll just mooch forward. It's pointless for him to go back, his MO is to get rolling. I thought he was travelling easily at the finish last time."
Race 7: American Dealer
8.06pm
"He's a little tradesman who never goes a bad race. He'll need a bit of luck from the draw but you can be sure he'll be running on strongly at the finish. He was good here last time."
Race 9: Copy That
8.56pm
"This is his most serious test. It usually takes the top age group horses two or three runs to find their feet against the tough older ones but he's exceptional and I expect Maurice will have a dab for the front."
Race 11: Man Of Action
9.46pm
"He'll be at the mercy of the ones he's following out but he's trained super this week and I think he's a definite chance. He's improving all the time."
Race 12: Captain Nemo
10.09pm
"He's a lovely big horse who's also on the up. I think he'll improve on last time here when he got pulling just when he was going to get a good trip and had to come out."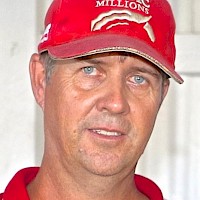 Al's comments
Saturday night at Albion Park
Race 3: Northview Hustler
8.14pm NZ time
"He ran some terrific sectionals last week coming from the back. He's improved through the week and I can't fault him. After his work his heart rate was down to 91, which is a lot better than it's been. He's at his best when it's in the 80s. He's a live chance and I think we'll see a different horse on Saturday night."