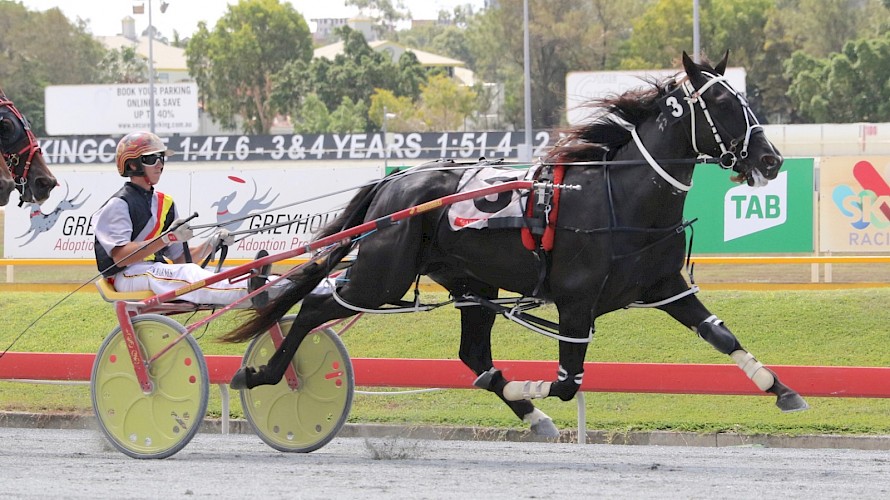 Al proud of our boy Trojan Banner who is in the running for three-year-old of the year
Trojan Banner's hot streak in Brisbane has been recognised with the colt a finalist for the title of Queensland three-year-old pacer of the year.
And while Trojan Banner is almost certain to be outpointed by the top filly Smart As Camm Be, trainer Al Barnes says he's very proud of what the horse achieved for Lincoln Farms in just five months.
"He exceeded all our expectations - we didn't think he was that good."
Between March and July, Trojan Banner remained unbeaten, racking up seven wins in a row on the road to the Queensland Derby.
And with a little more luck he could have placed in the derby, rather than finishing fifth, when he roared home in sectionals faster than winner Self Assured.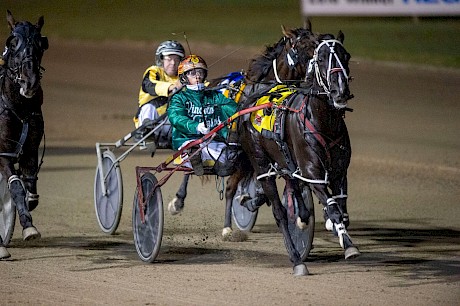 Hayden Barnes urges Trojan Banner on in his narrow win at Redcliffe. PHOTO: Michael McInally.Trojan Banner was sold to the United States for a six figure sum soon afterwards and Barnes is hoping he will get the chance to prove the sequence was no fluke with some new Lincoln Farms' stock this season.
"The goal is to win it (the three-year-old award) this year. Sir Tiger will do a good job but we'll just have to wait and see what else Lincoln Farms sends over."
Barnes reports Sir Tiger is nearly back in full work after a recent mishap in the cart left him with a big haematoma high up inside his off hind leg.
"There's still a bit of swelling there but he bowled along quite freely today.
"He could be ready to race on Friday week."
While Trojan Banner amassed A$44,820 during the season, Smart As Camm Be's tally was considerably higher at A$74,837.
She won seven of her eight starts, including the Group II Queensland Triad Final and a heat of the Victoria Oaks, her sole defeat in the Oaks Final.
Neither remaining finalists Escalera nor Lifes Black are serious contenders for the three-year-old award with vastly inferior records.
The winner will be announced at a gala function on September 29.
Our runners this week:
How our trainers rate them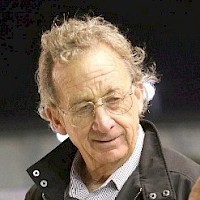 Ray's comments
Friday night at Auckland
Race 1: Tommy Lincoln
6.26pm
"They went fast last week and he was drilled down the back so he did well to hang on for second. He's drawn to lead and will go another good race."
Race 2: Apieceoflou
6.56pm
"If he gets a good trip, he's the one to beat. Being hung out last week didn't help but he still whacked away for second. He's not as strong as he will be but he's as honest as can be."
Race 2: Franco Nandor
6.56pm
"He raced up like he was going to beat them last week but you have to forgive him as he hadn't raced for a while."
Race 4: Revitalise
7.56pm
"He was in a bit of strife for a couple of weeks but we've done a fair bit with his foot, we've swum him for the last week, and he's training super. I'm very happy with him. He just needs some luck from the inside of the second row."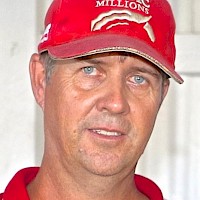 Al's comments
Saturday night at Albion Park
Race 7: Northview Hustler
11.47pm NZ time
"We haven't had him this sound for ages and he's been sharp in training this week. His last three races have been really good and he'll go forward and hopefully get the one-one behind Colt Thirty One. "They'll know he's alive if he's on their backs."