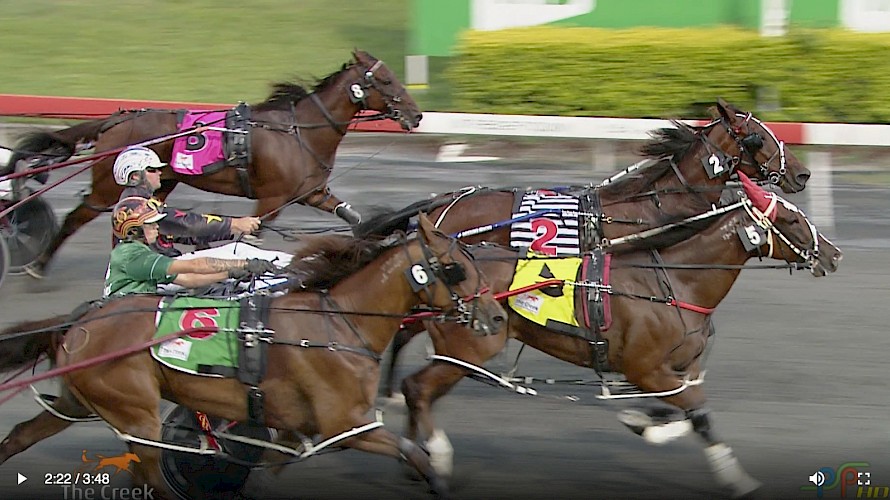 Al right on the money as Larry Lincoln pulls off $12.80 upset at Albion Park
If trainer Al Barnes' tip that Larry Lincoln was a big winning chance tonight wasn't enough, his Facebook post just an hour before the race showed how confident he was.
Barnes told www.lincolnfarms.co.nz in his preview that Larry was "flying, busting to win a race and I reckon this is his chance."
And on his Facebook page Barnes posted a picture of the horse, sporting his big white blaze, letting people know he was trying to set up a syndicate to buy him from Lincoln Farms.
Barnes was very bullish before the race given how unlucky Larry had been in his recent racing and predicted the better quality field, and faster tempo, would actually help him.
And so it proved when, despite being sent out only fifth favourite at $12.80, the little warrior was saved for one run and used his high speed to down the hot favourite Our Madiba by a nose.
"I'm rapt," Barnes said. "We love that little horse, he's such a gentleman. I love him that much I'm trying to set up a syndicate to buy him.
"He's sound and honest and he'll only get better when they go quicker."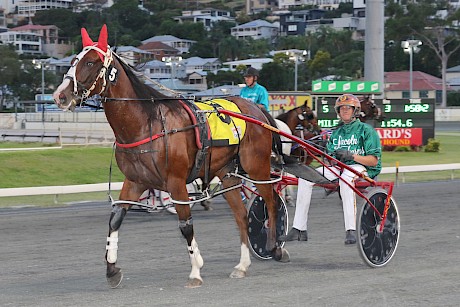 Hayden Barnes brings back Larry Lincoln after his terrific win tonight. PHOTO: Dan Costello.But Barnes admitted while Larry ranged up powerfully three wide to take a narrow lead on straightening for home, he wasn't confident that he'd hang on.
"Hayden was first to pull at the 600 and I thought he'd gone too early and would run out of puff. But Larry kept trying and dug in deep.
"Hayden was rapt that he finally got a decent trip and he drove him a treat. He went straight back on to a helmet, instead of going forward.
"Larry's been desperately unlucky in his last few runs but tonight he got a good trip in a small field, and he must have run a low 26 in that last quarter."
The four-year-old Sweet Lou gelding clocked a slick 1:58.2 for the 1660 metres, a mile rate of 1:54.6, and despite a brutal opening quarter of 26.8, the leader ran the closing 800 in 55.1 and 400 in 26.8.
It was Larry Lincoln's sixth win for Lincoln Farms' owners John and Lynne Street since they sent the horse to Queensland and his A$7818 purse tonight took his earnings in the state to A$33,964.
Hustler hit a knee
Northview Hustler couldn't make it back-to-back wins later in the night but had an excuse for finishing at the rear.
Barnes said his son Hayden reported the horse was bolting turning for home and he thought he was going to run straight past his rivals.
"But he got on himself and gave his knee a good whack - he was probably just going too quick for himself.
"Hayden did the right thing and eased him down."
Barnes said foot trouble was often the cause of horses getting on a knee and the Hustler was continually worried by corns and infections.
"I'll get him right and he'll be back fine in two weeks. Hayden said he actually felt really good in the warm-up, as good as he's ever been."
Our runners this week:
How our trainers rate them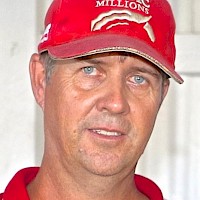 Al's comments
Tuesday at Albion Park
Race 7: Bondi Shake
7.03pm NZ time
"He's going really well and hasn't had much luck. This looks a good race for him, it's not overly strong. I rate him a top two chance. It's just a matter of whether he can wind up fast enough from behind the leader."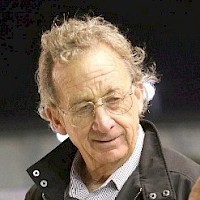 Ray's comments
Friday night at Auckland
Race 2: Captain Nemo
6.45pm
"He's not quite up to the best in there but he's honest enough. He'll go round and get a cheque."
Race 2: American Dealer
6.45pm
"He'll go a good race but it will improve him a lot. David was really happy with him at the workouts and didn't press him too hard. While he'll be better for the run it wouldn't surprise me in the slightest if he won."
Race 4: Smokinhotcheddar
7.45pm
"I thought her run for fifth last time was super. I've taken her off the unruly and she's drawn one. If she doesn't stuff the start, she'll be right in it."
Race 7: Tartan Robyn
9.09pm
"His first run for us was a beaut. He had a bad trip, parked most of the way, and still ran on. If he led, he'd be hard to beat."
Race 8: Copy That
9.34pm
"He was deadly at the trials and Maurice said he couldn't get over how easily he did it. It's hard to imagine them beating him fair and square. He'd have to be exceedingly unlucky or do something stupid."
Race 9: Argyle
9.59pm
"He needs the experience and a run under his belt before the Young Guns Final. I expect David will go back from seven and come into it late. I'm not holding my breath that he can win."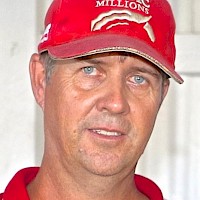 Al's comments
Saturday night at Albion Park
Race 5: Larry Lincoln
10.47pm NZ time
"Larry deserves to be favourite and he's got enough respect to lead and win. There are some capable horses in the race but over a mile Larry will be very hard to beat from in front."
Race 10: Bondi Shake
1.20am NZ time
"He's very bright after his win on Tuesday and will run a cheeky race. This is stronger but he's up to them. Dance In The Sun looks the winner but I'm very confident he can run top three because he chases really well."