Al so proud of Hustler as he's cruelly pipped after enormous run in Redcliffe Gold Cup
A massive effort by Northview Hustler in a track record-run Redcliffe Gold Cup left trainer Al Barnes convinced he's on the verge of a big and well deserved win.
In the cruellest of results, Lincoln Farms' little hero was collared in the last stride by Sole Ambition in tonight's A$25,630 feature after being forced to make a solo run three wide from before the bell.
And the enormity of his run was confirmed when the winner's time was semaphored, the 3:13 for 2613 metres representing a mile rate of 1:58.9, eclipsing Clintal Do's record of 1:59.1.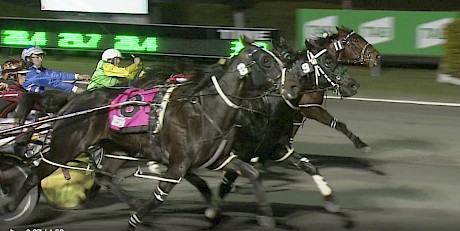 Two strides from the post and Northview Hustler, centre, is still in front as Sole Ambition, outer, and Clintal Do close.Barnes' pre-race analysis that a front line full of horses inexperienced from a stand would make things tricky proved uncannily accurate as the race was delayed for more than three minutes as one runner after another played up.
And when the tapes were finally released driver Hayden Barnes had to take evasive action inwards when blocked by a horse in front of him, negating his very fast early speed.
By the time he was able to find room the leaders were well gone and, while he accelerated quickly to take the first turn in sixth spot, he was soon out the back door, four back in the running line with only two behind him.
Barnes had to discard plan A, to go forward and lead, and bided his time as front line favourite Fame Assured set a hot tempo, racing through the first quarter in 28.4.
After a second quarter in 29.7 Barnes had no option but to try to put the horse in the race and he started to mooch forward with just over a lap to run, commentator Chris Barsby calling "the Hustler takes the long and lonely trip home three wide solo."
Incredibly, the gutsy black still had some bullets to fire at the 400 and when Barnes sent him to the front before the home turn, he looked to have the race in the bag.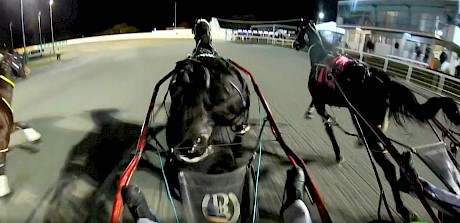 Sulky cam shows how driver Hayden Barnes saw the finish.But Sole Ambition came off the Hustler's back to give chase and with the leader peaking on his run, nabbed him right on the post.
"He tried his heart out," said his proud trainer. "But he just ran out of condition a little bit near the line.
"He's gone a super race considering he's still not 100 percent. His heart rate was down to 97 this week (from 108 last start) and we know he'll keep improving.
"Hayden was obviously disappointed not to win but he drove a good race and he was very happy with the horse.
"It's just as well it wasn't a $200,000 race or I'd have no hair left. I got very nervous before the race.
"At least we know he's back now. It's been a long, hard road and a hard eight to nine months but I'm so proud of the horse.
"He hasn't had to race wide and tough like that since he's been with us."
Now that he's got two runs under his belt, Barnes believes the Hustler is ready to win.
"He deserves to knock off a big race and I think he will."
Barnes will now focus on the remaining three races of the winter carnival at Albion Park, the A$20,830 Wondai's Mate (mobile 1660m) on July 11, the A$25,630 Mr Feelgood (mobile 2138m) on July 18 and A$25,630 Lucky Creed (mobile 2680m) on July 25.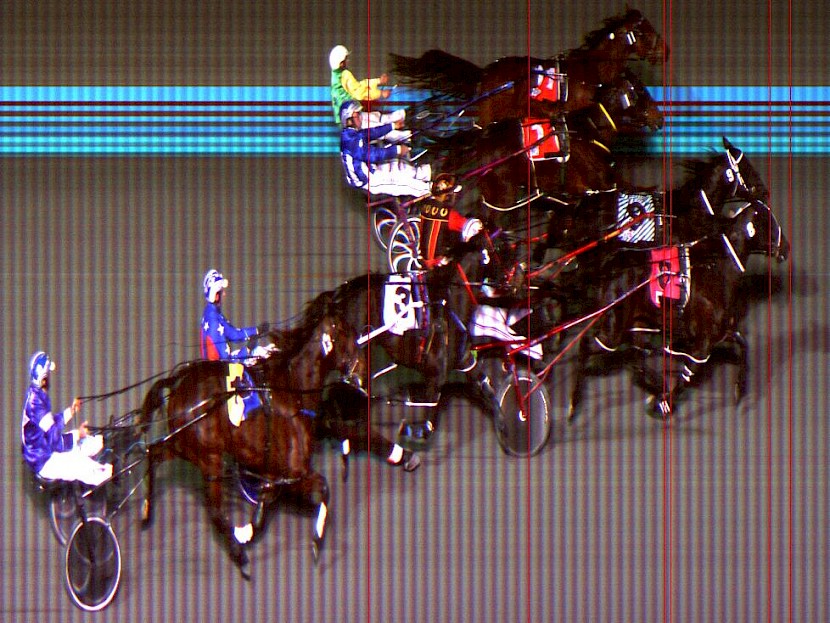 At the wire and Sole Ambition grabs Northview Hustler, with Clintal Do and Dream To Share close up on the inner.
Our runners this week:
How our trainer rates them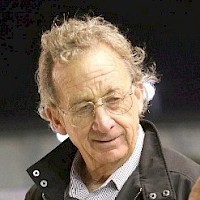 Ray's comments
Wednesday night at Auckland
Race 1: Apieceoflou
6.11pm
"He's really only in the field to get experience. He's not up to the other two at this stage. He's a big, slow maturing horse. He keeps improving without being spectacular but he's a real trier."
Race 1: Captain Nemo
6.11pm
"He's been going well at the workouts without winning. He and Franco Nandor are both nice colts and I expect them to develop into tidy three-year-olds."
Race 1: Franco Nandor
6.11pm
"He's won his last two workouts but has a tricky draw and there are a couple of others in the race who go well. He'll definitely improve with the outing."
Race 4: American Dealer
7.36pm
"I like him as a horse and he's likely to take the most improvement out of his latest trial because of his temperament. He's a laid back individual and looks the best of our lot."
Race 4: Larry Lincoln
7.36pm
"Larry's very fast and he's as forward as the other fella but I don't know how tough he is yet. The draw's a bit tricky."
Race 4: Man Of Action
7.36pm
"He trialled super last Friday and never goes a bad race. We chucked him in the deep end with the bear cats in his last few runs and I think he'll go well in this field. He's on the up and is a much stronger horse now."
Race 7: Copy That
8.56pm
"He's the class horse of the field but he won't be on top of his game yet. I'll be instructing Maurice not to send him on a mission, especially as it's over 2700 metres. He'll still go well but I'm not expecting him to just line up and win. I couldn't label him first-up."