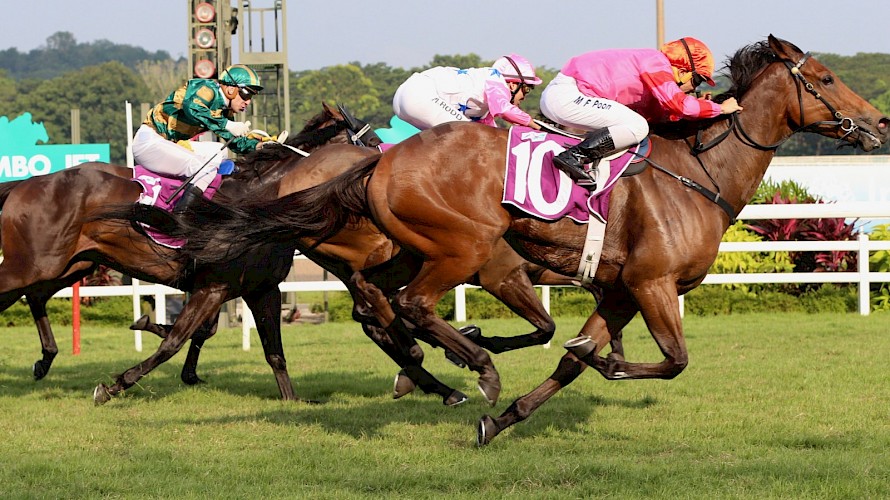 All aboard the flying Poon train as Lincoln Moonlight looks to get back on track at Kranji
Trainer Shane Baertschiger has two aces up his sleeve to help Lincoln Moonlight in what looks a strong form race at Kranji on Sunday.
Lincoln Farms' most promising horse in Singapore lines up in the third race at 6.20pm NZ time, opposed by two other Lincoln Farms reps, Ace's Wild and On The Razz, and a bunch of other in-form runners chasing the S$85,000 stake.
But on Singapore Gold Cup day, when the meeting is invaded by top riders from overseas, Baertschiger has snagged talented Hong Kong youngster Matthew Poon to ride seven of his runners, including Lincoln Moonlight and stablemate Lincoln City in the second race.
Matthew Poon … chasing more success in Singapore and rides Lincoln Moonlight.And the combination has proved to be a powerful one, Poon riding Group III winners for Baertschiger in his first visit in August, 2017 and his return trip earlier this year.
Poon first came to Singapore for a two-week stint with Baertschiger courtesy of being dux of the South Australian Jockey Academy's apprentice school, where he earned the nickname the "Poon train" for his runaway success. While at Baertschiger's stable he rode Faaltless to win the Garden City Trophy.
And when he came back in August he piloted former Kiwi Preditor to win the Jumbo Jet Trophy.
Baertschiger can't see Poon producing a three-peat when he rides Preditor in the S$1.35 million Singapore Gold Cup, saying the horse will struggle to match his classier rivals.
But in Lincoln Moonlight, Poon teams with a progressive horse who Baertschiger rates "an each way chance if he runs up to his best.''
Lincoln Moonlight looked a good winning chance last start on October 21 after two smart placings to open his career. But after disputing a slow pace to the turn he weakened in the run home to beat only two home.
Baertschiger put it down to the lack of tempo, and being annoyed by the horse on his outer throughout.
But Singapore's leading trainer has since noticed the Alamosa three-year-old playing with this tongue before trackwork.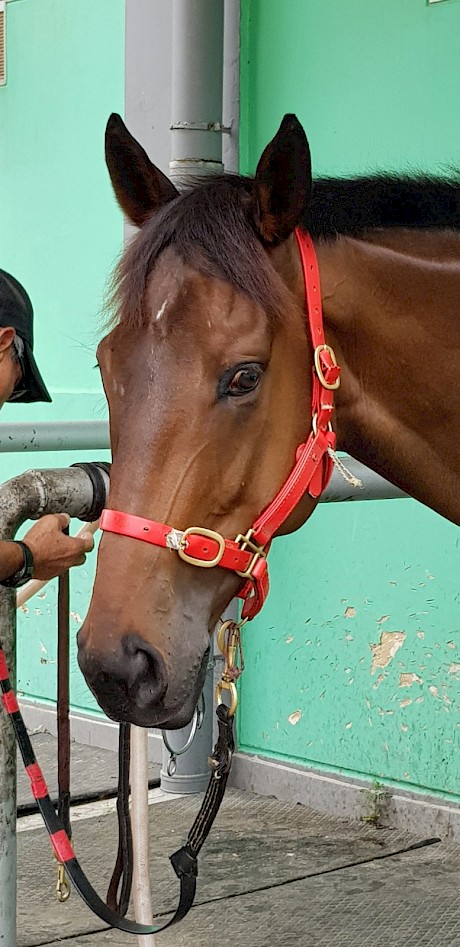 Lincoln Moonlight … each way chance if on top of his game. PHOTO: Scott Bailey."It's possible he got his tongue over the bit and half choked down - he was quite keen in the run. So I'm putting a tongue tie on him for the first time.''
Baeretschiger says there's no way to know for sure if that was the issue - "the jockey can't see and they don't make any noise when it happens, so it's hard for them to tell.''
But using a tongue tie will give him peace of mind and, from barrier one, Baertschiger says Poon should be able to get a beautiful run behind the speed, fourth or fifth on the rails.
"And as long as they go quicker than last time, with a nice genuine tempo, he's a chance. But it's a very strong form race.''
Baertschiger acknowledges the horse is coming back from his preferred 1400 metres but says he will be more competitive over the shorter trip on a faster speed.
Lincoln Moonlight also gets a 1kg weight allowance, even though Poon is no longer an apprentice.
Last month Poon became the second fastest rider in Hong Kong history to ride 70 winners and lose his status, only Matthew Chadwick achieving the feat sooner, getting there after 472 rides compared with Poon's 650. Third fastest with 727 rides was Vincent Ho who had his early experience in New Zealand.
Baertschiger says Ace's Wild, having his first start for five months and drawn badly, will be "too new and green'' to match his stablemate.
"The other horse has the wool on him but I'd just like to see him run on a bit. He'll be looking for further (distance).''
The form digits in Ace's Wild's two-year-old form line are, however, a little misleading, says Baertschiger. Though only seventh and 11th, he did make up good ground late, and had been feeling his shins.
Lincoln Farms' third runner On The Razz doesn't have the ammunition either to test the field. He ran last on debut and while trainer Bruce Marsh says he has a will to win and is a great eater, he is still quite immature.
"He's been working well and we have blinkers on him and a good, promising jockey in Jay Ford on board.
"He's definitely fit to race and we feel blinkers will sharpen him up."
Baertschiger says not even Poon's skill in the saddle can help Lincoln City, who runs at 5.50pm NZ time.
"He did run a little better last time, when we switched him to the grass, but he's running out of his grade on Sunday.
"He's eligible for a maiden race but there wasn't one on the card.''
Lincoln City has zero chance, he says.
Baertschiger's best
But Baertschiger does have a tip for Lincoln Farms' followers.
The best of his 20 runners this weekend is Bold Thruster in the fourth race on Friday night at 12.50am.
A very promising galloper boasting three wins and a second from five starts, Bold Thruster contests the Group III S$200,000 Saas Fee Stakes, dropping back to this own age group after taking on the older horses in this last two starts.
"He'll be a two to one on favourite though. Last start he ran second (beaten only half a length) to Zac Kasa, who's possibly the second best sprinter in Singapore.''
The mount could have been Poon's for that three-peat - but the hoop doesn't arrive in Singapore in time and Barend Vorster takes the ride.