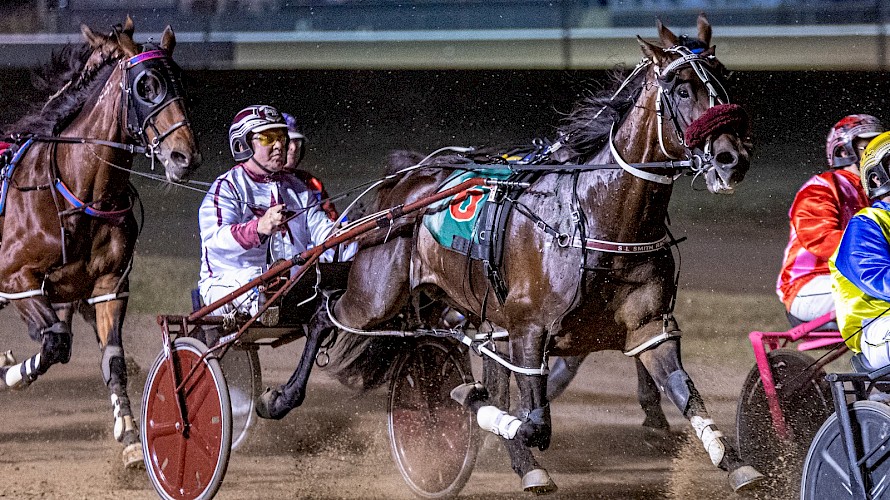 An A Butt special lands Tommy by a whisker to keep unbeaten streak this season intact
Make Way needed an Anthony Butt special to win tonight's City Of Canterbury Bankstown Council Cup - and he delivered in spades.
For there's little doubt that only the expertise of Butt got the little horse home in a nose decision so close that commentator Fred Hastings couldn't pick it.
Drawn the outside of the gate on the tricky Bankstown circuit, Butt "chanced his arm" on release, powering forward to try to cross the favourite Always Flashing.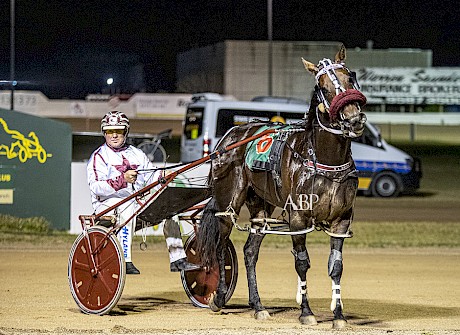 Anthony Butt brings Make Way back to scale after winning the cup. PHOTO: Ashlea Brennan.When that didn't work, Butt didn't panic, settling Make Way in the breeze.
"I would have been happy to sit parked all the way because he relaxed so well there," said Butt.
"Then when Always Rockin came round at the mile and gave me the one-one that was perfect."
Butt however found himself pushed three back in the running line when Maximus Red made a move from the back to sit outside the leader.
"That wasn't ideal because I had to go sooner than I wanted to when Always Rockin was going nowhere."
The winning of the race undoubtedly came when Butt was able to slot back into the one-one down the back and round the bend, giving Make Way a breather for 100 to 150 metres.
"You never know when you pull out what you've got left but he found plenty.
"It's damn hard coming three wide round that last bend and that horse (Always Flashing) is hard to get past, but mine really dug in."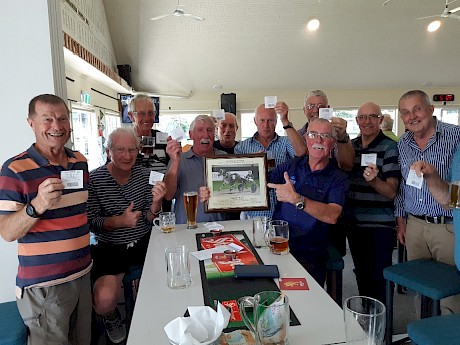 Co-owner Duncan Chisholm, holding a framed photo of Make Way, with his mates at Mangawhai last night, all holding winning tickets on the horse.At the post there was nothing in it, Make Way getting the judge's nod by the finest of margins, a result that had Northland co-owner Duncan Chisholm and his Mangawhai golf mates in an uproar. Most of them held winning tickets on the horse who blew out late in the betting to pay $5.90 on the tote and $5 on fixed odds.
Make Way's winning time of 3:12.1 for the 2540 metres represented a mile rate of 2:01.7, great going considering the poorly cambered 805 metre track is not condusive to fast times.
"There aren't many races that far over here but he's such a great little stayer. He's doing a great job and hopefully he can keep improving over the next six months."
The win brought Make Way's unbeaten sequence this season to four, the A$7622 stake boosting his haul in the last five weeks to A$26,082.
Butt's partner trainer Sonya Smith now boasts the terrific stats of having lined up her favourite horse 'Tommy' 19 times for 10 wins and five placings.
"And there's a lot to go yet," says Butt. "Everything is going perfectly, he's taking every step in his stride and winning good stake money and we haven't chucked him in the deep end yet.
"We'll keep picking out the right races for him but sooner or later we'll have to go back to Menangle and take on the free-for-allers."
* Make Way is raced by Duncan Chisholm, his brothers John and Dave, friend Warwick Orr, Auckland veteran Bob Best, the 10-member Excell syndicate, Amy Myocevich, Lincoln Farms' owners John and Lynne Street and their business manager Ian Middleton.

The official photo finish shows just how close it was.
Our runners this week
Friday night at Auckland
Copy That, American Dealer, Captain Nemo, Bondi Shake, Apieceoflou, Revitalise, Tommy Lincoln.