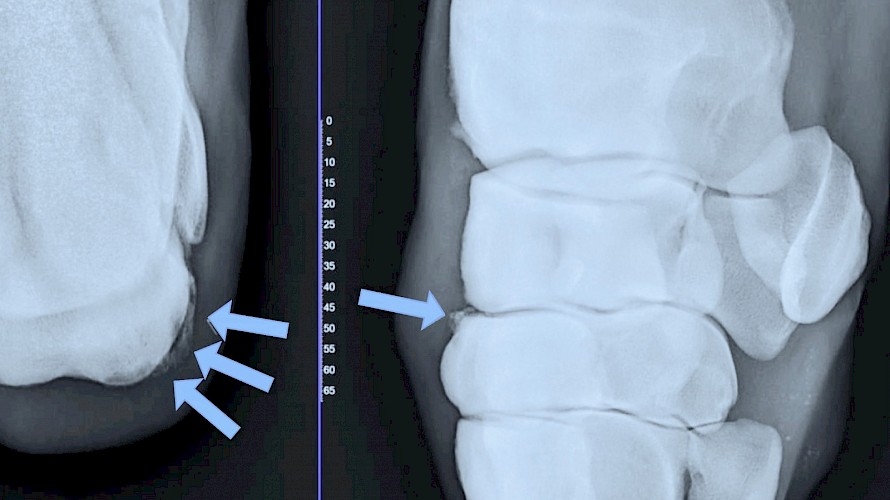 Another setback in Sydney as Lincoln Sky injured, needing surgery to remove bone chip
In a second stroke of unbelievably bad luck for Lincoln Farms and trainer John Sargent, Lincoln Sky is now on the injured list.
Sargent noticed Lincoln Sky was a "shade noddy" in his off foreleg when trotted up the morning after his Sydney debut at Randwick last week.
And with swelling in the knee he immediately ordered X-rays at the Randwick Equine Centre which have revealed a bone chip.
In vet Richard Humberstone's report, which describes "degeneration and fragmentation of the dorsomedial proximal aspect of the third carpal bone of the right knee" it is recommended that only with arthroscopic surgery could further racing be attempted.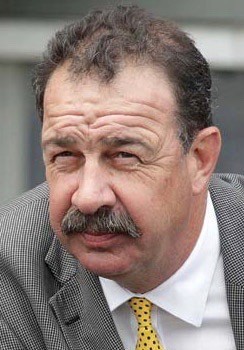 Trainer John Sargent … "unbelievably bad luck."And that's exactly what owners John and Lynne Street have elected to do, having to make the disappointing call today while on holiday in Fiji.
Under general anaesthesia, bone fragments and associated unhealthy bone and cartilage will be removed after which the horse will have to be rested for five to six months.
Humberstone rates as "fair" Lincoln Sky's prognosis for future racing soundness and advises careful management will be needed when he resumes training with swimming, spaced gallops and medication.
Sargent was gutted at having to relay news of the injury after the other horse sent to him in June, Lincoln's Command, also went sore with a historical stifle problem.
"It's unbelievably bad luck but, on what he's shown, I think the horse is good enough to go ahead with the operation.
"I was quite happy with his run the other day. Even though he ran last, it was a strong city field and I was looking forward to getting him up over more ground."
Lincoln Sky has raced just eight times for a win and two placings but showed his potential in February when sixth in a very strong Waikato Guineas field, just a nose behind stablemate Lincoln Falls.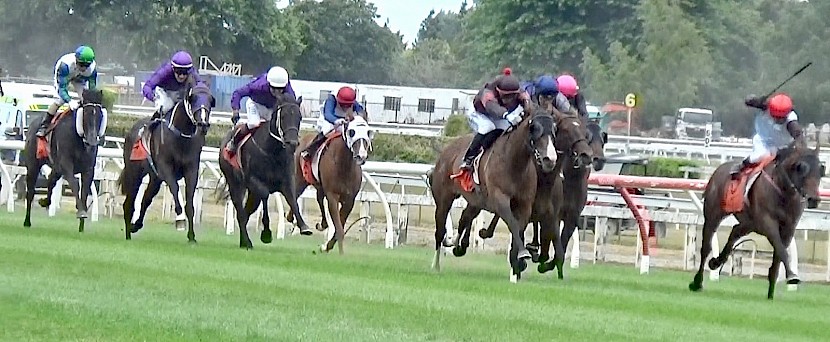 Lincoln Sky (white cap) inside stablemate Lincoln Falls runs on strongly in the Waikato Guineas behind Sponge Bob, Arrogant, Sword In Stone and The Chosen One.
Our runners this week:
How our trainer rates them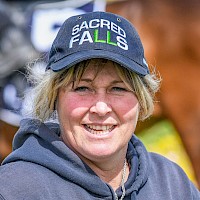 Lisa's comments
Saturday at Otaki
Race 6: Kamanda Lincoln
3.39pm
"He had a couple of quiet weeks after his good Wellington Cup run and we are using this race as a lead-in to the NZ St Leger. The track has come up a slow 7 after some rain overnight and there is more forecast for Saturday which will further help his chances. From a good draw he should be able to get a cosy run just in behind the pace."