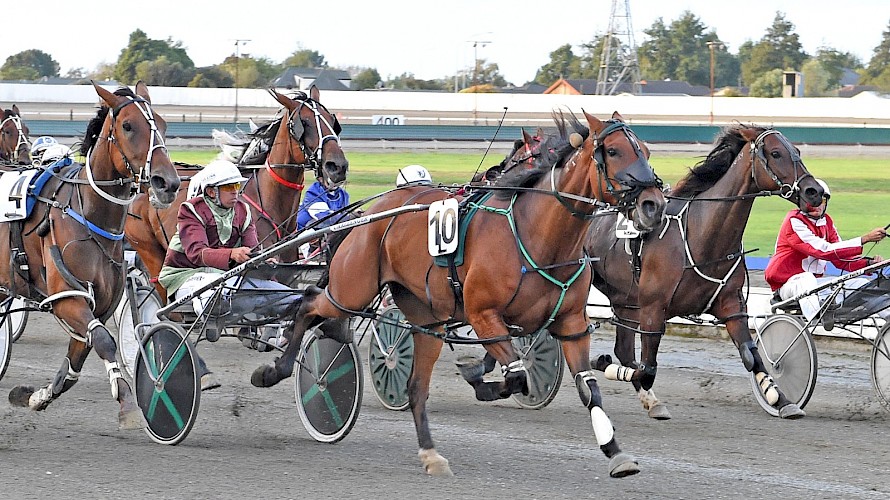 Another special Moment for the Hollanders thanks to the Sir Lincoln factor
In Lincoln Moment, breeder and co-owner Steve Hollander sees a horse treading the typical path of a Sir Lincoln.
They start off as good looking youngsters with speed but it's not until they're given time to strengthen that they reach their full potential.
Lincoln Moment, now four, delivered his best, and most encouraging win at Manawatu last night, sustaining a sprint, which once would have petered out, to beat Katamach in a driving finish.
And while it was just his third win in 27 starts, Hollander and his partners, wife Karen, Peter McDermott, Kel Neville and Jay Abernethy, are now hoping he can notch another few wins.
"He won a couple of races from good positions last year but he was a bit weak and had a sprint that could last only a couple of hundred metres,'' says Hollander.
"But now he looks to be capable of hanging in there and seems to have found his feet.''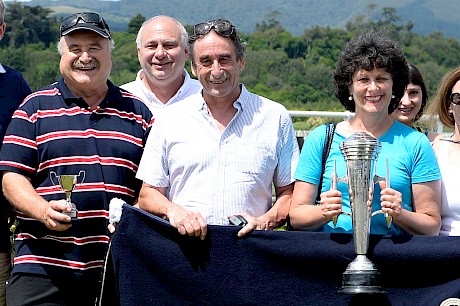 Steve Hollander, left, and wife Karen enjoying the spoils of Wellington Cup and Otaki Cup winner Jet Black Shadow with the writer. PHOTO: Royden Williams.Hollander recalls Lincoln Moment as "a fantastic looking foal. His mum Fleeting Moment was gorgeous too so there was a bit from both sides of the family.
"We thought he was something really special early on because he had really good speed but he struggled a bit with conformational problems.''
Eventually Hollander moved Lincoln Moment from Tony Herlihy's stable, where he was under the wing of Tremaine Thorby, to his old mate, Bulls trainer Doug Gale, for some more individual attention.
Gale, who has shown great courage to rise above some ill health issues of his own in the last 12 months, thought Lincoln Moment had overcome his problems last year.
"But the horse was still strengthening internally and its not until now that he's started to really impress Doug.
"He was still a bit green last night, Jay had to stop driving him a couple of times down the straight, but he didn't stop running like he used to, he sustained his sprint.
"I know it's only Manawatu but he should win a couple or three more races on that.''
Hollander is hoping that now Lincoln Moment is stronger, his penchant for grass track racing will also widen to all weather surfaces.
And now that they've discovered, courtesy of some second row draws, that the horse is best saved for a late burst, his form will also hopefully become more consistent.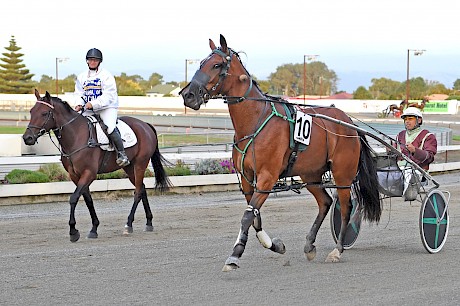 Jay Abernethy brings Lincoln Moment back to scale, nearly 11 years after driving his dam to win her only race."We used to use him early, because he had good gate speed and was on the front, but he often had little left at the finish.
"But if we let him sit in the field, and the race pans out right for him, he can come home with his electric speed.''
Hollander likes that Sir Lincoln seems to have injected some toughness into Lincoln Moment. His dam Fleeting Moment was initially rated an outstanding two-year-old prospect by Herlihy but in the end simply didn't have enough speed.
Ironically, when she won her sole race at Auckland in May, 2008, it was with none other than last night's driver Jay Abernethy in the sulky.
While Fleeting Moment has produced only two and three-race winners so far, her dam Tender Moment left topliners like US exports Fake The Moment (22 wins, 1:51.8), Holme In A Moment (1:52.6) and Seel The Moment (1.53.6).
Incredibly, the progeny all share one unusual trait.
"When they turn up you don't have to break them in. They can all pace perfectly.''
Hollander is hoping for a few more special moments to come - his latest great white hope out of Fleeting Moment, a yearling by He's Watching called Private Eye, is already pacing like a toff for Cambridge trainer Nicky Chilcott.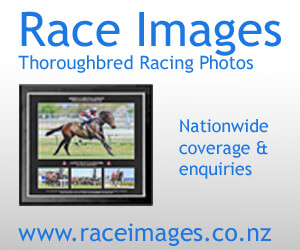 Sir Lincoln Top 10
Did you know…
1. CUP DAY BIRTH: It was preordained Sir Lincoln would be a headliner when he was born just hours before the 2006 New Zealand Trotting Cup at Addington. Three years later to the day, and almost the hour, he annihilated his rivals on the same course in the Sires' Stakes Final.
2. AGE NO BARRIER: In his second last race start, at the age of six, Sir Lincoln paced the fastest 1700 metres in New Zealand history, 2:00.5, beating Gold Ace and clocking a mile rate of 1:54 at Alexandra Park. Champion pacer Elsu held the previous record at 2:01.1.
3. ON THREE LEGS: Sir Lincoln ran his last race virtually on three legs, when second to Terror To Love in an Interdominion heat at Auckland. He had to be pulled out of the Melbourne series, and retired, when found to have a subluxated pastern joint - basically his ankle joint was dislocated.
4. SWIFT GOLDEN MILE: Sir Lincoln's fastest mile was recorded in the 2012 Group III Golden Mile at Menangle in Sydney when he was nosed out by Captain Joy in 1:51.4. He was known by the name Lincoln Royal in Australia.
5. AT THE REINS: One for the trivia fans - how many drivers did Sir Lincoln have in his 57-start career? Maurice McKendry was Linc's pilot throughout his career but he was MIA four times when the horse was handled by James Stormont, Ken Barron and Blake Fitzpatrick (twice).
6. WINNERS KEEP COMING: In only his third season with runners on the track, Sir Lincoln has already sired the winners of 30 races despite having limited numbers to represent him. Last season in New Zealand alone he had 16 winners from only 39 starters and this term he already has six winners from just 18 starters.
7. SOMEBEACH SOME RAP: Breeding buffs made a beeline for Sir Lincoln after superstar racehorse and stallion Somebeachsomewhere had to be put down with cancer. Sir Lincoln is 7/8th bred on the same cross as Somebeachsomewhere - by Mach Three out of a Beach Towel mare who is in turn out of a Cam Fella mare.
8. DISCOUNT FOR LOYALTY: Broodmare owners are returning to Sir Lincoln in droves. Taken by the attractive foals he is leaving, many book straight back to the Alabar-based sire and take advantage of Lincoln Farms' loyalty scheme which cuts his service fee in half to just $1250 plus GST.
9. TIME BEST FRIEND: Sir Lincoln's progeny are mirroring the sire's own start on the racetrack, benefitting from a little time to mature. The best the horse himself could manage as a two-year-old was one third from four starts but he was a different animal at three, winning four of his first five starts.
10. MEGASTAR'S FREAK DEATH: A freak accident claimed the life of valuable broodmare Lincoln's Megastar, a full sister to Sir Lincoln. The mare, who opened her career with a nine and a half length walloping at Auckland, was retired after six wins, but left only one foal. She was killed when crushed by a fallen tree in a violent storm. Woodlands Stud has another full sister in two-year-old Moonlighting who is in training with Ray Green.