Ants looking for another big effort from Make Way at Menangle but Bonanza less likely
Top horseman Anthony Butt will make a final decision on whether to take Make Way to Victoria for the Bonanza after he competes at Menangle tonight but the trip is looking less likely now.
Butt and trainer Sonya Smith were initially keen to tackle the first big four-year-old feature at Melton on January 25, so taken were they by his outstanding third against the topliners at Bathurst a couple of weeks ago.
But since then the All Stars' new pinup Self Assured has gone to another level, dominating his rivals in the Auckland Cup and his trip to Australia has been confirmed, with his first two targets the Ballarat Cup on January 18 and the Bonanza a week later.
"There's not much point going all that way to race Self Assured," says Butt. 'We won't be beating him. I'll wait to see how my fella goes tonight but I'm leaning to not going now."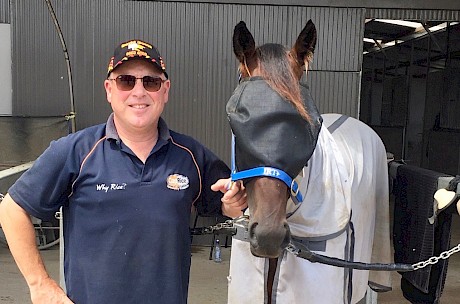 Anthony Butt with Make Way who should give another great sight from the inside draw tonight.Make Way's luck held when the random barrier draw came out for Menangle tonight, landing his favourite pole position, from where Butt will be able to carve out his own luck again.
And while he meets a strong line-up of mostly higher rated runners, he is suited to the testing 2300 metres at Menangle after his recent top efforts over 2540m, 2555m and 2790m.
Whether Butt elects to stay in front or take a trail will depend on how much early pressure he gets, but either way he says he should be able to stay handy enough.
"There are some classy horses in there but hopefully we'll be right there at the finish."
Among his opposition tonight is former Lincoln Farms pacer King Of Swing, having his first start since moving from Perth, and the tough pacer Ignatius, who is a regular performer in strong Group races.
Butt says Make Way hasn't missed a beat since running a close third to Alta Orlando and Our Uncle Sam in the Group II Shirley Turnbull Memorial at Bathurst, when he was caught in the shadows of the post.
"It didn't knock him at all. I couldn't be happier with him."
Make Way's main target this season is to qualify for the A$200,000 Chariots Of Fire on February 22 through the A$50,000 Hondo Grattan on February 8 and A$50,000 Paleface Adios a week later.

Make Way races at 11.18pm NZ time at Menangle on Saturday night.
Our runners this week
Wednesday night at Auckland
Franco Nandor, Captain Nemo, Tommy Lincoln, Man Of Action, American Dealer, Copy That.