Apieceoflou and Larry Lincoln looking for expenses before flying to Queensland
Improving pacer Apieceoflou could leave New Zealand on a winning note at Cambridge on Thursday night.
Apieceoflou is booked on a flight to Brisbane next week, along with Larry Lincoln, where they will join the Marburg stable of Al Barnes.
But both pacers will get their chance to earn some travelling expenses on Thursday night, Apieceoflou likely to start a hot favourite in the third race after his eye-catching late burst at the last Cambridge meeting.
Badly held up back in the field on the home turn, the horse was set an impossible task by the time driver David Butcher managed to extricate him.
Nevertheless his finishing burst still carried him to within 1.6 lengths of the winner Romanee, an effort which didn't surprise Lincoln Farms' trainer Ray Green.
"If David had got up him sooner he might have still won," says Green. "David will have a better understanding of him this time and he should go well."
But while obviously talented, Green says Apieceoflou is still finding his feet.
"I've got mixed feelings about sending him to Queensland as he'll keep improving and he has a big pedigree. He's out of a half sister to a 1:47 winner."
From an American family which includes a string of big-race winners, the Sweet Lou colt cost $85,000 as a yearling.
Green isn't expecting stablemate Captain Nemo, who draws badly in seven, to test Apieceoflou.
"He's taking time to get set. He's a big, lazy thing who needs to get stronger and fitter. He'll need to be driven conservatively. I'd like to see him get a nice trip and have his petrol saved instead of charging for the lead."
Captain Nemo sat parked for the last 1600 metres at his last start at Auckland and weakened out.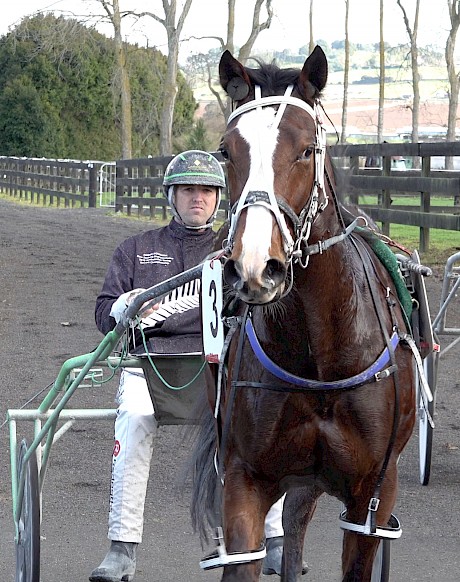 Andre Poutama knows Larry Lincoln well.Larry Lincoln, another by Woodlands Stud stallion Sweet Lou, will have to overcome the outside gate in the sixth race if he is to bow out here with a win.
Green says he has no doubt that the horse could find the early lead given his high speed.
"But I think you'd find he might pay the price at the other end so I'd like to see Andre find a decent trip for him."
Driver Andre Poutama was aboard Larry Lincoln at the Pukekohe workouts last Friday when he ran seriously fast sectionals to recover for second. The horse was standing the leaders 75 metres after an early gallop, caused by the mobile travelling too slowly.
Best of the debutants
Best of the three Lincoln Farms' debutants on Thursday night should be Louie The Punter in the seventh race.
The Sweet Lou brother to Lincoln Farms' former consistent pacer Double Or Nothing qualified in fine style at Alexandra Park last Wednesday when he clocked a mile rate of 2:02.8 in leading all the way.
"He qualified really well and is a definite chance," says Green.
"He's come a long way, from obscurity and disdain in the last few months and he strikes me as a more genuine horse than Double Or Nothing. He's certainly stronger at the same stage."
Louie The Punter has a niggly seven draw but faces a thin-looking field and certainly has the legs on stablemate Brian Christopher, drawn one inside him.
"He's honest but hasn't shown anything wonderful yet and will benefit from the experience," says Green.
"Bettor's Delights can grow a leg at the races but I wouldn't be holding my breath."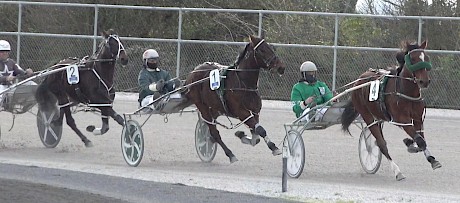 Aurora Stride trails Louie The Punter in a recent workout at Pukekohe.Aurora Stride strikes an even poorer looking lot in the second race which could see her start under her true odds.
Green describes Emilio Rosati's Somebeachsomewhere filly as "a real trier" but says she has a lot to learn.
"She's another who's come a long way in the last three months but I don't expect her to do anything too flash first-up."
A very nervous filly who has proven to be a bit of a handful, Green says Aurora Stride is starting to come to it now.
"She'll keep improving and will win a race or two but she's no Oaks filly and I'll be happy just to see her get round safely."
Out of the Dream Away mare Exposay, the filly cost $42,500 as a yearling and has two good West Australian winners in her pedigree VC Manoeuvre and El Jacko.
"Somebeachsomewhere is easily the best stallion the mare has been to as well."
Aurora Stride qualified nearly two seconds slower than Louie The Punter last week, looked very green on the bends, but showed plenty of ticker to win after being headed.
"She'll keep trying for you."
Our runners this week:
How our trainers rate them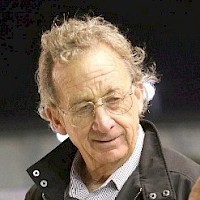 Ray's comments
Thursday night at Auckland
Race 1: Franco Nandor
5.24pm
"From a decent draw this time he'll be one of the hardest to beat because it's not a strong field. He lost a lot of muscle and strength when we gelded him but he should do better from now on."
Race 4: Larry Lincoln
6.49pm
"He'll lead easily and he's good in front so he's a chance to run a hole. But he can't burn at both ends so it depends on how the race is run and in these junior drivers' races they can be quite aggressive."
Race 6: Louie The Punter
7.41pm
"He's a big, dumb sort but he goes well enough. If he could be put on the front end on a nice steady rhythm I think we'd see a different horse. He just gets a bit lost and awkward in the field and the stop-start racing confuses him."
Race 6: Apieceoflou
7.41pm
"Second row draws can be good and if Gopati goes out he'd be right in it. He's come from way back in all his runs and he got held up in the run home last time. He's developing into a tidy horse."
Race 7: Tommy Lincoln
8.06pm
"The wide draw shouldn't worry him - he'll just mooch forward. It's pointless for him to go back, his MO is to get rolling. I thought he was travelling easily at the finish last time."
Race 7: American Dealer
8.06pm
"He's a little tradesman who never goes a bad race. He'll need a bit of luck from the draw but you can be sure he'll be running on strongly at the finish. He was good here last time."
Race 9: Copy That
8.56pm
"This is his most serious test. It usually takes the top age group horses two or three runs to find their feet against the tough older ones but he's exceptional and I expect Maurice will have a dab for the front."
Race 11: Man Of Action
9.46pm
"He'll be at the mercy of the ones he's following out but he's trained super this week and I think he's a definite chance. He's improving all the time."
Race 12: Captain Nemo
10.09pm
"He's a lovely big horse who's also on the up. I think he'll improve on last time here when he got pulling just when he was going to get a good trip and had to come out."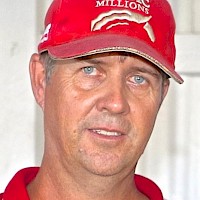 Al's comments
Saturday night at Albion Park
Race 3: Northview Hustler
8.14pm NZ time
"He ran some terrific sectionals last week coming from the back. He's improved through the week and I can't fault him. After his work his heart rate was down to 91, which is a lot better than it's been. He's at his best when it's in the 80s. He's a live chance and I think we'll see a different horse on Saturday night."