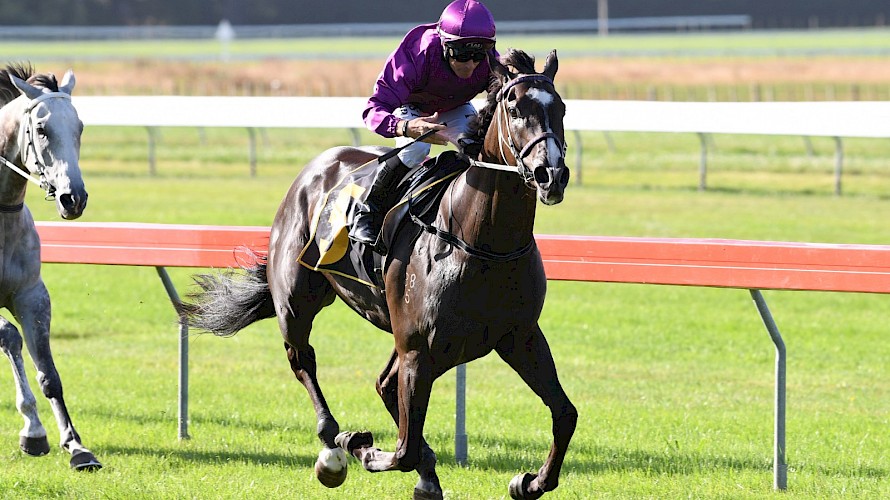 ARC to address derby qualifying anomalies - Platinum Invador victim of 'perfect storm'
The Auckland Racing Club will review its ranking criteria for the New Zealand Derby acknowledging its flaws are poised to deny Platinum Invador a start in the $1 million race on Saturday.
Lincoln Farms' progressive galloper showed he's a genuine staying force when he mastered a strong field at Otaki yesterday but the $15,625 winner's purse has left him $525 short of a spot in the 18-horse field.
The horse's connections must now rely on a defection through injury to snatch a last minute berth, both owners John Street and Neville NcAlister and trainer Lisa Latta frustrated at the club's qualifying rules.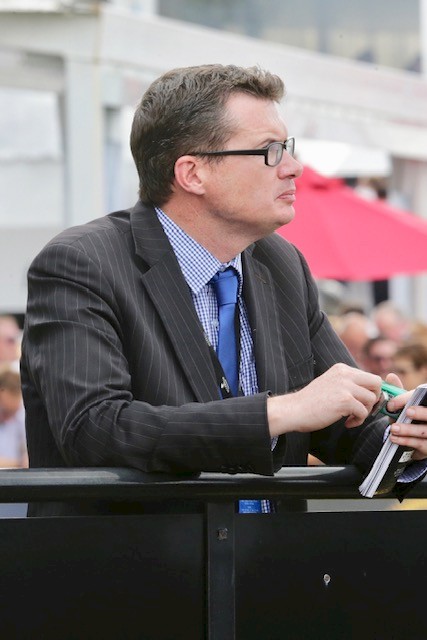 ARC boss Craig Baker wants to see changes to the derby selection criteria.Even ARC executive GM of racing and operations Craig Baker admits Platinum Invador looks hard done by, saying he's the victim of "a perfect storm.''
"There's a fair bit to think about for next year,'' says Baker. "There are certainly a couple of anomalies to look at - I don't think we've got our criteria 100% right.''
Top of the list for Baker and the club committee to address is the ludicrous position of horses beaten out of sight in the $1 million Karaka Classic having their earnings counted.
The club presently ranks derby runners in order of their earnings, but only those as three-year-olds. The only two-year-old credits come from money won in Group I races so the $1125 which Platinum Invador earned from his only start at two - that would have seen him make the derby field - is not included.
But all three-year-old earnings are counted, even those in races like the Karaka event in January which is restricted to sale graduates of New Zealand Bloodstock.
Under harness racing rules those sales series stakes are not counted when considering stakes for major events because they are not only not open to all horses but carry very high prizemoney.
Swords Drawn, who is 16th in the derby ranking, and Prise De Fer, who is 17th, earned massive money in the Karaka Classic even though well beaten.
Prise De Fer, who ran sixth, earned $17,000, and Swords Drawn who beat three home in 14th place earned $9000, stakes which have seen them make the field ahead of Platinum Invador despite having vastly inferior form lines.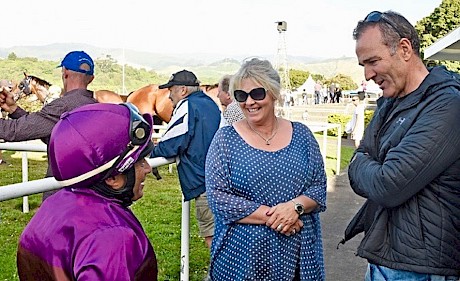 Platinum Invador's part-owner Neville McAlister with trainer Lisa Latta. PHOTO: Race Images.
Prise De Fer's sole claim to fame in five starts this season is a 1400 maiden win at Ruakaka. Swords Draw has not won in seven starts. Platinum Invador, on the other hand, has won three of his last five starts, two at middle distances, when he has come with powerful late finishes.
Baker says he doesn't think that's fair.
"I think you do have to count some of that Karaka Classic race - it would be a shame if the winner missed out on the derby - but if you run last and your prizemoney ($6000) is still counted I don't think that's right.''
Baker says he will be recommending that the club changes the criteria to allow only the first nine home in the Karaka Classic to apply their earnings to the derby tally.
"It's an arbitrary number but we've got to draw the line somewhere and we pay back to ninth in all our other races.''
Waikato Guineas exemptions
Baker will also suggest that the club widen its scope for automatic qualification to include the first three home in the Waikato Guineas.
Under the present rules, the Avondale Guineas, run at Ellerslie, is the only race that gives horses an exemption from the ballot if they run in the top four.
That means a horse like Sword In Stone will also miss the derby even though in his last start in the Waikato Guineas he was beaten just a short neck and a long head by Sponge Bob and Arrogant, both of whom have made the field.
"We can't be having horses who are placed in a Group II staying race for three-year-olds not getting a start.''
A Waikato Guineas safety net would also have helped runner-up Arrogant, who has only just made the cut in 18th place.
Baker says if Platinum Invador had had a little more luck in the Avondale Guineas, when he was buffeted and snookered throughout the run home, he would be in the derby.
Instead of earning $1000 for ninth, he should really have banked at least $2500 for fifth, which would have sealed a derby start. And fourth would have guaranteed him a run.
Baker says things this year have been brought to a head with three Australian horses here for the derby, putting more pressure on horses further down the qualifying order.
While Nobu (10th), Botti (11th) and Tolemac (15th) have already enjoyed earning higher Australian stakes, their tally is boosted even further by the club's rule that overseas earnings are converted to New Zealand dollars.
"Normally we're lucky if we get one Australian horse coming over.''
Baker says he's reasonably comfortable, however, with the derby criteria being based on prizemoney - if it was decided on ratings Platinum Invador would have been a shoe-in as he is rated 72, while six of the horses above him are in the 60s.
"It's always been done on stake money won. My understanding is when the race was run on Boxing Day it was too early in the season for horses to have been exposed enough to get a true rating.
"But now that it's run in March horses have had the time to get a true rating.
"But I don't mind the dollar element. Everyone knows where they stand.''
Middle distance credit?
So should horses with superior form over middle distances get more credit? Here we have Platinum Invador excelling over 2100 metres, twice, and the only other horses in the derby field who have won over a trip are Surely Sacred, Sponge Bob and Cutadeel.
At present the distance clause is only invoked to separate horses on the same earnings, says Baker.
"If we start making too many clauses it gets too complicated.''
The club does have a discretionary power to elevate horses in the rankings, or more accurately exclude any horse from the balloting conditions, but Baker is not a fan of the clause.
"I'll be questioning the need for that. You get into trouble if you start picking and choosing what horses get into the race. I think it's better to take that clause out.''
Baker says he's called the connections of all horses who have made the derby cut and the only question mark he noted was over the Australian Tolemac.
"But it seems he will run. He was too fresh in the Avondale Guineas and was only fair (in sixth) last time when back to a mile at Matamata.''
Tolemac, trained here by Paul Jenkins, has earned $3375 in his four starts in New Zealand, beating two home in the Auckland Guineas and one home in the Avondale Guineas.
Who would you rather back? The winner of one race, a 1600 metre maiden at Moe last August, or an improving stayer in three race winner Platinum Invador at the peak of his form.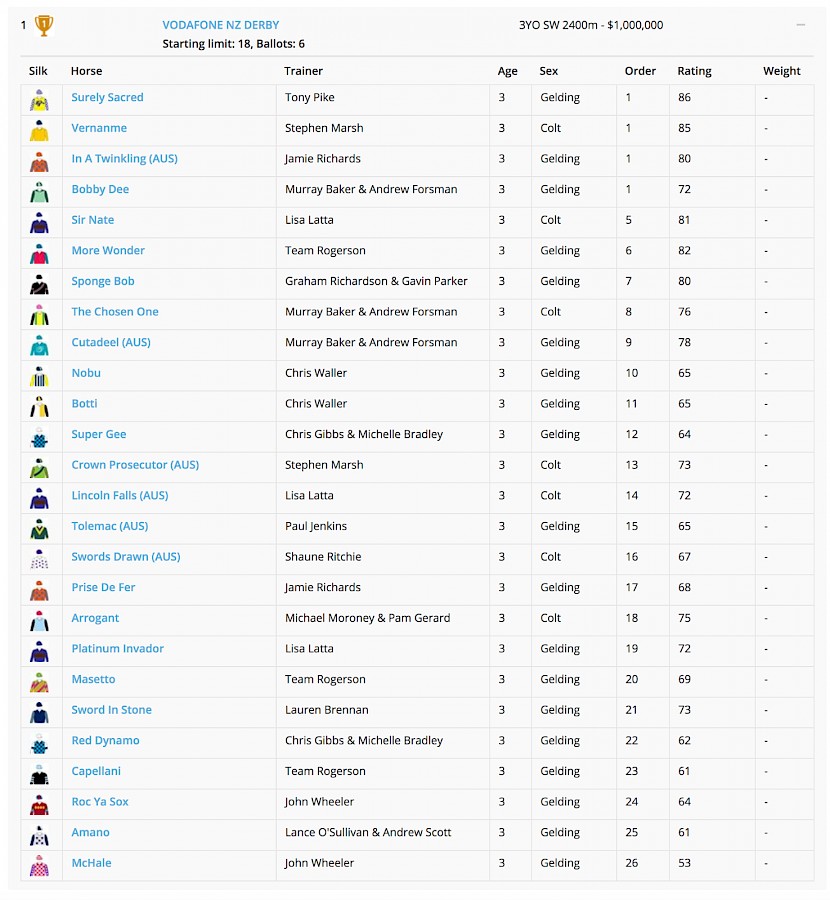 Platinum Invador sits 19th in the qualifying order for the derby, which is ranked on three-year-old prizemoney won, not ratings.
Our runners this week:
How our trainers rate them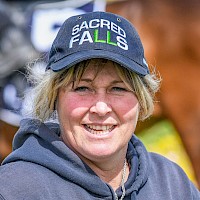 Lisa's comments
Saturday at New Plymouth
Race 7: Platinum Volos
"It's not an ideal race for him and I'm a bit worried about the 1400 metres. We'll have to ride him back last and look for runs through them to give him the chance to see the distance out."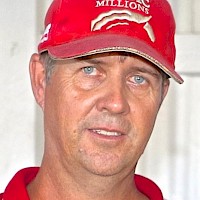 Al's comments
Saturday at Kilcoy
Race 5: Lincoln's Command
4.59pm NZ time
"He looks fantastic and his work has been good. Kilcoy is a very tight track and you need to be up front so we'll be going foreward even from the wide draw. We rode him back last time and it didn't work as he's too one-paced."