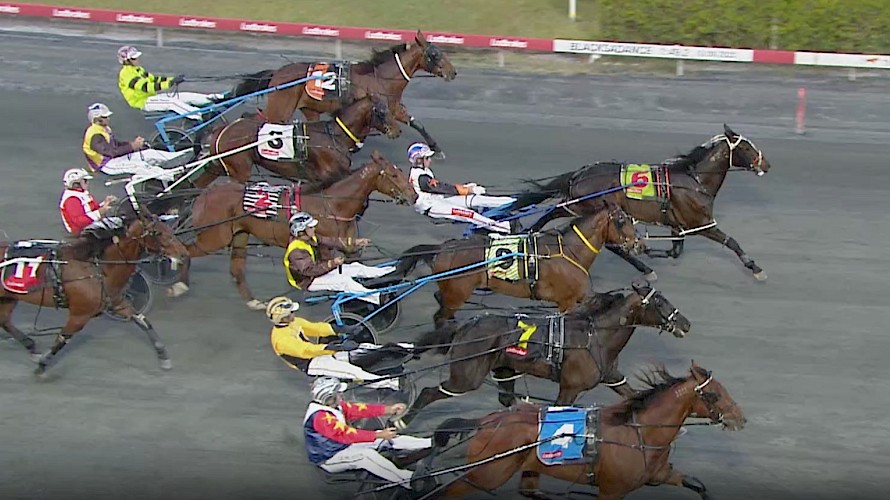 Argyle deserves a win, Nemo too, as Mark rues how bad daws have undermined the formlines
Argyle, cruelly denied a win in the last stride at Albion Park last week, gets another chance on Saturday night, albeit from a second row draw.
Argyle looked to be holding all challengers in the run home last week after doing a mountain of work and it was so close at the finish even commentator Chris Barsby got it wrong, calling the four-year-old in first.
But a flashing late run wide out by Blackjack Bart stole the race from Lincoln Farms' owners who had to be content with their third runners-up cheque on end.
After being three wide to the death, trainer Mark Dux suspected driver Angus Garrard might have forced a slightly too fast third quarter of 28.04.
"But Angus thought when he pulled the plugs the horse pricked his ears and half waited for them. He still raced well given all the work he did."
Dux is hoping Garrard can get a good run through from the second line on Saturday night and finish in the money again.
"This is a reasonably decent field - the New South Wales horse Saint Crusader is the likely favourite and the one horse, Rosberg, got home really strongly last week - but he'll be more than competitive.
"It will come down to the trip. If he gets a good trip he'll be in the thick end of it but we know he can also do a bit of work. He won't disgrace himself."
Tricky draw
Dux was happy to see Captain Nemo draw four in the following race but, frustratingly, just when the horse finally gets an improved alley, he says he won't have the speed to cross.
"I sound like a broken record but he's just had no luck with his draws."
In his last seven starts Nemo has started from two on the second row, five on the second row, one on the second row, seven, one on the second row, seven and four on the second row.
"If he wasn't going any good you'd be worried but he actually is. But there's too much speed inside him on Saturday night for him to lead. We'll play it by ear off the gate. I don't know where we'll end up."
Under normal circumstances Dux says the talented Teddy Disco might have been happy to sit parked, potentially giving Nemo cover.
"But he's back after long lay-off - he's had a few issues - and they probably wont want to sit parked first-up."
Dux blames himself for possibly costing Nemo a placing last week.
"We could have been three fence but I told Angus if we go there, we couldn't possibly win.
"I said he's going well enough to win, so stay out and give him his chance. If they go silly early, we'll be strong at the finish, so don't be jammed up on the fence.
"But it didn't work out like that, they came out, went 100 yards and all grabbed up.
"And after they walked through the first half he had no chance, coming wide when they sprinted."
Dux says Nemo's formline misrepresents how well he's racing.
"I'm really happy with him and he's done well since his last run."
* Dux reports Tommy Lincoln is doing well in a new preparation and will trial at Albion Park on Monday.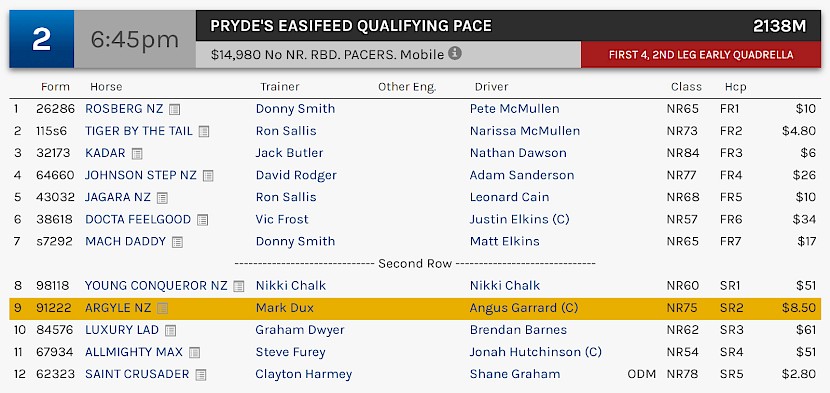 Argyle races at 9.45pm NZ time at Albion Park on Saturday night.

Captain Nemo races at 10.18pm NZ time at Albion Park on Saturday night.
Our runners this week
Friday night at Auckland
Saturday night at Albion Park
Tommy Lincoln, Argyle.