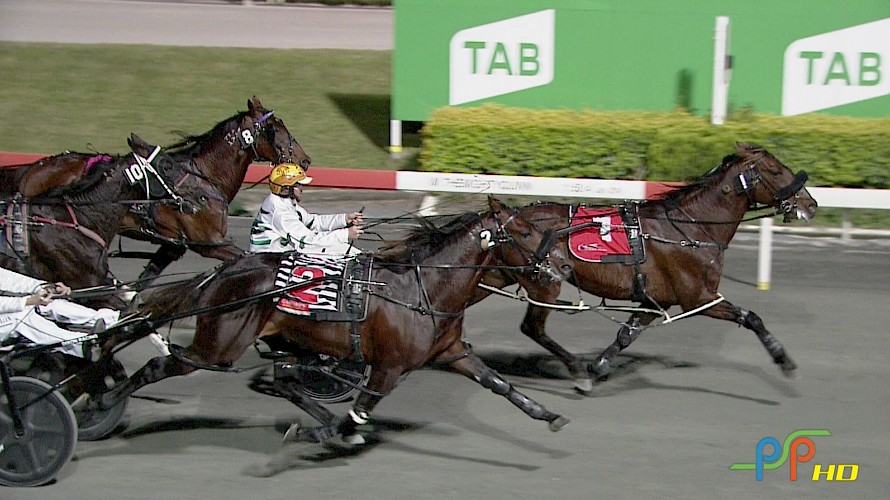 At last, Hustler gets a trip and his unlucky fourth raises hopes for next week's rich finale
"We're in with a chance next week, we just need a half decent draw."
That was trainer Al Barnes' immediate reaction to Northview Hustler's outstanding fourth in tonight's Sunshine Sprint at Albion Park - thinking forward to next Saturday night and the A$250,000 Black A Fake Championship.
For the Hustler showed beyond doubt tonight that he will be competitive in Queensland's winter feature - getting within 3.5 metres of winner Ohoka Punter despite not really getting a crack at the leaders in the last 400 metres.
"Yes, he was a tad unlucky,'' said Barnes. "All we needed was for Anthony (Butt) to drop off a few seconds earlier to get out on the home turn."
Locked in the one-one round the bend, driver Hayden Barnes couldn't get out to attack with Cullenburn and Butt labouring three wide outside him.
And Barnes was again stymied for room up the home stretch when, after angling in, there wasn't quite enough room to get his sulky between Ohoka Punter and Colt Thirty One.

Up the home straight and the arrow shows the gap which Northview Hustler couldn't quite squeeze through."Hayden said he didn't quite have enough room and had a bit left in the tank.
"But he was rapt with the run. He said he was nearly tempted to come out of the one-one and slip round into the chair but I'm glad he didn't."
Barnes predicted with uncanny precision the run he hoped Hustler would get, and even revealed his pre-race plan not to put Hustler out three wide round the turn and to wait and stake a late claim.
"It just shows you what a half decent draw can do - you don't have to bust a gut three wide.
"It was a good drive by Hayden and earning a little cheque in a Group One race was OK too."
Northview Hustler's fourth saw him take a purse of A$5820, unlucky not to snare the A$8700 claimed by Watch Pulp Fiction who just photo-finished him for third.
The performance also confirmed Barnes' belief that red hot favourite Colt Thirty One was beatable as, while the local star got his own way front from a perfect draw, he was sprint-laned by his stablemate, going down by 1.3 metres.
Ohoka Punter, a former Kiwi who, incredibly, is rising 10 years old, clocked a mile rate of 1:53.2 for the 1660 metres, the closing sectionals only a steady 55.5 and 27.7.
Wicked sectionals in Derby
In total contrast was the South East Derby earlier in the night, when the sectionals were so wickedly fast Lincoln Farms' Trojan Banner couldn't get into the race from his second row draw.
With New South Wales visitor Lochinvar Art speeding along in front, and the All Star's unbeaten Self Assured looping the field to park, the big guns clocked a sizzling 53.4 for their last 800 metres, and whizzed home in 26.1 for the last 400.
Self Assured, who claimed a nose win at the wire, ran the 2138 metres in a 1:54.1 mile rate.
Lincoln Farms' Make Way, who was given a sweet one out, three back sit by driver Anthony Butt, dug in bravely in the run home to finish fifth, 8.2 metres from the winner.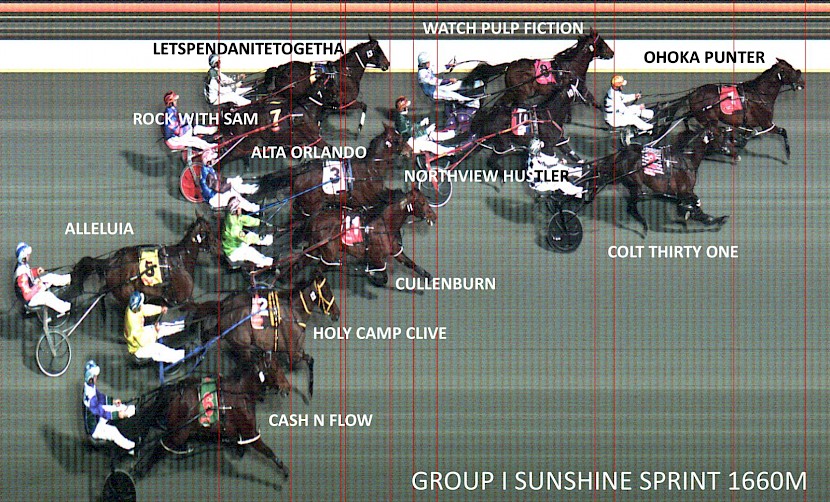 Our runners this week
Thursday night at Penrith
Make Way.
Our runners this week:
How our trainer rates them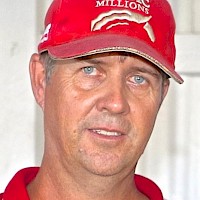 Al's comments
Tuesday at Albion Park
Race 3: Double Or Nothing
4.53pm NZ time
"He got badly held up last start but but he didn't ping like we thought he would. Hayden might want to lead on Tuesday and I'd say he'll be either there or in the trail and from there he should go close, and finish in the top two."