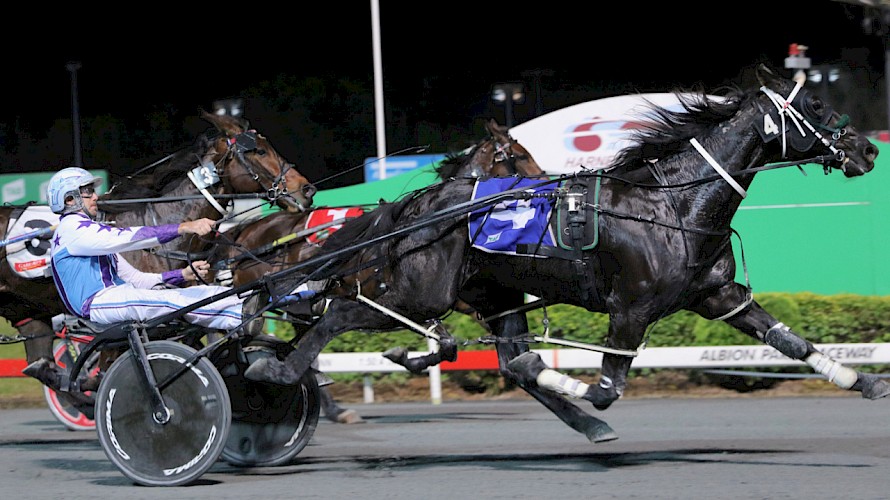 At long last, Hustler gets the leading draw - and it's catch me if you can on Saturday night
Trainer Al Barnes had to rub his eyes to make sure Northview Hustler really had drawn one for Saturday night's Lucky Creed at Albion Park.
Barnes has been so used to copping terrible draws with the Hustler in the last 18 months he was worried the number might actually be 11.
But buoyed by the pole position, and the fact the Hustler has had a great week, Barnes is tipping Lincoln Farms' little hero is the one to beat in the A$25,770 feature.
"He'll be hard to catch in front. The last time we led, Colt Thirty One just beat us, first-up in near record time."
Barnes knows Colt Thirty One will be a big threat again, drawn to trail Hustler all the way.
"If we get pressured and we're forced to run a track record, we'll be left a sitting duck but, if not, we should be too sharp for him up the straight."
Barnes says to forget the Hustler's run last week in the Mr Feelgood when he dropped out to beat all but one home after enjoying the one-one.
He revealed that as part of ongoing maintenance, he'd had the Hustler's joints injected the previous Monday and was only able to jog him during the week.
Al Barnes … Hustler is the one to beat from in front."He went into the race down on fitness as we couldn't put the hard work into him. But it was also probably a combination of not having recovered from his hard run the previous week.
"People don't understand how hard it is to back up from a record mile." The Hustler was credited with the second fastest final sectionals in the Wondai's Mate when winner Cruz equalled The Mightyquinn's track record of 1:50.4.
Barnes says you have to take into account the Hustler also had to do a lot of work early last week when driver Hayden Barnes went forward on a very fast lead time of 37.
"It wasn't the way Hayden wanted to drive him but I wanted to put him into the race. We don't really like driving him like that. We've done it a few times and he's failed if he hasn't found the front."
The race was also run at a hectic tempo with Cruz clocking a mile rate of 1:53.2, only eight tenths of a second outside Bling It On's track record for 2138 metres.
On Saturday night the Hustler is likely to strike a leader's track, says Barnes.
"We had some rain last night and it looks like being wet for the next couple of days so that will take a bit of sting out of the race time-wise.
"It will make it harder for them to catch us. A lot of horses don't try as hard from behind as well when there's mud and crap being thrown up in their faces."
Barnes says a number of the Hustler's rivals won't see out the 2680 metre trip either, though Colt Thirty One is not in that category having set the track record mile rate of 1:53.7 for the distance in winning the Blacks A Fake 12 months ago.
With the Hustler's main rivals Colt Thirty One, Our Uncle Sam and Speech Is Silver all on the second row Barnes says the Hustler is the one to beat.
"He's fit and well, is eating great, has had his fast work this week and, regardless of how the race is run, he should definitely earn a cheque."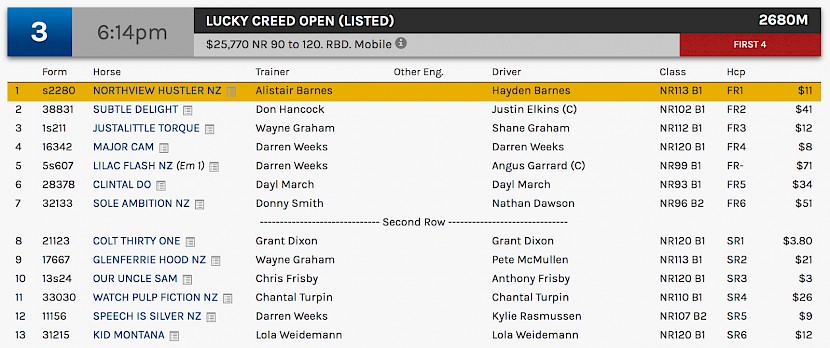 Northview Hustler races at 8.14pm NZ time at Albion Park on Saturday night.
Our runners this week:
How our trainers rate them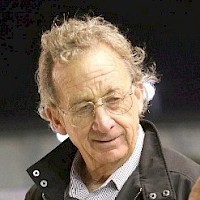 Ray's comments
Thursday night at Auckland
Race 1: Franco Nandor
5.24pm
"From a decent draw this time he'll be one of the hardest to beat because it's not a strong field. He lost a lot of muscle and strength when we gelded him but he should do better from now on."
Race 4: Larry Lincoln
6.49pm
"He'll lead easily and he's good in front so he's a chance to run a hole. But he can't burn at both ends so it depends on how the race is run and in these junior drivers' races they can be quite aggressive."
Race 6: Louie The Punter
7.41pm
"He's a big, dumb sort but he goes well enough. If he could be put on the front end on a nice steady rhythm I think we'd see a different horse. He just gets a bit lost and awkward in the field and the stop-start racing confuses him."
Race 6: Apieceoflou
7.41pm
"Second row draws can be good and if Gopati goes out he'd be right in it. He's come from way back in all his runs and he got held up in the run home last time. He's developing into a tidy horse."
Race 7: Tommy Lincoln
8.06pm
"The wide draw shouldn't worry him - he'll just mooch forward. It's pointless for him to go back, his MO is to get rolling. I thought he was travelling easily at the finish last time."
Race 7: American Dealer
8.06pm
"He's a little tradesman who never goes a bad race. He'll need a bit of luck from the draw but you can be sure he'll be running on strongly at the finish. He was good here last time."
Race 9: Copy That
8.56pm
"This is his most serious test. It usually takes the top age group horses two or three runs to find their feet against the tough older ones but he's exceptional and I expect Maurice will have a dab for the front."
Race 11: Man Of Action
9.46pm
"He'll be at the mercy of the ones he's following out but he's trained super this week and I think he's a definite chance. He's improving all the time."
Race 12: Captain Nemo
10.09pm
"He's a lovely big horse who's also on the up. I think he'll improve on last time here when he got pulling just when he was going to get a good trip and had to come out."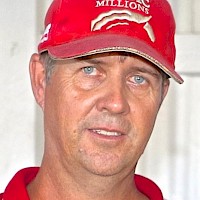 Al's comments
Saturday night at Albion Park
Race 3: Northview Hustler
8.14pm NZ time
"He ran some terrific sectionals last week coming from the back. He's improved through the week and I can't fault him. After his work his heart rate was down to 91, which is a lot better than it's been. He's at his best when it's in the 80s. He's a live chance and I think we'll see a different horse on Saturday night."