Atta boy, Joey, that'll put a smile on the boss's face back home where it's all Covid gloom
Queensland trainer Al Barnes reckons he might just have given Lincoln Farms' owner John Street a reason to smile amid the COVID-19 gloom.
At Albion Park today, in his first attempt at qualifying, one-time reject Joey Lincoln paced a blazing 1:55.5 mile rate, without even being pushed.
Sent to the lead after 200 metres, Joey Lincoln paced beautifully throughout the 1660 metres and without driver Hayden Barnes even pulling the ear plugs, strolled home by five metres over Uncle Shank with an ever widening 34 metres back to the third horse.
"We knew he had ability but that was very pleasing," said Barnes.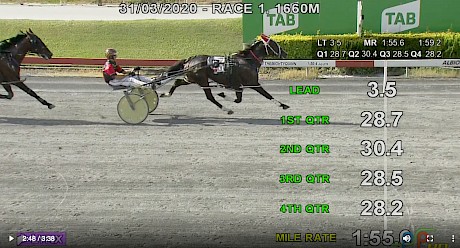 Joey Lincoln strolls home, recording some smart sectionals."He ran up the straight on a loose rein by himself and didn't do anything wrong, running home in 56.5 and 28.
"I didn't think he was ready to run those sectionals and Hayden said he was cruising.
"That's a very quick qualifying time - I thought he'd run about 1:58 to be honest. He's improved seven seconds in a week (last Tuesday he went 2:02) and to do it so easily, with the plugs still in, was great."
Barnes was considering giving the Sweet Lou three-year-old another trial but, depending on what his son recommends, he says he might now take him straight to the races.
"He's ready to go and he's been up for a long time so he's not far away from looking for a break. So while he's happy and doing so well we might just go full steam ahead."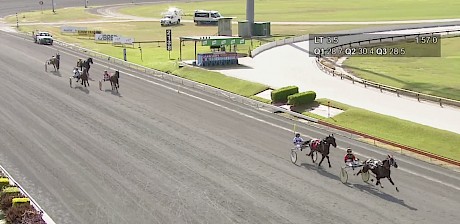 Joey Lincoln has them strung out today at Albion Park.Barnes says while Joey Lincoln had a reputation for being a bit of a pig, and a long term project, while in early training at Pukekohe, he'd always liked the horse.
"He's so good to do anything with. He's not a great walker in the gig - he hasn't got a lot of patience and wants to get on with it - but he's got speed."
Barnes says he keeps the gelding on a minimal diet, with no grain, otherwise he'd be too hot.
"He's like a kid on red cordial."
Barnes says he's looking forward to racing Joey Lincoln after a lean spell in recent months since his better Lincoln Farms horses were sold.
Tomorrow he will find out what the immediate future of Northview Hustler holds when he is X-rayed for a second time to try to detect the cause of inflammation in his fetlock.
Our runners this week:
How our trainer rates them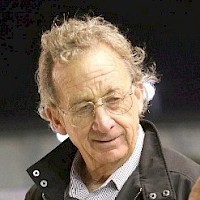 Ray's comments
Wednesday night at Auckland
Race 1: Apieceoflou
6.11pm
"He's really only in the field to get experience. He's not up to the other two at this stage. He's a big, slow maturing horse. He keeps improving without being spectacular but he's a real trier."
Race 1: Captain Nemo
6.11pm
"He's been going well at the workouts without winning. He and Franco Nandor are both nice colts and I expect them to develop into tidy three-year-olds."
Race 1: Franco Nandor
6.11pm
"He's won his last two workouts but has a tricky draw and there are a couple of others in the race who go well. He'll definitely improve with the outing."
Race 4: American Dealer
7.36pm
"I like him as a horse and he's likely to take the most improvement out of his latest trial because of his temperament. He's a laid back individual and looks the best of our lot."
Race 4: Larry Lincoln
7.36pm
"Larry's very fast and he's as forward as the other fella but I don't know how tough he is yet. The draw's a bit tricky."
Race 4: Man Of Action
7.36pm
"He trialled super last Friday and never goes a bad race. We chucked him in the deep end with the bear cats in his last few runs and I think he'll go well in this field. He's on the up and is a much stronger horse now."
Race 7: Copy That
8.56pm
"He's the class horse of the field but he won't be on top of his game yet. I'll be instructing Maurice not to send him on a mission, especially as it's over 2700 metres. He'll still go well but I'm not expecting him to just line up and win. I couldn't label him first-up."