Authentic Charm worth a nibble at popular Tauherenikau picnic meeting on Wednesday
Don't let the wide draw put you off Authentic Charm when our holiday special lines up at Tauherenikau on Wednesday.
The horse which trainer Lisa Latta singled out before Christmas as one to watch out for has come up with the nine alley in a 12-horse field for the fifth race at the popular picnic meeting.
"I'm not worried about the wide draw as we have been riding her back at the trials and she has been hitting the line very strongly,'' says Latta.
Authentic Charm, who has no form in four starts, has been working strongly for Latta this time in, performing well in all three conditioning gallops.
And Latta is confident the slow maturing Per Incanto mare is ready to show her true worth in her first start since May.
She is not without opposition - Kevin Gray's Go James in particular looking a big chance on debut after winning three of his four trials - but Latta says the little half sister to her old marvel Authentic Paddy should be right in the fight.
Long odds for other pair
Lincoln Farms' other two runners on Wednesday will be at long odds, Lincoln's Gal runs into the talented three-year-old King Louis in the second race and Ajay Lincoln, back from injury, will find the 1400 metres of the fourth race far too short.
Lincoln's Gal has been woeful in her last two starts at Otaki and Wanganui but Latta says she has a lot more ability than she is showing.
"There's been nothing amiss but she just hasn't raced up to scratch so I have taken the ear covers off her.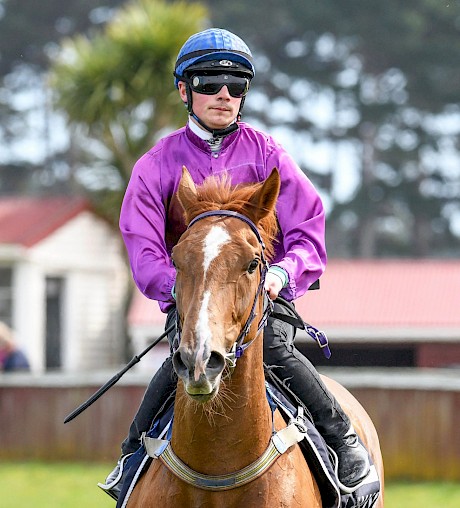 Chris Johnson takes the ride on Ajay Lincoln but he will find 1400 metres much too short. PHOTO: Royden Williams."She did work particularly well on Saturday morning and looks the best she has in a very long time.
"She is racing out of her class but Robbie (Hannam) is expecting a better run from her.''
Ajay Lincoln hasn't raced since he debuted on November 15 and will be outpaced on Wednesday, says Latta.
The horse missed work after stepping sideways in the hose bay after galloping and standing on a toe clip which bruised his back foot - "He is a bit of a softy.''
"He hasn't got a good draw but there's no point in scratching him. I think it's better to line him up and let him run home.
"We won't see the best of him until he gets over a lot more ground.''
Lincoln light
News in brief
GREEN FIBRILLATES: Lincoln Green had an atrial fibrillation at Otaki on Thursday and will need a vet clearance before racing again. The horse raced keenly early but gave ground quickly near the 600 metre mark and rider Robbie Hannam did not persevere with him in the run home when he suspected there was something amiss.