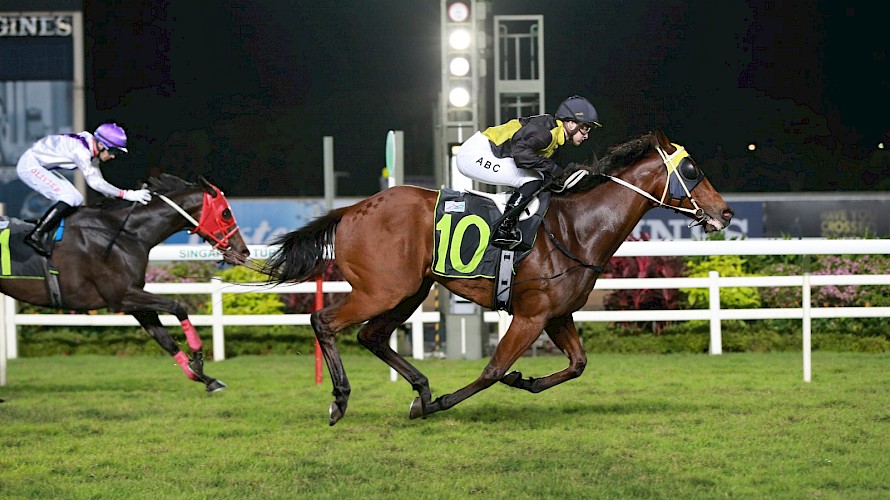 Baertschiger newcomer trials nicely but he's not big on O'Reilly's Dancer on Friday
Darci's Boy showed he was coming up well in a new campaign when he was untested to run third in a trial at Kranji today.
The six-year-old, formerly trained in Singapore by Bruce Marsh but now with Shane Baertschiger, covered a lot of extra ground in the 1000 metre heat on the polytrack, three wide outside the two leaders. And he was hard held by John Powell in the run up the straight to finish only three-quarters of a length behind the winner Star Mercury.
It was Darci's Boy's second trial this prep and the two-race winner is not far away from making his debut from Baertschiger's barn.
Lincoln Farms' stablemate Silent Prince, who showed a lot of potential last year for Baertschiger with a win and three placings, was also having his second trial today in the previous heat.
The Casino Prince four-year-old beat one home in the 10-horse trial but Baertschiger says the horse has a history of not handling the polytrack.
Go to bed, says Shane
Baertschiger lines up the only Lincoln Farms runner this weekend on Friday night and, while O'Reilly's Dancer gets his much-needed 2000 metres, he isn't recommending we stay up to watch him.
The O'Reilly six-year-old races at 1.55am Saturday morning NZ time but Baertschiger isn't hoping for more than crumbs of the S$50,000 stake.
"It's a fairly competitive field and I can't see him doing better than fourth or fifth.
"He gets up to the 2000 metres which is ideal for him and I've taken the blinkers off him because he was just too fierce last start.
"Down the back he wouldn't come back to his jockey, he kept charging, and he only one-batted up the straight.
"But that's what he is and at six he's too old too improve really.
"He's got a win or two in him but the trouble is there aren't many 2000 metres around. He needs 1800 metres minimum and even that's a bit short.''
The best O'Reilly's Dancer has managed in 17 starts in Singapore is one second and two thirds, the second over 1800 metres in May last year and the thirds both at 2000 metres in June and July last year.
In his three starts this campaign he has run seventh at 1400 metres in January, eighth at 1600 metres in February and ninth at 1600 metres on March 3.
Baertschiger fancies equal topweight Lim's Pride to win for Steven Burridge.