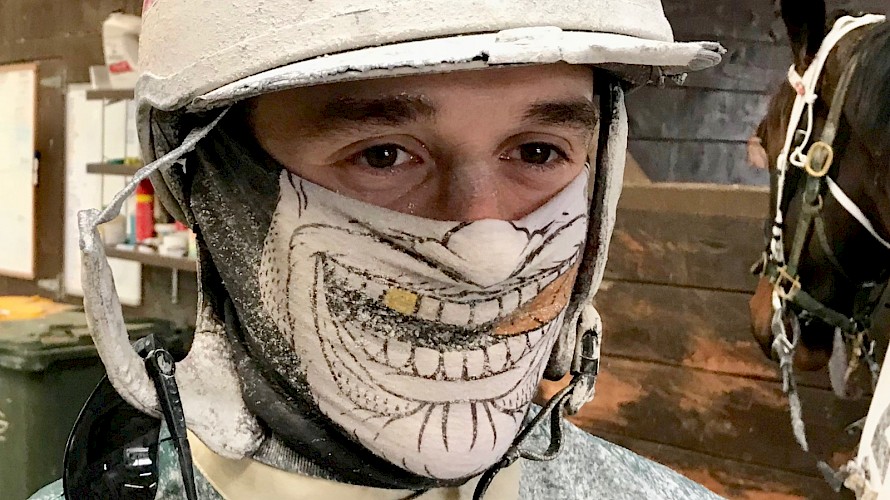 Behind the mask Zachary's plotting to wreak havoc at Auckland on Friday night
It was like a scene from Fright Night at the Pukekohe workouts today when Zachary Butcher donned his face shield and reined home three winners who should all be great chances at Auckland on Friday night.
Face protected from grit being thrown up off a rain-affected track, Butcher drove two-year-old Copy That to an impressive come-from-behind win, before scoring all-the-way on The Empress and his own horse Zeuss Bromac.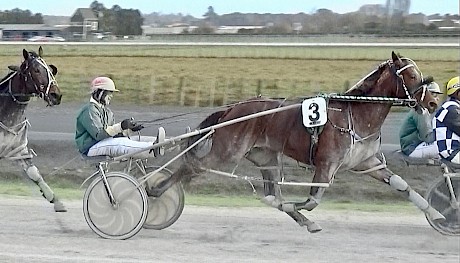 Copy That cruises along near the rear in today's Pukekohe workout before unleashing a good late sprint.Butcher was again taken by the improvement in Copy That whom he piloted to a seven and a half length win at Alexandra Park two weeks ago.
Unlike that race, when he led soon after the start, Butcher took Copy That back off the gate in his 2050 metre left-handed heat today and was content to sit second last most of the way.
Watching at the winning post trainer Ray Green was delighted to see Copy That travelling beautifully, without over-racing.
And when Butcher asked him for an effort from three back on the outer in the run home, Copy That really fired up, sprinting home in 27.7 to get up by a head.
The margin could have been even greater but Butcher took hold close to the line when Copy That put in a few rough steps.
In a tight three-way finish, Copy That beat Charlotte Royal, with a neck to Flying Steps in 2:39.3, closing in 57.7 to register a mile rate of 2:05.
Stablemate Perfect Stride, driven quietly three deep on the markers by Andrew Drake, ran on OK for fifth.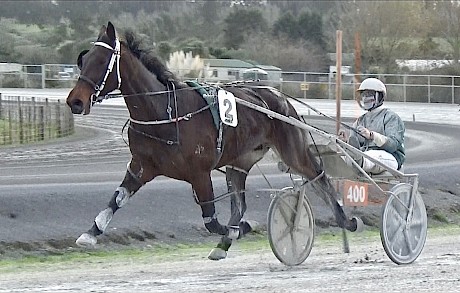 The Empress bowls along in the lead for Zachary Butcher.The Empress, an impressive winner for Butcher a week ago, showed good gate speed to lead from the outset in her 2500 metre right-handed heat.
She paced sweetly all the way, scoring by a nose and staving off a late run by the talented Tony Herlihy-trained Blazen River, who scored at the workouts two weeks ago.
Lincoln Farms' stablemate Just Wing It (Andre Poutama) was a further three lengths away third.
The Empress was clocked at 3:12.6, a mile rate of 2:04.9, with her last half in 57.
"I ran home in 27 and she wouldn't go much quicker than that,'' said Butcher. "She'll be a chance again on Friday and should do a good job here over winter.''
Zeuss Bromac, fresh from his sterling run for third at the Harness Jewels three weeks ago, was too good for the non winners in their 2050 metre heat, even though he had to be shaken up.
The first horse Butcher has trained, Zeuss Bromac will race on Friday night - "when he'll be hard to beat'' - and possibly have one more run here before flying to Australia to contest a Breeders' Crown heat at Shepparton on August 7. The semi-finals are at Bendigo on August 17 and Final at Melton on August 24.
There has been plenty of interest from buyers in Zeuss Bromac but Butcher is keen to win with the horse while he and his dad David still share in the ownership.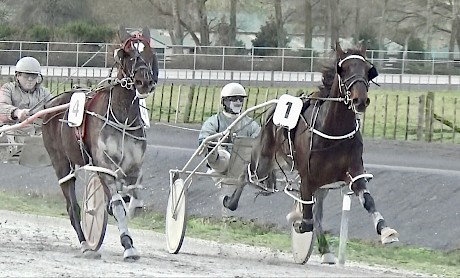 Billy Lincoln, inner, is about to be collared by Matai Geordie near the finish today.Lincoln Farms' stablemates Billy Lincoln and Lindi Lincoln are both headed for a month spell after showing signs of tiredness in their 2050 metre heat today.
Billy Lincoln was sooled out by Butcher to lead and looked to be travelling comfortably turning for home, only to be headed late by Matai Geordie, finishing three-quarters of a length second.
Lindi Lincoln, who trailed third before being pulled out to park down the back straight, also weakened out in the run home.
The winner was credited with a time of 2:38.6, a mile rate of 2:04.5. The final 800 metres was cut out in 58.5 and 400 in 28.1.
"They've both come a long way in a short space of time,'' said Green. "They're just tired and need a break.
"Billy's a big, slow maturing two-year-old.''
Our runners this week
Friday night at Auckland
Sunday at Menangle
Make Way.