Billy brilliant in swift 1:54.3 mile - and he doesn't even know what he's doing yet
Trainer Al Barnes says he's never had a horse like Billy Lincoln.
"He's a big dopey kid who doesn't know what he's doing - yet he's winning races so comfortably. Who knows what he could do?"
Barnes admitted to being completely floored by what Billy Lincoln did today.
In just his second start in the state, after four runs in New Zealand when the closest he got to the winner was nine lengths, Billy Lincoln won even more impressively than last week.
Taken off the gate from the second row, Hayden Barnes eased him into the running line, and bided his time in seventh spot until he hit the front straight.
When he pressed the button to loop the field, the response was instantaneous and electric, Billy finding the lead before the bell.
Made to work a little by the parked horse, the Bettor's Delight gelding ripped off a 28.9 third quarter, shook off his rival, and sprinted home in 28.2.

Billy gets home easily in 1:54.3.With a winning margin of 7.8 metres, and seemingly a few gears up his sleeve, he clocked a startling mile rate of 1:54.3 for the 1660 metres.
Billy came back to scale missing a plate but it didn't stop him from running faster than Lincoln Farms' Trojan Banner did in the first four of his seven wins earlier this year - and he wouldn't have blown a match out afterwards.
"He went a lot better than I thought he would," Barnes admitted. "The plan was to drive him aggressively to see what he could do but I didn't think he deserved to be a $1.18 shot. I didn't know how he'd race from behind, I didn't know if he had enough speed or how he'd handle a bit of pressure. I was worried they might find him out."
Barnes says Billy Lincoln seemed to attract big raps on his arrival, possibly because on the local website his four failures in New Zealand were recorded as being only by 0.8 metres, 1 metre, 3.8 metres and 4.5 metres.
In reality he was well beaten each time, his losing margins were 9.2 lengths, 10.6 lengths, 11.6 lengths and 12.3 lengths.
"Hayden was surprised at just how much speed he had when he pulled out.
"He's getting better and better, improving every time he goes round, but he's not even mature between the ears yet.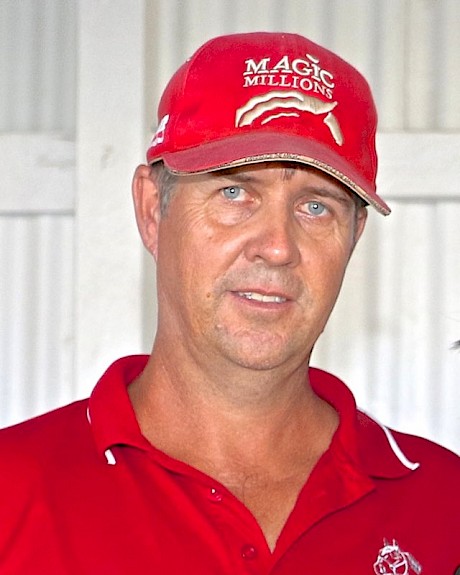 Al Barnes … "Imagine what he might do in six months?""Imagine what he might do in six months when he's learned what life's about?"
Barnes knows it's a bit soon to be making big statements but is wondering whether he might fashion into a decent sit-sprint type and even make a derby horse.
"We might win three or four races with him then give him a little break and start again (like with Trojan Banner).
Barnes said Billy Lincoln still "marked up a bit" today but paced a lot better with a one-legged spreader.
"It gives him a bit of balance and confidence but that will come off eventually. In three or four runs I don't think he'll need it the way he's improving."
Barnes said he was so impressed at the way Billy did everything within himself - "he was pretty brave today. We could have a decent horse on our hands."
Barnes scored a satisfying double in the next race on the card when Montana Nights got home by half a head - he trains and owns the horse outright.