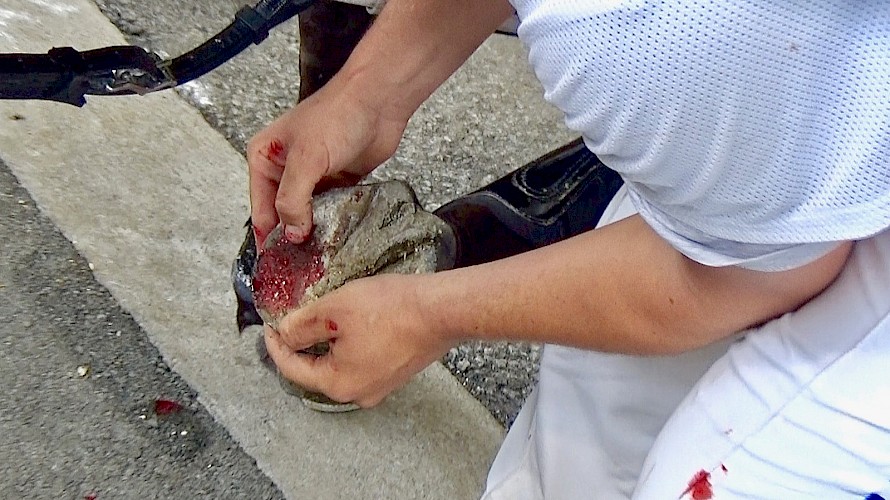 Bloody hell, first a pile of poo then a nail, so what will happen to Perfect Stride this time?
Perfect Stride, drawn perfectly in gate two, has an edge over his rivals in the opening race at Auckland on Friday night - but trainer Ray Green stops short of simply labelling him.
And that's because of what happened to the horse when he was last presented at Alexandra Park for the second Young Guns' heat on New Year's Eve.
The colt is the only one of the unprecedented six Lincoln Farms-trained runners in the race who won't be wearing the Lincoln green silks as he is owned by Australian Emilio Rosati.
But Chicago Bull's litle brother is sure to be the bookies' elect after his debut effort and could well start under the odds.
Perfect Stride missed the December 31 race when, soon after stepping onto the track, he switched into a pace and stood on one of his shoes, half twisting it off, and standing on the exposed nail.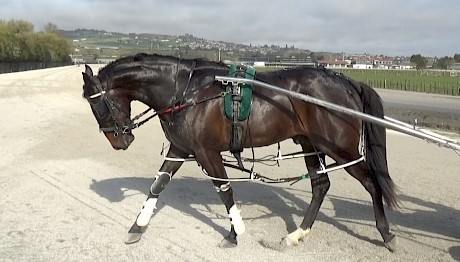 Little powerhouse Perfect Stride is drawn to be the No.1 prospect on Friday night.Driver Zachary Butcher had no option than to bring the colt straight back to the stable with blood pulsing out of the wound where it had pierced his foot.
Trainer Ray Green reports the horse missed four days' work while recovering - "when you drive a nail into your foot it doesn't heal overnight.
"There were no major dramas, it didn't get infected, but it could have left him a little bit short for Friday.''
Green says Perfect Stride is classy enough to still win - when Butcher drove the horse in his first spin round Alexandra Park he reported he had the potential to be one of the fastest horses he has driven.
Perfect Stride might not have beaten the Purdon/Rasmussen favourite Smooth Deal on debut on December 14 but he would have pushed him a lot closer than. 3.7 lengths had he not jumped a pile of poo on the track and galloped just when mounting his run on the home turn.
Green says Perfect Stride has the gate speed to cross Man Of Action and he can see Butcher taking an early lead.
Double Or Nothing training well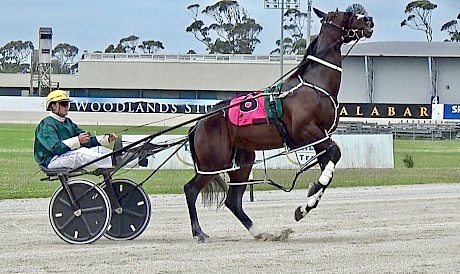 Double Or Nothing in playful mood for David Butcher before his last start.Double Or Nothing might have a sticky draw of five but Green says the way the horse has been training he's going to be hard to beat.
"He'll make Perfect Stride earn it,'' says Green. "I drove him in work on Tuesday and the way he felt he's gone on from where he was previously.
"He keeps improving and will be a serious chance on Friday.''
Green noted that in neither of Double Or Nothing's two races so far, when he has finished second behind first Smooth Deal then Mach Da Vinci, has driver David Butcher punished him.
"David doesn't bash them up. He's tried to school him a bit - he looks at the big picture and I can see him being very hard to beat in the Young Guns Final.''

Man Of Action runs wide on the turn out of the home straight when leading Sir Tiger and Perfect Stride in his first look at Alexandra Park last November.Debutant Man Of Action, a half brother to Make Way who is now to be campaigned in Australia, has come up with the inside alley, from where Green says he shouldn't have to do too much work.
"I don't think he could beat the other two but he's going to be a nice horse. He's a big, lazy type who has yet to be smacked on the bum.''
Man Of Action is back from a brief let-up which psychiatrist Green prescribed for his mental well-being after he'd been beaten up a few times by his stablemates.
In his latest trial on January 5 he ran a nose second to the filly Eighteen Carat and could have won easily had Zachary Butcher asked him for more - but the heat was run at a sedate 2:05.2.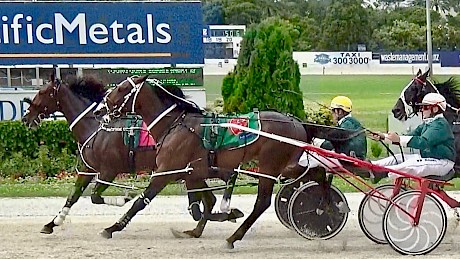 Sir Tiger .. parked without cover outside Double Or Nothing in his latest start."He should get out well at the start and trundle round OK.''
Green says he will be surprised if any of the other three wins, Sir Tiger handicapped by another wide draw.
"He's had to rough it both times but he's honest and will go round OK.''
Copy That the wildcard
Copy That is the wildcard, a colt big on ability but lacking in race smarts.
Raced by Green's wife Debbie, Copy That has shown plenty of high speed, winning two of his three trials.
But with his talent comes a quirky nature - he routinely gallops in the same place every time he goes round Pukekohe.
"Ability wise he's as good as the other two but he hasn't quite got the game yet and is vulnerable because he hasn't seen Alexandra Park.
"I'm worried about the shadows with him because he's so green but I'm quite glad he's drawn the outside. He won't be too stressed jammed up on the inside and racing hard out of the gate could undo him at this stage.''
Green says he'll be happy to see ace reinsman Tony Herlihy take the horse back off the gate.
"But if he happened to slot in somewhere and things went his way he could get some of it.''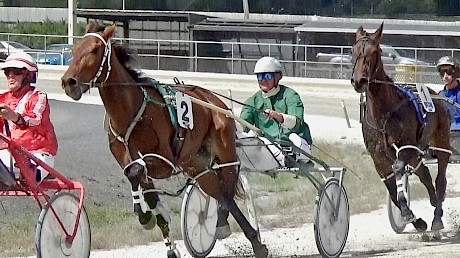 Tommy Lincoln … big two-year-old who is the least experienced of the six Lincoln Farms runners.Green will be pleased if his remaining runner Tommy Lincoln does everything right and gets round safely.
Nominated primarily to make sure the race got off the ground (which it didn't last time), Tommy Lincoln would benefit more from the experience of race night than going to another trial, says Green.
"I have thrown him in the deep end a bit and it will be a big learning curve for him but he's going well enough to be there.
"He isn't really a genuine two-year-old but while he's a big, lumbering trick he does nothing wrong and won't disgrace himself.''
Tommy Lincoln is the least experienced of the six and will be driven by the least experienced horseman in junior Andrew Drake but Green says he knows the horse well being his regular training driver.
In his only trial on January 5, the son of American Ideal was left flat-footed behind race rival Cloud Break and Line Up.
Best of the three challengers to Lincoln Farms' platoon looks to be Cloud Break who debuts for Frank Cooney and Tate Hopkins from gate four.
He has won this last two trials for Maurice McKendry, the latest on January 5 when he clocked 2:02.1 for the mile in pipping Line Up when his hopples were too loose.
Our runners this week
Thursday night at Penrith
Make Way.
Saturday night at Albion Park
Northview Hustler.
Our runners this week:
How our trainer rates them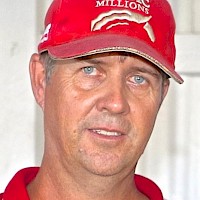 Al's comments
Tuesday at Albion Park
Race 3: Double Or Nothing
4.53pm NZ time
"He got badly held up last start but but he didn't ping like we thought he would. Hayden might want to lead on Tuesday and I'd say he'll be either there or in the trail and from there he should go close, and finish in the top two."