Busy night ahead at the Park where Copy That and Tommy Lincoln get top billing
Lincoln Farms takes a 10-strong contingent of horses to Alexandra Park on Wednesday night with two of them looking standout bets.
Stable star Copy That looks a home run in the opening race, but with only four lesser rivals will be at unbackable odds, while Tommy Lincoln has drawn to lead all the way in race six.
Four of the green team's other runners look set to be monstered by the Purdon/Rasmussen All Stars' invaders, including the just sold American Dealer who runs into crack two-year-old First Class.
Trainer Ray Green says Copy That would have to gallop to be beaten in the opener where he meets substantially lesser rated rivals on even terms behind the mobile gate.
And even though the horse was pulled up in the running when resuming on July 1 - in a fresh state he hit the sulky wheels and bolted - Green says there's no likelihood of that happening this week.
Copy That has been trialling in terrific style at Pukekohe in recent weeks and should simply have too much speed for his rivals.
"He does stand over them on paper and you wouldn't bet against him. He's pretty ready for this.
"We don't know how Mark's one (Smooth Deal) is going. He looked to train off at the end of his last prep."
Smooth Deal was no match for Copy That at Auckland last December when Merv Butterworth's star won the Northern Stakes and Alabar Classic. And he was also disappointing when flown across the Tasman where he was beaten in a Victoria Derby heat and managed only one minor win in four starts.
Smooth Deal has trailed twice this month, the latest at Ashburton where he ran up the straight with stablemate Amazing Dream and only a nose separated them at the finish, on a closing half of 55.2.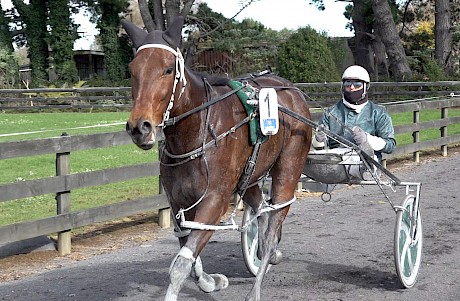 Tommy Lincoln … gifted the pole position in race six.Green is really looking forward to seeing what Tommy Lincoln can do from the pole in race six.
Heavily backed in his last start, Tommy Lincoln's chances were scuppered soon after the start when, from the inside of the second row, he became buried three deep on the markers and was dragged back to the tail of the field 500 metres from home.
"He's a horse who likes to roll along in front and from one he should get out fast enough to hold up. I can't see anything crossing him."
From there Tommy Lincoln will be mighty hard to beat against only rating 53 to 56 rivals, considering the quality of horses he competed against last campaign and the fact he has already pipped Copy That in three workouts this prep.
Green says stablemates Man Of Action and Larry Lincoln will be hard pressed to get into the action from the second row.
"We know Man Of Action is capable but whether he wants to do it or not is the question. He blows a bit hot and cold.
"And if you drive Larry aggressively he'll get nothing. He needs to sit and sprint."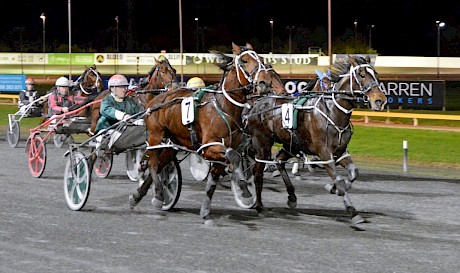 Captain Nemo, outer, gobbles up stablemate Apieceoflou in the shadows of the post at Cambridge. PHOTO: Chanelle Lawson.Captain Nemo has a niggly six draw to overcome in the second race but Green can see him racing well again.
The horse came from second last on the home turn to run down stablemate Apieceoflou last week at Cambridge, showing he is starting to come to it.
"He's a big, gross horse who continues to improve and he hasn't arrived yet."
Apieceoflou, Louie The Punter and Franco Nandor are going to find it very tough in race eight against the Purdon/Rasmussen trio of Bettor Call Me, Nevada and Gopati.
Bettor Call Me looked very unlucky 11 days ago at Addington when held up on the home turn. Purdon then had trouble releasing the colt's deafeners between the 100 and 50 metre marks yet he was still able to close to a head on stablemate Bettor Twist.
Green says while Apieceoflou is a likeable horse, is very genuine, and continues to improve, he hasn't shown superstar qualities yet.
"He finds a little bit more each time he races but from seven he doesn't need to be put into the race too soon. He's been driven quietly in his last two starts and raced well."
Franco Nandor, run down late after leading at his last start, will need luck from two on the second row and Louie The Punter, from five, showed on debut at Cambridge that he needs to develop more ringcraft.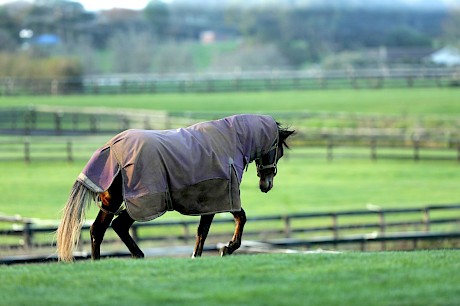 American Dealer enjoying his paddock time at Lincoln Farms. PHOTO: Trish Dunell.Green says American Dealer (race seven) will need to get a nice trip to threaten the All Stars' First Class, who has drawn to dominate from the pole.
First Class looked to be one of the best two-year-olds last campaign and had his rivals covered so easily in his last two wins at Wyndham and Addington in March that he ran to the line without his plugs being pulled.
"American Dealer will go well, because he's very genuine, but on paper it looks tough for him. And this isn't an important race in his programme."
Aurora Stride has a good draw in the ninth race but Green says not to expect too much of her.
"If you'd said six weeks ago that she'd be at the races now I'd have said that was impossible. She's big and green and has a long way to go."
On debut at Cambridge Aurora Stride was all over the place, "wandering here and there."
"If she did everything right, she'd be right in it but I can't see that happening. We'll need two or three more races to school her."
Our runners this week:
How our trainers rate them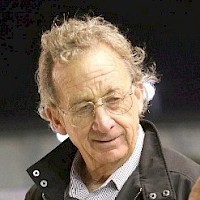 Ray's comments
Thursday night at Auckland
Race 1: Franco Nandor
5.24pm
"From a decent draw this time he'll be one of the hardest to beat because it's not a strong field. He lost a lot of muscle and strength when we gelded him but he should do better from now on."
Race 4: Larry Lincoln
6.49pm
"He'll lead easily and he's good in front so he's a chance to run a hole. But he can't burn at both ends so it depends on how the race is run and in these junior drivers' races they can be quite aggressive."
Race 6: Louie The Punter
7.41pm
"He's a big, dumb sort but he goes well enough. If he could be put on the front end on a nice steady rhythm I think we'd see a different horse. He just gets a bit lost and awkward in the field and the stop-start racing confuses him."
Race 6: Apieceoflou
7.41pm
"Second row draws can be good and if Gopati goes out he'd be right in it. He's come from way back in all his runs and he got held up in the run home last time. He's developing into a tidy horse."
Race 7: Tommy Lincoln
8.06pm
"The wide draw shouldn't worry him - he'll just mooch forward. It's pointless for him to go back, his MO is to get rolling. I thought he was travelling easily at the finish last time."
Race 7: American Dealer
8.06pm
"He's a little tradesman who never goes a bad race. He'll need a bit of luck from the draw but you can be sure he'll be running on strongly at the finish. He was good here last time."
Race 9: Copy That
8.56pm
"This is his most serious test. It usually takes the top age group horses two or three runs to find their feet against the tough older ones but he's exceptional and I expect Maurice will have a dab for the front."
Race 11: Man Of Action
9.46pm
"He'll be at the mercy of the ones he's following out but he's trained super this week and I think he's a definite chance. He's improving all the time."
Race 12: Captain Nemo
10.09pm
"He's a lovely big horse who's also on the up. I think he'll improve on last time here when he got pulling just when he was going to get a good trip and had to come out."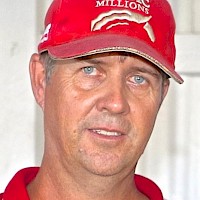 Al's comments
Saturday night at Albion Park
Race 3: Northview Hustler
8.14pm NZ time
"He ran some terrific sectionals last week coming from the back. He's improved through the week and I can't fault him. After his work his heart rate was down to 91, which is a lot better than it's been. He's at his best when it's in the 80s. He's a live chance and I think we'll see a different horse on Saturday night."