Butt tips: Don't write off classy Make Way just because he's on the second row
A second row draw might not be enough to stop Make Way from being right in the action at Menangle on Tuesday.
Lincoln Farms' in-form pacer starts from two on the second line in the fourth race at 4.16pm NZ time against opposition that should be well within his scope.
While Make Way has won four races and competed against some top three-year-old fields in New Zealand, six of his opposition on Tuesday have yet to win a race.
And with the preferential barrier draw:
The only three-race winner in the field, Double Bliss, starts from the inside of the second row and is out of form
The only two-race winner Heenzo is badly placed on the outside of the front line and
All three one-race winners have drawn wide in seven, eight and nine.
Butt says while there are a couple of unknowns in the field, a few horses he expected to run are absent.
And Make Way could be worse off than following out the Sportswriter colt Cannan whom Butt has driven and knows well.
"He gets out OK so we shouldn't get too far back with any luck. It's certainly better than being out in nine or ten.
Menangle is a roomy 1400 metre track with a 350 metre home straight."Menangle racing is always tempo related. If something gets an easy lead, it's hard to make ground from the back. But if they burn in front, it brings the back-runners right into it.
"But Make Way has a bit of class and is good enough to make his own luck.''
Butt says Make Way is in great nick after his latest placing at Penrith where he was forced to sit outside the leader and went under by only two metres.
"I was rapt with his run there given the time they went (1:59.7 mile rate for 2125 metres). They don't go much faster than that at Penrith.''
And now that he has settled in so well, Butt says he could see the colt going even better than his February 12 run at Menangle when he was pipped a half head and head in a 1:53.1 mile.
"He's one of those horses who's always a chance of winning every time he lines up.''
Two of the relative unknowns in the field are owned by Lincoln Farms' client Emilio Rosati and prepared by his new private trainer Noel Daley, who has returned home after a very successful two decades in the United States.
Typhon Stride, a brother to All Stars' 17-race winner Partyon, could be the best of the pair. While he has not raced since last April, he won a trial at Menangle on March 26 in 1:56.1. Paramount Stride ran sixth in the same heat.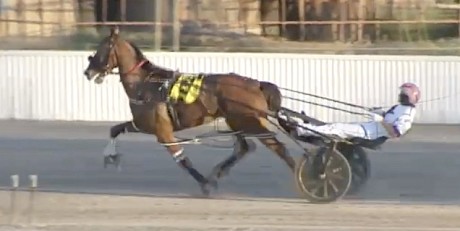 Vasari … headed for Brisbane.Lincoln Farms will also be represented on Tuesday by five-year-old Vasari who contests race eight, a heat of the Carousel to be run at 6.46pm NZ time.
"We thought we'd have a throw at the stumps with him but he's in the stronger of the two heats and has drawn badly in nine.''
Vasari, who has yet to win in 11 starts at Menangle, has been battling to win this season, notching just one win and eight placings in his last 20 starts.
Butt says while he's better suited over the longer 2300 metre trip on Tuesday he might find the opposition a bit rich.
And that's why the horse is likely to have his next start for Queensland trainer Al Barnes unless he makes the Carousel final.
"He's still going well but is finding it hard to win. It's a shame to lose the horse when he's on the verge of dropping back (in class). But every time he drops back, he seems to win again straight away.
"He's done a great job here but it will certainly be a lot easier for him in Brisbane.''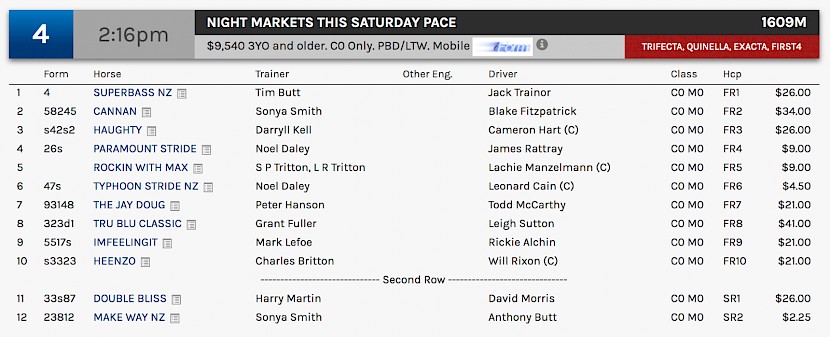 Make Way races at 4.16pm NZ time on Tuesday.

Vasari runs at 6.46pm NZ time on Tuesday.
Our runners this week:
How our trainers rate them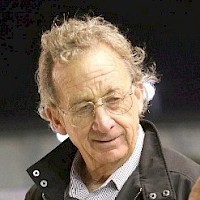 Ray's comments
Thursday night at Cambridge
Race 6: Double Or Nothing
"He's got very good gate speed and from the draw is definitely an each way chance. It's a huge drop in class for him."
Race 8 : Lindi Lincoln
"We found she had a virus last time and treated her. She may need the run but she should get an economical run and will go a good race."
Friday night at Auckland
Race 3: Hampton Banner
"He won well last time but, while he's an improver, he has yet to meet a field of this quality so is just on the watch list."
Race 3: Line Up
"He trialled up very well at the weekend and is in good shape. But he'll have to go back at the start from eight so will need luck."
Race 3: Copy That
"He's at the mercy of the one in front of him. But if Cloud Break leaves fast (as he can), he could get a nice drag along. He was very good at the workouts and I'm very happy with him."
Race 4: The Empress
"I've thrown her in the deep end but she has a bit of gate speed so should be able to stay handy from one. If she can finish in the first four of five I'll be very pleased."
Race 5: Ace Commander
"He never got a crack at them last week - Blair (Orange) had to virtually stand him on his ear in the home straight and said afterwards he thought he could have been right in it. He's been feeling good this week and will go well with the right trip."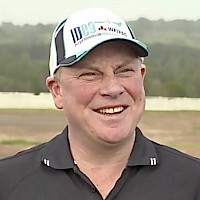 Ants' comments
Saturday night at Cranbourne
Race 7: Make Way
11.37pm NZ time
"It's going to be a hard race for him to win - he's only a four-year-old who's the new kid on the block - and he's never been against these horses before, some of whom are already racing on the Grand Circuit. But I'm hopeful he'll be competitive and, with the right trip, it wouldn't surprise me if he was right there at the finish."