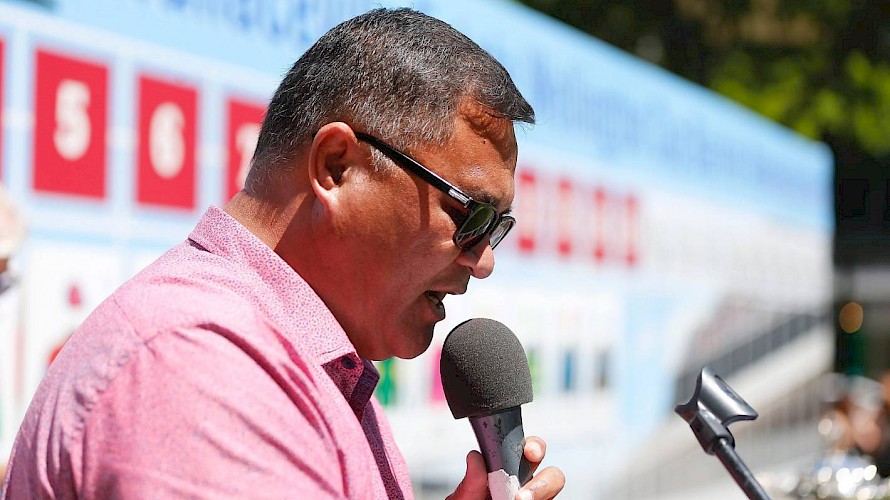 By George, they've gone to the dogs - gallops and trots callers to take over from Peter Earley
At least commentator George Simon won't need to resort to telling jokes to fill in the time when he starts calling greyhound races at the beginning of July.
Simon and fellow northern commentator Aaron White will fill the breach behind the microphone at the dogs when veteran caller Peter Earley's time runs out, a victim of the TAB's widespread cost-cutting.
Luckily, popular gallops caller Tony Lee, who keeps his post, won't be needed to do the same in the Central Districts, with Mark Rosanowski retained to watch the lids open.
Simon reckons he'll have to undo everything he's taught himself in his 40 years of race calling to adapt to the now-you-see-them now-you-don't races but he's determined to succeed.
"One of the little tricks to race calling is to slow down and take a deep breath. But when I tried that in the first dog race I called they were halfway up the home straight by the time I got going."
Simon is best known as a gallops commentator and has famously entertained his listeners over the years with jokes and riddles when fog or small fields have threatened to make his calls boring.
But he says he's looking forward to the challenge of accurately calling eight hounds flying through a 20 second race.
Apart from two commentators' days in the last 12 months when he and a bunch of other callers have described the action, he says he's only once done a full meeting.
Surviving callers Aaron White, left, and Tony Lee, second from right, were at Alexandra Park in 2010 on the retirement of Alby Gain, centre. Mark McNamara, now calling in Hong Kong is at right with retired gallops caller Keith Haub second from left."I got called up and hour and a half before the meeting was due to start and struggled all the way through.
"The club officials shouted me a lemonade after the meeting, said I'd done OK and invited me back the following week. I said, no thanks.
"I know some greyhound followers will be looking for me to trip up - they'll be saying what does he know about dogs? - but every caller takes pride in what he does and I'll back myself to come up to speed very quickly even if it takes a little while to get up to play with the form."
Simon knows he won't ever have the mana of Earley who began his career in the early 1970s and pioneered live race calling on Radio Pacific in the 1980s, travelling to tracks all over the country.
"But I'll be doing my very best as a measure of respect to Pete as a broadcaster, for his passion and enthusiasm over so many years."
Earley called his first Duke Of Edinburgh Silver Collar in 1973 and his voice has been an institution in broadcasting and on radio ever since.
On the one occasion when Lee stood in for Earley, his fear of calling dog races surfaced quickly when he announced something akin to: "And the victim (the lure) is sent on its way and Earley, you owe me plenty."
Simon has yet to sit down with Trackside chiefs to sort out exactly what his duties will be.
It would make sense, he says, for him to call all the northern gallops, for White to do the trots, and for them to share the dog meetings. Cambridge, being on his back doorstep, would be the logical dog track for him to cover.
All that, combined with trials, will keep Simon on the go.
"I've been looking at the calendar and I'll be one busy boy. But after doing the same thing for 40 years it will be invigorating."
Little did Simon know when he called his first gallops race at a Taupo on-course only meeting at the age of 17, along with Red Clapp and Mike O'Sullivan, that 40 years later he'd be off to the dogs.
Now, tell me again, what colour rug does the eight dog wear?
Our runners this week:
How our trainer rates them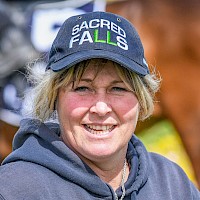 Lisa's comments
Saturday at Awapuni
Race 5: Lincoln's Kruz
1.13pm
"He has trained on well since his trial. The track is going to be very testing (heavy 11) on Saturday and he is untried in these conditions but there's not a lot of exposed form in the field and, if he handles the track, I'd expect him to be right in the thick of it."
Race 8: Platinum Rapper
2.53pm
"We've decided to go with the 3kg claim of Temyia Taiaroa in what is a strong field. She will come down to 52kg which will really help her on the heavy track. She has had a jumpout and a trial to prepare for this so, with the right run, should be right in the mix."
Race 9: Lincoln Dreamer
3.28pm
"He has Kozzi Asano up so will claim 1kg which will be a help. He handles wet tracks and has won on a heavy track before. This may be a bit short of his best distance but I expect him to get back in the running and be doing his best work late. He has been working well and I'm looking forward to seeing him back at the races on a wet track."
Race 10: Benny Lincoln
4.02pm
"The field isn't very strong but he has had only one jumpout so I am expecting he will improve a lot from the run. He handled the track well at the jumpouts so I think he will handle wet ground, but he may be one run away. Kozzi Asano will claim 1kg."