Call that baby-sitter Amy, Take No Prisoners isn't a lemon, he's turning into a real warrior
With three young children, Amy Poutama doesn't get to the races more than once or twice a year.
But luckily she found a babysitter to look after Shay, 2, Finnlay, 4, and Kenny, 6, on Friday night and was at Alexandra Park to see her horse Take No Prisoners give hubby Andre his best win as a rookie trainer.
Poutama works and drives for Lincoln Farms at Pukekohe but under owner John Street's scheme to foster young talent he is allowed to train one of his own there at no cost.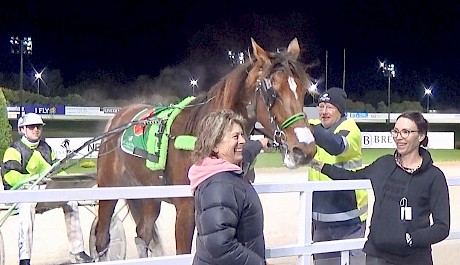 Amy Poutama, right, and Debbie Green, wife of trainer Ray Green, with Take No Prisoners after his win.Amy admits that after Andre bought Take No Prisoners for just $2500 from the online Horse Trader site late last year, she began to suspect "he'd bought a lemon.''
"I thought it was taking him too long to get the horse to the races.''
But for several months Poutama battled with the horse after a shoeing mishap when a nail got in too close and eventually an abscess blew out of his foot.
It was late March before Take No Prisoners got to the track, running a late closing second at Cambridge.
But while promising, Poutama wasn't getting too carried away, given the horse had a 28-race losing streak over more than two years and had previously been with Nathan Williamson and his father Phil, a master trainer of trotters.
With a Take No Prisoners style of running at the front end, however, the horse has now racked up a tidy two wins, three seconds and one third in his nine starts for Poutama.
And while his style has also come with a habit of caving in late, Poutama reckons he might now have found the secret to the horse.
For the first time last night, the horse wore plastic shoes, sourced by Amy.
"I reckon he might have had sore feet as he does hit the ground hard.''
True to form, turning for home, Poutama was wondering how much he'd win by, so well was Take No Prisoners travelling.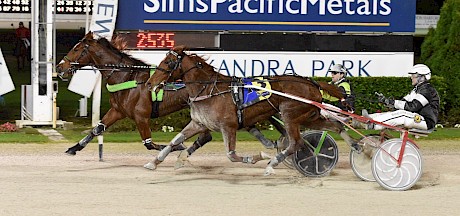 Take No Prisoners has a neck on Michelle at the finish on Friday night. PHOTO: Joel Gillan/Race Images.But while he fought better than in the past, the big horse "still didn't feel like he was trying real hard" and had only a neck on race favourite Michelle at the post.
Take No Prisoners was still full of fight, however, on getting back to the barn and it took three people to control him during the ungearing.
"At the track he's a real handful but at home round the barn he's as quiet as.''
Friday night's win, with a tidy $8025 winning purse, made up for Poutama's last start disappointment at Cambridge when third, after he was hoping to pick up the $1750 bonus for winning two races at the track in a season.
But Poutama is now hoping Take No Prisoners will continue his good form - the Monarchy six-year-old is bred to do that as his dam Del's Hoof N It won seven races.
It was Poutama's fourth training win - all this season - after earlier successes with Kai Time and Beg For Chevron.
Amy is hoping it won't be his last - as she can probably afford to call on the baby-sitter a little more often now.
Our runners this week
Friday night at Auckland
Sunday at Menangle
Make Way.