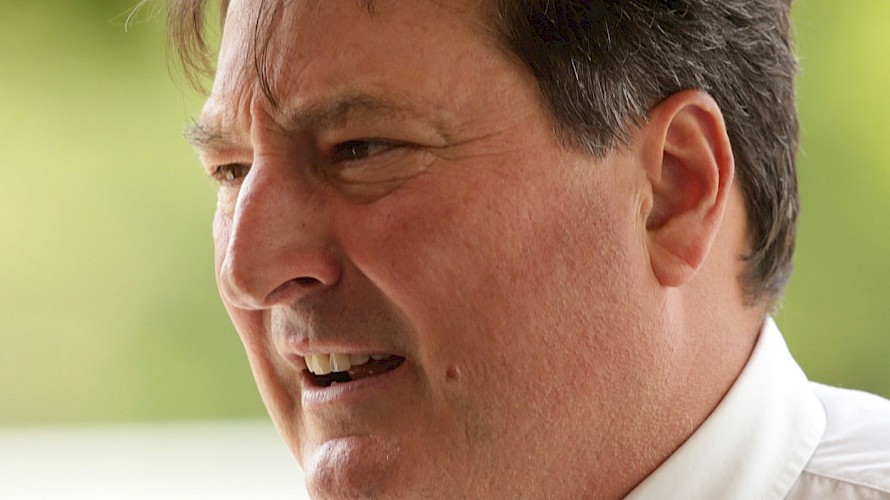 Captain Ken: We have to protect our industry now and hit the overseas bookies for a six
One time head sports bookie Ken Rutherford never thought he'd see the day when he'd be advocating banning Kiwi punters from betting overseas.
But the former test cricket captain is used to going on a front foot attack and says the industry is in such a precarious state he believes it has no option.
Rutherford, who captained New Zealand in 18 tests and 38 one-day internationals, has more than a dozen years experience in wagering, first with the New Zealand TAB, where he became head of sports betting in 2004, and then five years in a similar role in Singapore.
So when he says the industry now has to "gang up" on the corporate bookies overseas, it's with more experience than some of the people who have been running the TAB into the ground in recent years.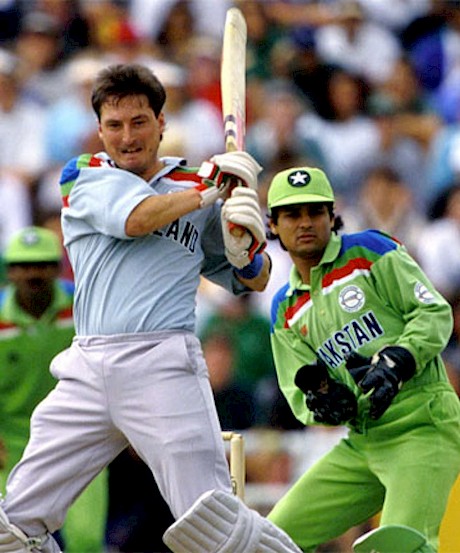 Ken Rutherford … former New Zealand test cricket captain."If you'd asked me two years ago whether I would be in favour of stopping people from having overseas accounts I'd have disagreed strongly. I would have said we had to stand on our own two feet and compete.
"But things have got so bad we need to make sure we are now supporting the New Zealand industry."
A $2.5 million slice of the Government's $72.5 million bailout package announced last week has been set aside for the Department Of Internal Affairs to fast-track work on online gambling, including considering measures to mitigate the loss of millions through more and more New Zealanders gambling through offshore platforms.
Rutherford says he knows the idea of blocking the IP addresses of overseas operators will go down poorly with many people who will see limiting or denying competition as a retrograde step. He himself closed his New Zealand TAB account some time ago because of poor service.
"But I think punters need to take some short term pain for long term gain. And if we can get the industry back on track maybe any restriction could be eased.
"I just see our market shrinking so much. The new website didn't function half as well as the old one and was so poor it drove away truckloads of punters, particularly the bigger ones.
"The TAB's position is totally untenable unless we can stop so many punters betting offshore - the size of the internal market is not sufficient to allow a large portion of that market to wager offshore."
Rutherford believes a lot of people simply don't understand the way the industry is funded, and that overseas bookies contribute nothing to the local industry.
Rutherford spent five years in South Africa working in the equivalent of Trackside and marketing, advancing to CEO in 2012, and says the TAB there is collapsing because of a lack of contribution from bookies and support from Government .
"There needs to be a decent PR campaign to educate people that we need to be supporting our industry here – otherwise there won't be an industry.
"Of course the onus will be on the TAB to up their game."
Punters were more knowledgeable than 10 years ago and wouldn't put up with poor service, worse odds and a lack of information.
Rutherford said he could never understand why a succession of TAB chiefs placed such an emphasis on promoting fixed odds betting when the product at best realised half of the 16.5% of tote betting income.
Allen naive about wagering
And he believes former CEO John Allen, under whose watch the disastrous fixed odds betting platform was born, was quite naive about wagering.
Rutherford, in his former role as Waikato Racing Club chief executive, attended a number of the road shows Allen put on when he promoted the need to spend lavish amounts on a Lamborghini engine to drive betting.
"He told everyone we could afford it, because it would generate all this extra money."
Rutherford says he questioned Allen several times about where the extra growth was going to come from and pointed out that in his experience few punters would bet on the "frilly stuff" he was so desperate to provide.
"He was claiming if you gave punters 100 options on one rugby game you'd grow turnover exponentially.
"But, from the time I started bookmaking, the core options like head-to-head, points start, winning margin and first try always accounted for 85% to 90% of your turnover on a game. That will never change. The TAB was dreaming. Allen was delusional and just didn't understand the business."
Anecdotally, says Rutherford, many bookies would actually tell you turnover decreased with too many betting options per match. Too much choice confused punters.
Once integrated, the TAB would then have spent truckloads in marketing the new products for little net reward.
Rutherford says the growth figures spouted by successive CEOs (Andrew Brown, Chris Bayliss and Allen) were pure spin.
"They always talked about how well turnover was going at major sporting events, with no mention of the most important stat - net revenue.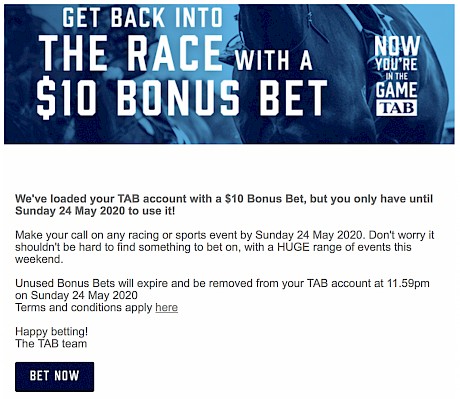 A now familiar email from the TAB to thousands of punters."And someone at the TAB has to tell us about the cost of the bonus bets that are handed out? Do these essentially promotional items get bundled up into total turnover figures (thus fudging the numbers)."
When Rutherford first started at the TAB in 2001, setting odds on cricket, racing and football, he said it was a traditional Kiwi outfit, run by passionate people in it more for love of the game than money.
But gradually he detected a change and by the time he left in 2006 when Graeme Hansen was CEO it had become a "corporate monolithic bureaucracy."
"All the CEOs seem to have done since is added layer upon layer of bureaucracy and management.
"I challenge the current crop to roll up their sleeves, get their hands dirty and prepare to fight."
Synthetic tracks a mistake?
Rutherford says with $26 million of the Government's $50 million emergency package gone already on RITA's outstanding bills, there isn't a lot left to boost racing so he questions another $20 million being ring fenced to build two more synthetic tracks at Awapuni and Riccarton.
"Surely if you're on a tight budget the money should be spent on strategies to grow the business. I can't see two more polytracks doing that.
"I know by saying that I will get offside with trainers - and I get that they need good surfaces for their horses - but we won't get all that money back."
The tracks would also be a real burden for the clubs which will have to raise another $6 million each to build them and later more money to maintain them.
"If you're so keen to shore up the infrastructure wouldn't you be far better off getting your top six to eight tracks in the country spot on - like Ellerslie, Te Rapa, Awapuni, Hastings and Riccarton - so they can cope with the increased activity they'll face with the closure of all these other tracks?"
Rutherford, now the CEO at the Hawkesbury Racing Club in New South Wales, says its synthetic track is used only for training and not racing and only Canberra combines the roles.
"They're not a good wagering product - Pakenham in Victoria doesn't do a lot of turnover - and many trainers don't want to run their horses on them.
"I hope I'm wrong and in five years people are saying thank goodness we had these all weather tracks."
Preserve media coverage
Rutherford says he believes the industry would benefit far more if say even $5 million was put into preserving, and improving, the media coverage of racing.
It was a monumental mistake for the industry to shut its window to the public.
"It's mind boggling how quickly they've wound back their services. The cost to the industry will be far greater than the savings they're making.
"I can't fathom how they've cut back so much on the TV component and it makes no sense having no more radio."
TV preview shows in Australia like 'Get On' were paid for by the TAB which recognised their value in driving betting.
And having experts like Grant Nisbett on half an hour before a rugby match, absolutely generated more interest.
As a punter who always had a Best Bets hanging out his back pocket and remembers the 8am scratching service on radio, Rutherford says form guides and racing in the newspapers are a complete must if you don't want betting to drop.
"These decisions are being made by people who just don't get it, all they're doing is slashing and burning for the bottom line and blaming it all on COVID when we all know they were in trouble long before that.
"I don't want to come across like a know-it-all but it's absolute rubbish to say it's a generational thing and only older punters want hard copies of form. It's part of racing.
"I know how many racebooks we sell at Hawkesbury and it's all to young guys. You don't see everyone walking around with a phone in their hands, swiping the screen.
"It's a death knell if you don't do all you can to keep wagering going."
Our runners this week:
How our trainer rates them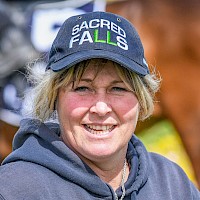 Lisa's comments
Saturday at Awapuni
Race 5: Lincoln's Kruz
1.13pm
"He has trained on well since his trial. The track is going to be very testing (heavy 11) on Saturday and he is untried in these conditions but there's not a lot of exposed form in the field and, if he handles the track, I'd expect him to be right in the thick of it."
Race 8: Platinum Rapper
2.53pm
"We've decided to go with the 3kg claim of Temyia Taiaroa in what is a strong field. She will come down to 52kg which will really help her on the heavy track. She has had a jumpout and a trial to prepare for this so, with the right run, should be right in the mix."
Race 9: Lincoln Dreamer
3.28pm
"He has Kozzi Asano up so will claim 1kg which will be a help. He handles wet tracks and has won on a heavy track before. This may be a bit short of his best distance but I expect him to get back in the running and be doing his best work late. He has been working well and I'm looking forward to seeing him back at the races on a wet track."
Race 10: Benny Lincoln
4.02pm
"The field isn't very strong but he has had only one jumpout so I am expecting he will improve a lot from the run. He handled the track well at the jumpouts so I think he will handle wet ground, but he may be one run away. Kozzi Asano will claim 1kg."