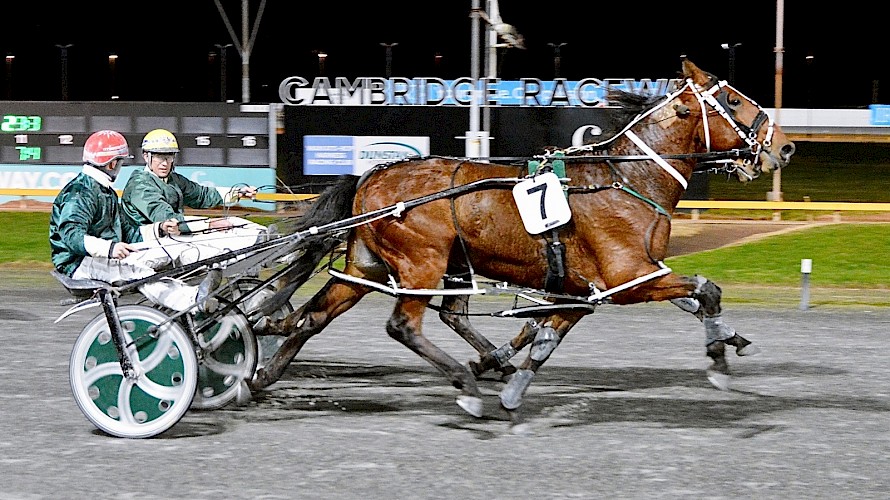 Captain Nemo can hole in one for Gareth and clinch big night for Lincoln Farms
Lincoln Farms' trainer Ray Green looks set for a good night at Alexandra Park on Friday and should hit a birdie with Captain Nemo in the final race.
Green looks to have excellent winning prospects with star northern pacer Copy That in the feature race, the Holmes DG, talented pair American Dealer and Tommy Lincoln in the fifth race and the unlucky Apieceoflou in the third, but it's up-and-coming three-year-old Captain Nemo who looks the best chance on paper.
Part-owned by fine golfer Gareth Paddison, who was gifted a share in the horse by Lincoln Farms' boss John Street after he finished second in the Wairakei Invitational in June, Captain Nemo will enjoy a massive drop in class.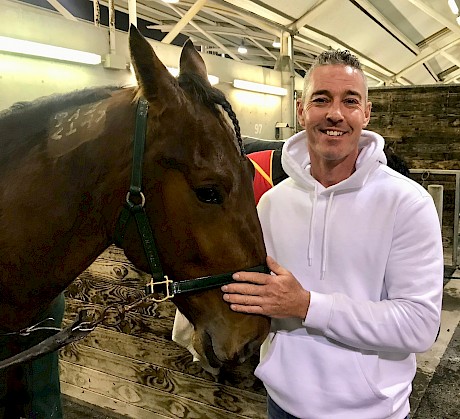 Co-owner Gareth Paddison with Captain Nemo.Instead of taking on the best three-year-olds, like he has in his last three starts, he meets an ordinary rating 40 to 49 field.
And while Captain Nemo has drawn the second line he is the sole back runner and will get to follow out likely leader and main danger Chablis, therefore a strong chance to get a perfect trail.
Captain Nemo's form line of 4386 might look uninspiring but he has been racing with plenty of distinction, his third three starts back a strong-finishing effort behind topliners Krug and American Dealer in a Sires' Stakes heat at Auckland.
Last start he had no chance to show his best in Krug's Harness Millions when he was buried five deep on the markers and held up on the turn and early into the home straight.
His finishing burst was right up with the best, his last 400 split of 27.6 third fastest behind Krug (27) and American Dealer (27.4).
"He's been racing really well against far better opposition," says Green. "He's the best horse in the race and only needs a little bit of luck to be too good for them.
"He's a really nice horse who I think will develop into something serious."
First to tee off
Another horse which Green says we haven't seen the best of yet is the luckless Apieceoflou who is first to tee off, typically from the second row, in the third race.
Apieceofou has been continually hammered with wide and second row draws since he started racing - in nine starts he's had gates seven, 12, 11, 10, nine, 13, 11, 11 and seven.
Scratchings brought him into three last start, and he was able to lob a perfect trail, but disaster struck at the 400 when stablemate and leader Bondi Shake ran out of gas, badly holding him up.
And just when driver David Butcher was able to extricate him from the markers after turning in, rival Richmond Tiger ran in and they locked wheels, Butcher lucky not to be tipped out of the cart and losing all momentum.
On Friday night, while again on the second row, Apieceoflou at least has drawn only one off the markers and Butcher will be hoping to fluke a run through behind The Peacemaker.
If he can get reasonably handy, the finishing sprint he has shown on numerous occasions should carry him into the money.
Bondi Shake, again drawn badly in the same race, stopped too badly last time to be rated any kind of hope.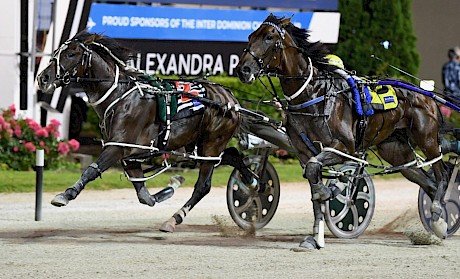 American Dealer looking for a conservative trip. PHOTO: Megan Liefting/Race Images.Green was in two minds about whether to start American Dealer in the fifth race, given he is aiming the smart colt at a Sires' Stakes heat at Cambridge next week.
But he has decided to let him run, even from six on the gate, albeit determined that he is not thrashed in the running.
"I'm sure David will go back from the draw and give him a conservative trip and we should see him coming home well."
As a last-start fourth in the Harness Millions, when he had to work overtime three wide for the first 600 metres before finding the death, American Dealer could easily run over the top of this much easier line-up.
Tommy Lincoln, drawn the outside seven gate, is almost certain to go forward for Andre Poutama.
"It makes sense to put him on the engine again," says Green. "He's been very good there recently and there's no reason why he won't go well again."
Last start Tommy Lincoln sped to the top and was caught only in the last 100 metres by Christianshavtime who enjoyed a good trip throughout.
Tommy Lincoln, the highest rated horse in Friday's field at R70, paced the 2200 metres in 2:40 flat.
Green isn't holding his breath about the chances of Revitalise in race nine.
"Lack of speed is his Achilles heel but if things go his way from five, and they don't throw a 26 quarter at him, he won't be far away. He's not the worst in the field."
Our runners this week:
How our trainers rate them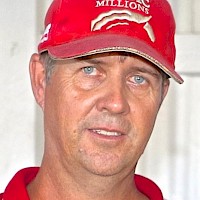 Al's comments
Tuesday at Albion Park
Race 8: Man Of Action
7.38pm NZ time
"He's come through his win last week really well and should run first or second again from another good draw. Soho Tsunami will be a big danger. He'll get a good trip on our back."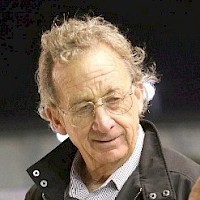 Ray's comments
Friday night at Auckland
Race 1: Apieceoflou
6.19pm
"He's just been incredibly unlucky - he was knocked over at the start last time - but if things go his way we'll see a better animal."
Race 1: Captain Nemo
6.19pm
"If he gets the right trip from five, he'll be right there at the finish. This is little more than a jumped up maiden race."
Race 4: Tommy Lincoln
7.39pm
"He's in a grade now where he can't get away with being driven like a toe rag all the time and from the second row he's obligated to have a much more conservative trip. He'll need a bit of luck but, if he's not put in the race too soon, he shouldn't be too far away."
Race 7: Revitalise
8.59pm
"I've scratched him. He's recovering from a foot abscess."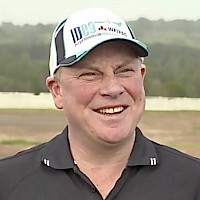 Ants' comments
Friday night at Melton
Race 1: Make Way
7.33pm NZ time
"He pushed them over the line last week and felt really good - he was only jogging at the finish. The (seven) draw has killed our hopes a bit but you never know …"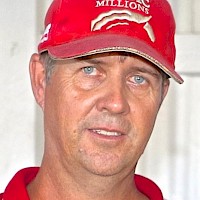 Al's comments
Friday at Albion Park
Race 5: Larry Lincoln
10.18pm NZ time
"We'll drive him quietly on Friday, just hold our position out of the gate, and give him some confidence. It's not a strong field - it's a bit of a drop in class on what he's been racing - and on the times he's been running in training this week he should be winning."
Saturday night at Albion Park
Race 3: Northview Hustler
9.48pm NZ time
"His run last week was exceptional. His chances depend on how the race is run. With the one and three horses having gate speed there could be early fireworks, which would suit him, as we'll probably drive him the same and use his speed late."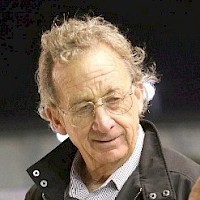 Ray's comments
Sunday at Cambridge
Race 6: Bondi Shake
5.47pm
"He would have won had he not galloped close to home last time. He just turned his head to one side when he got alongside that other horse and might have touched a knee. We'll rectify that by putting two poles on him."
Monday at Ashburton
Race 5: American Dealer
2.27pm
"From the pole, he should get a perfect trip. It's hard to know what the others will do but we get out well enough to be handy. He'll go well but he's already qualified for the final so there's no urgency. It would be nice to win it but we don't have to."
Race 7: Copy That
3.37pm
"He's never gone away badly from a stand - he's always reasonable and safe - so he shouldn't be far off them when they settle. I see him in midfield. I'm not expecting too much from him. So long as he goes well, I'll be happy."