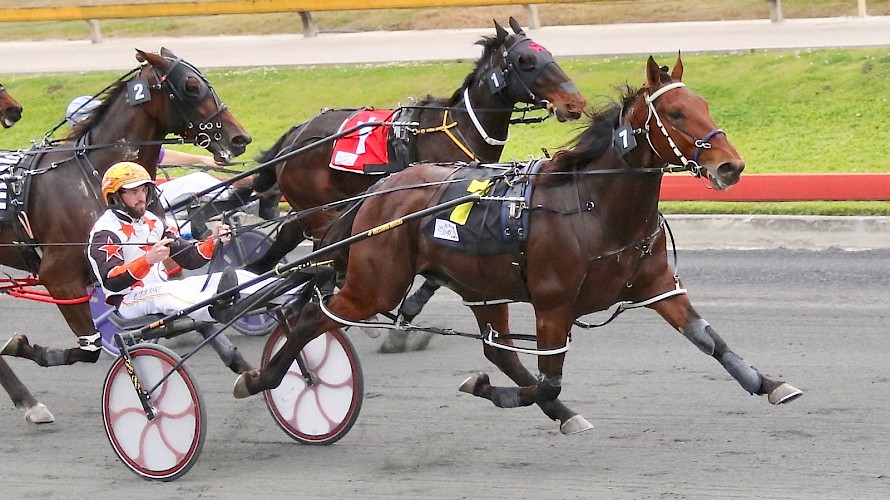 Captain Nemo rigged for silent running at Albion Park on Friday
Captain Nemo is coming off the worst run of his career and is stepping up out of his grade but trainer Mark Dux is still confident he can acquit himself well at Albion Park on Friday.
Stewards ordered a veterinary examination of Captain Nemo after he dropped out before the home turn on September 3 and finished a long last, a far cry from his previous three runs when despite being trapped wide he still finished in the money.
Captain Nemo had a slow recovery rate after the race but nothing else was found to be amiss even when Dux had further tests done on the horse.
"Everything seems OK. You can never be 100 percent sure but my gut feeling tells me it was just that he got too fired up and pulled very hard.
"He's never really been asked to come off the gate hard and he got far too keen. He really latched on."
Incredibly, despite the first quarter being cut out in 27.1, and half in 56.1, Captain Nemo still pulled his head off outside the leader.
On Friday, Dux says Captain Nemo will have the luxury of starting from two on the front row, which he says will make life a lot easier for him.
"He can fall out and lob straight in the running line instead of having to burn hard from from seven or the back row.
"Yes, he is racing in a higher grade than he has to but I think he's up to the task. I think he can win it with the right run."
Captain Nemo is the lowest rated pacer in the rating 70 to 85 event, plan B for Dux after two easier races he was entered for were canned.
"I've had to step him up in grade, and it's a decent field, but I'm not worried about that as I think he'll handle it and I can't see him not running a good race.
"The one (Chiasso) should hold the lead. We can just mosey out and see what happens.
"Sometimes you've just got to turn the page. He's done well since that last race and has trained well."
Punters who made Captain Nemo a hot favourite in his last two starts won't forget in a hurry his enormous win over 2138 metres on August 3 when he went back, was checked, then improved to sit three wide solo in the running and still proved too good.

Captain Nemo races at 8.12pm NZ time at Albion Park on Friday.
Our runners this week
Friday at Albion Park
Captain Nemo.
Friday night at Auckland
Copy That, Pasquale, Louie LeBeau, Bet On The Tiger, Arden's Horizon.
Saturday night at Albion Park
Tommy Lincoln.