Champagne corks all but popping as American Dealer gets a taste of Krug
On a night when Lincoln Farms' runners excelled at Alexandra Park, a race which it didn't win, the Sires' Stakes heat, left connections most excited about what's to come.
A spectacular win by Copy That and a long odds upset by Tommy Lincoln headlined the night but it was the efforts of American Dealer and Captain Nemo which promised so much.
With races worth more than half a million dollars coming up, trainer Ray Green was thrilled to see little prizefighter American Dealer run the country's best three-year-old to a head.
"For a fleeting second I thought we were going to nail Krug, but he was just a little too good," said Green.
American Dealer, who burned from the pole to hold the lead, before succumbing to Krug 700 metres from home, rallied strongly up the lane for David Butcher, his challenge coming up just short in a blistering 1700 metres run at a mile rate of 1:54.4.
Green is now eyeing up two two-year-old features that were postponed last season before tackling the three-year-old Sires Stakes races.
The agenda is:
The $140,000 Two-year-old Sires' Stakes Final at Auckland on September 18 and the
The $200,000 NZB Harness Million on September 25.
A $20,000 Sires' Stakes heat at Cambridge on October 15 and
The $156,000 Sires' Stakes Final at Addington on November 10.
Green says American Dealer's run proved a real buzz for his new American owners Gordon Banks and Marc Hanover, hiding away from the coronavirus pandemic in Miami.
"The good thing about him is he has such a great constitution and can cop the racing. Some can't cope and after a while start waining.
"But he's out there now galloping round his paddock and bouncing around."
Green's confidence in Captain Nemo was only strengthened when he fought strongly in the run home for third, albeit three lengths from the top pair.
Also being aimed at the same features, Green says the Captaintreacherous colt is still on the up.
"I suspect come derby time we'll see him at his best. The extra distance will be right up his alley.
"I've always liked him. He's a lovely, big horse who's probably used a lot of energy growing and filling out. He's never been as strong as he could have been but he's toughening up now."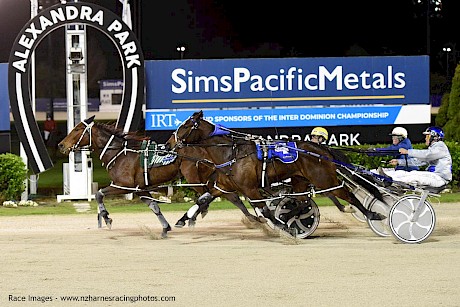 Tommy Lincoln dashes late to grab Major Jellis at Alexandra Park. PHOTO: Megan Liefting/Race Images.Tommy Lincoln's $20 win didn't come as any great surprise to Green.
Forced to be driven quietly from the inside of the second row, Tommy Lincoln travelled well three back on the pegs before unleashing strongly in the run home.
"He won well. I liked the way he was travelling into the corner, thought he'd be right in it, and the gap came at the right time."
Tommy Lincoln reeled in Major Jellis and Magilligan Point to score by three-quarters of a length in a very fast 2:38.4 for the 2200 metres.
"He's a nice solid horse who'll end up in open class but I doubt he'll be super competitive when he gets there.
"Last night proved that, at the higher level, he can't be driven like a toe rag all the time."
Our runners this week:
How our trainer rates them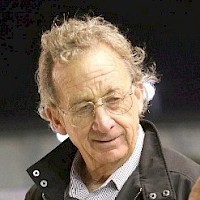 Ray's comments
Friday night at Auckland
Race 3: Revitalise
6.52pm
"Maurice liked his run last week, he has a better draw this time (five) and I'd like to think there's a lot of improvement in him. He should go well and hopefully he'll get a cheque."
Race 5: Captain Nemo
7.53pm
"It will be very tough for him from the outside of the arm. He didn't pace the best last week, Andre (Poutama) had to hold on to him the whole way. But I'll tweak his gear a bit - his hopples might have been a tad long - and hopefully he'll get round OK."
Race 5: American Dealer
7.53pm
"It's difficult to make a plan from four on the second row - you're relying on pure, unadulterated luck - and that's not ideal. I can't imagine anything beating Krug from the one draw - he'll lead out and I doubt he'll hand up - but hopefully we can pick up some of the minor money."
Race 6: Tommy Lincoln
8.24pm
"He's not really a 2700 metre horse so 2200 this week will suit him a lot better. Seven is not the ideal draw on the mobile but if David (Butcher) gets a good trip I'd say he'll be the one to beat."
Race 7: Copy That
8.55pm
"He's absolutely donkey licked everything so far and they're all the same horses again except for Mark Purdon's Another Masterpiece. Now that he's on the front I can't see why he wouldn't flog them again."
Race 9: Apieceoflou
9.52pm
"He was used a bit early last week, and parked for a while, and hung on well for third. I'd like to see him lead and then I think he'd be a serious chance. This is the best draw he's had."
Race 9: Bondi Shake
9.52pm
"He's been training not bad but he's out wide again and will need some luck."