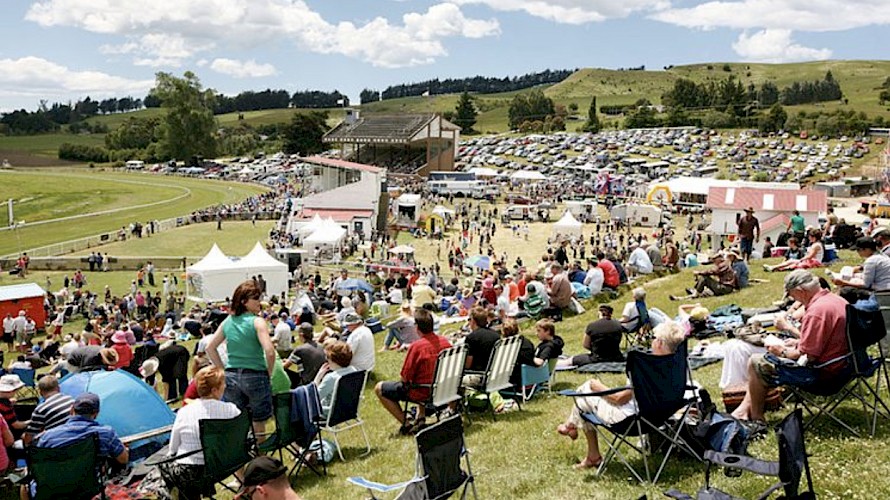 Check out where, when and how many times they're racing in the 20-21 draft harness dates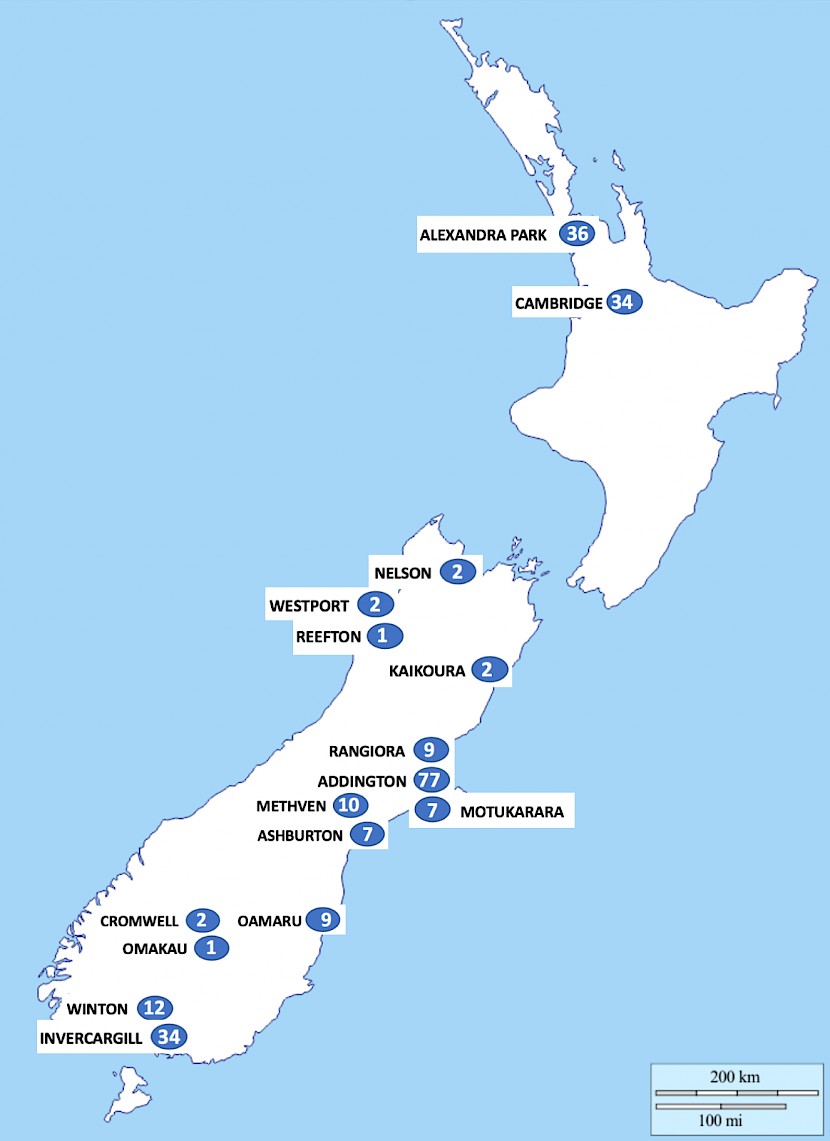 The Auckland Trotting Club is happy that it will retain 29 Friday night meetings in the draft calendar released for next season.
Alexandra Park will host 36 meetings, down only a few on this season but, most importantly, vice president Jamie Mackinnon says it keeps its familiar end of week presence.
"Auckland is a Friday night club essentially - we've traditionally built our business around Friday night hospitality."
Auckland has 16 Friday night meetings to itself, and another 13 in tandem with Addington, on the best punting night of the week.
And while Auckland will share Thursday nights with Cambridge through August and September, when Addington has sole grip on Fridays, Mackinnon says it won't matter so much with the public not expected to be allowed on course by then under the COVID-19 restrictions.
"When the public comes back the Alex Bar will be the focus for generating food, with our Function Centre firmly closed, but just like other places we're not expecting people to rush back as soon as we open the gates."
Mackinnon says the main thing is the calendar provides regular racing for horses in the Auckland region.
Cambridge Raceway will host 34 meetings next season under the proposed dates, up six on the present season's allocation.
CEO David Branch said in essence the club will be racing fortnightly, with 27 Thursday night meetings.
"We're pretty happy to see some consistency in our dates which is what we have been after for a long time.
"We have an average of 170 horses trained at our Cambridge Raceway and Scott Reserve (Morrinsville) training centres which will be well catered for between ourselves and Alexandra Park."
Branch said it was disappointing, however, to lose its traditional Christmas Eve meeting for both harness and greyhounds.
No dates have been allocated in the Central Districts but local officials are hoping their submissions on running dual code meetings at Palmerston North with the greyhounds will be approved.
All of the grass track meetings on the traditional summer country circuit have disappeared.
The South Island landscape also loses much of its country flavour with only two weeks around Christmas-New Year providing opportunities for picnickers to enjoy the small country tracks.
From Boxing day on there will be two meetings at Westport, one at Reefton, one at Omakau, two at Cromwell and two at Nelson.
Kaikoura retains its back-to-back days in early November.
Dunedin has no meetings at Forbury Park.
Harness racing dates on the draft calendar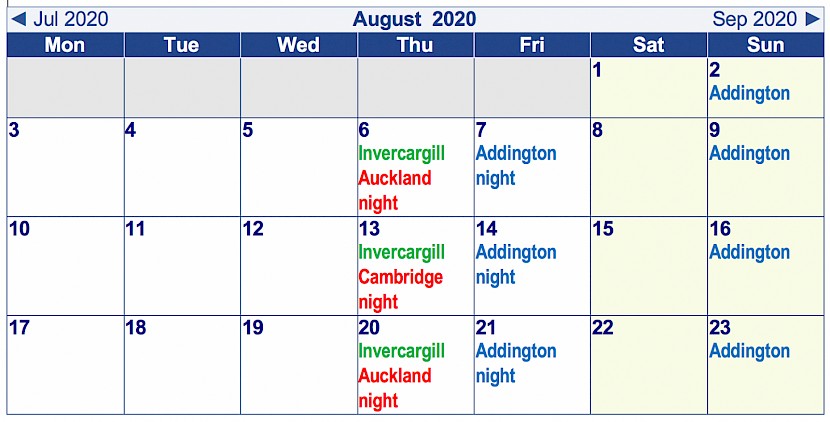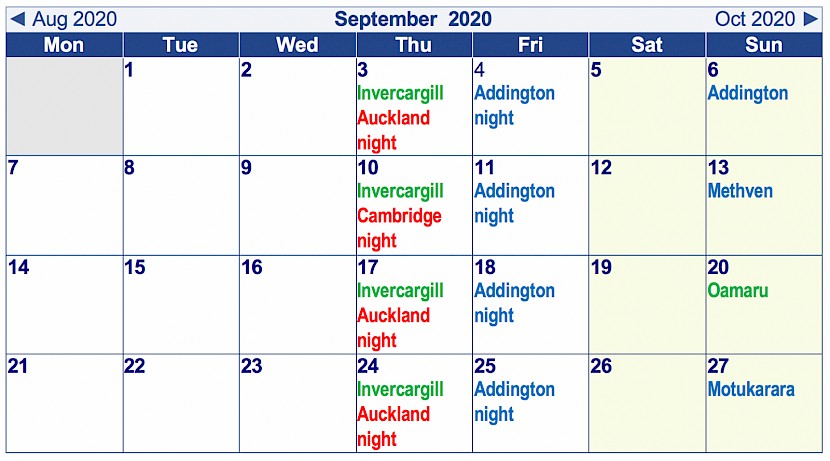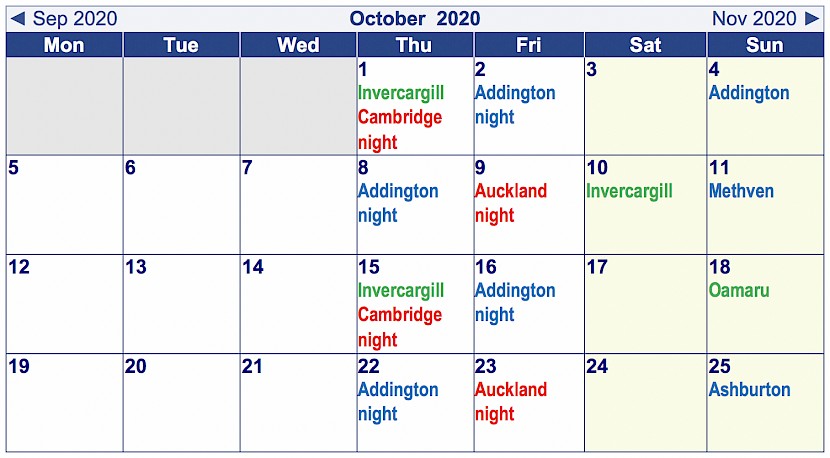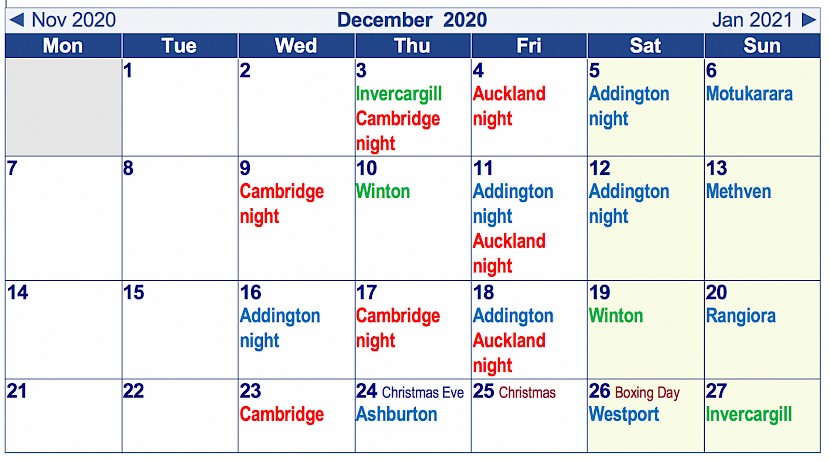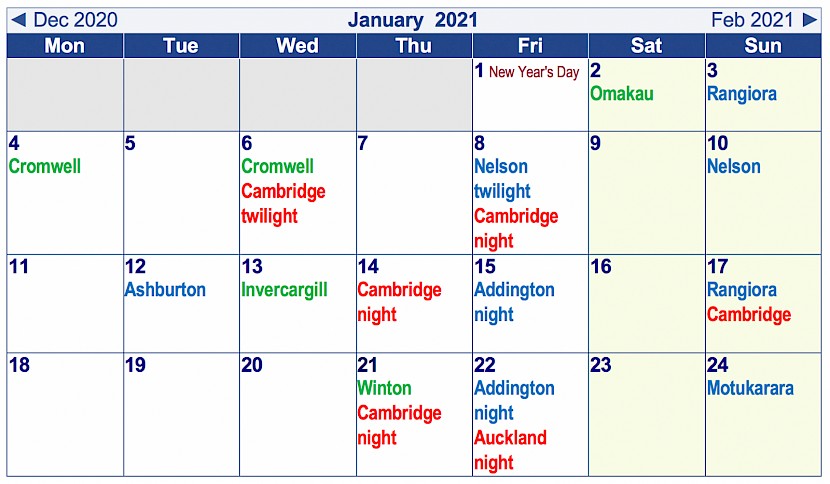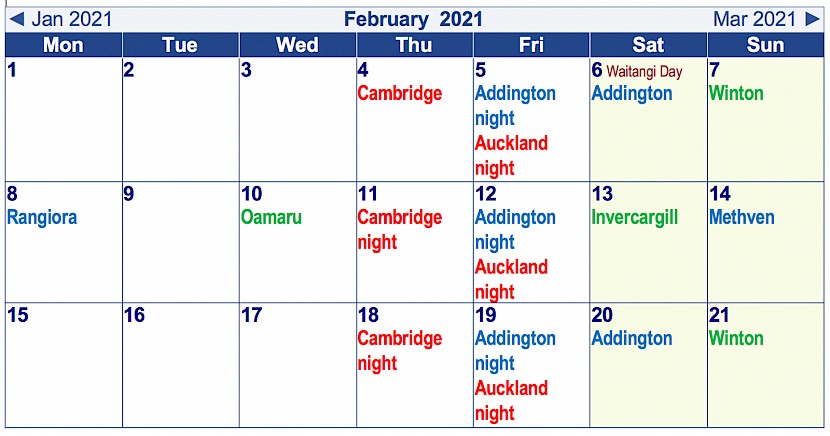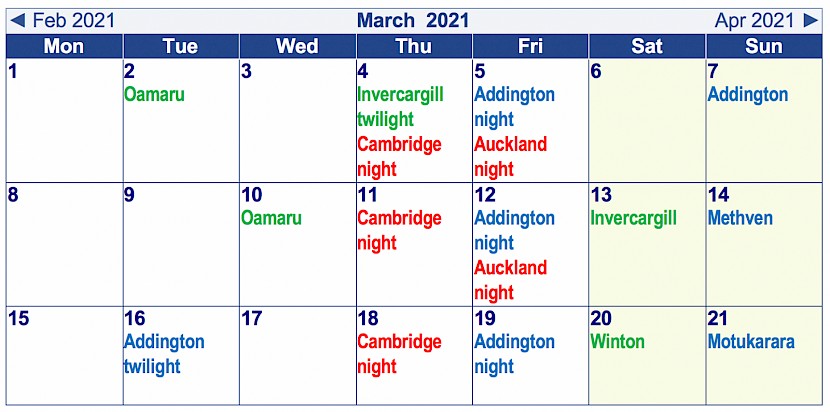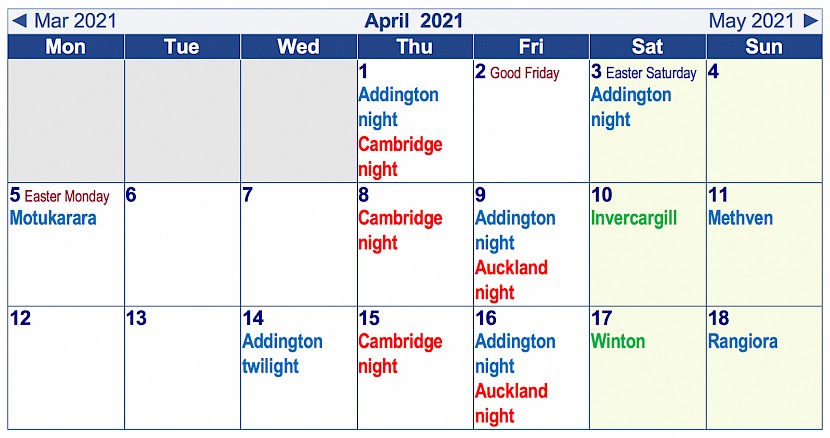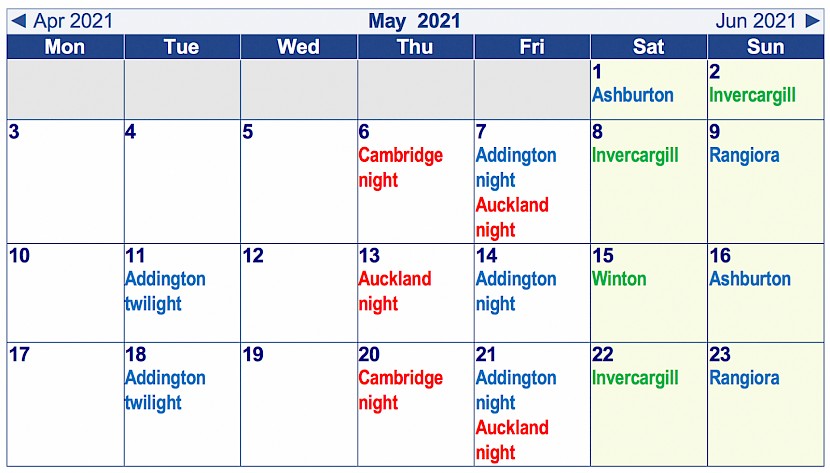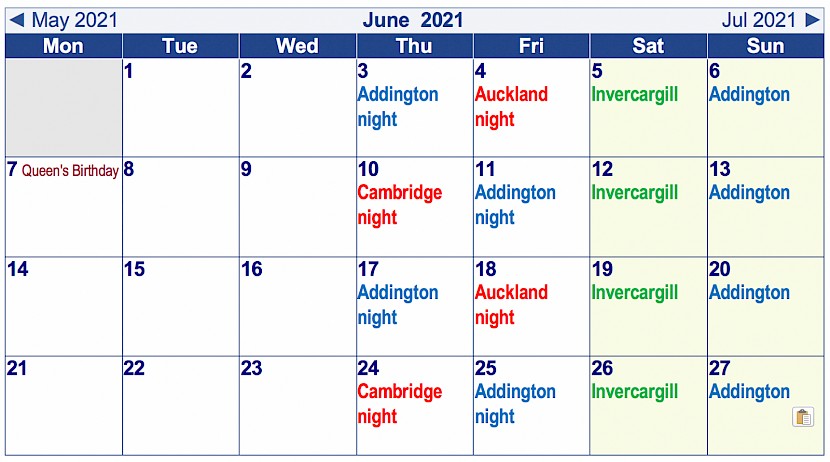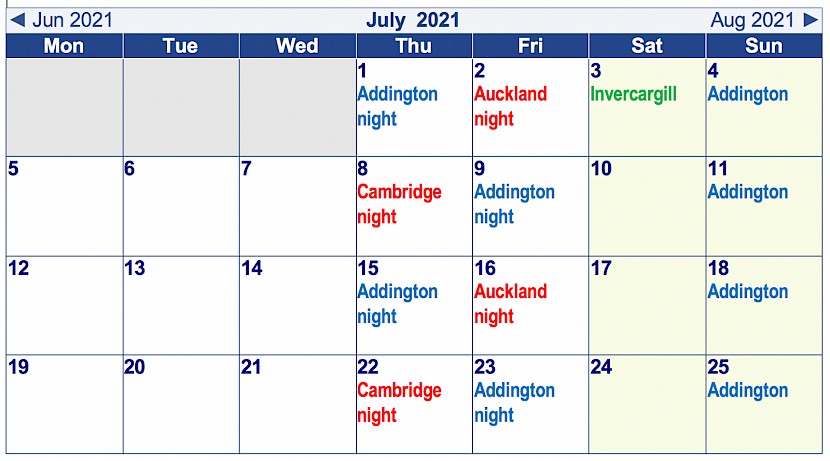 Our runners this week:
How our trainer rates them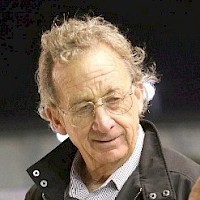 Ray's comments
Wednesday night at Auckland
Race 1: Apieceoflou
6.11pm
"He's really only in the field to get experience. He's not up to the other two at this stage. He's a big, slow maturing horse. He keeps improving without being spectacular but he's a real trier."
Race 1: Captain Nemo
6.11pm
"He's been going well at the workouts without winning. He and Franco Nandor are both nice colts and I expect them to develop into tidy three-year-olds."
Race 1: Franco Nandor
6.11pm
"He's won his last two workouts but has a tricky draw and there are a couple of others in the race who go well. He'll definitely improve with the outing."
Race 4: American Dealer
7.36pm
"I like him as a horse and he's likely to take the most improvement out of his latest trial because of his temperament. He's a laid back individual and looks the best of our lot."
Race 4: Larry Lincoln
7.36pm
"Larry's very fast and he's as forward as the other fella but I don't know how tough he is yet. The draw's a bit tricky."
Race 4: Man Of Action
7.36pm
"He trialled super last Friday and never goes a bad race. We chucked him in the deep end with the bear cats in his last few runs and I think he'll go well in this field. He's on the up and is a much stronger horse now."
Race 7: Copy That
8.56pm
"He's the class horse of the field but he won't be on top of his game yet. I'll be instructing Maurice not to send him on a mission, especially as it's over 2700 metres. He'll still go well but I'm not expecting him to just line up and win. I couldn't label him first-up."