Colt wins opening shootout but it's my bad, says Al, as tubby Hustler runs out of puff
The bubble might have burst, according to race commentator Chris Barsby, but trainer Al Barnes says it was his own rookie error that saw Northview Hustler go down in Saturday night's feature race in Brisbane.
"We had a crack and it backfired,'' says Barnes of his bold plan to drive the Kiwi colt aggressively in the Mr Feelgood Pace.
"But I just had him too big and he simply wasn't fit enough to do all that work early.
"There's a different level of fitness required in these top races and we learned on Saturday night that he's not there yet.''
The Hustler took several races to recover from his hard run in the Mr Feelgood, says Barnes.
"He looked good in those weaker races and, sure, he ran time but that was doing it his own way.''
Barnes says he's been pumping up the former finicky eater, giving him 6 kilos of grain a day, but he was now too big and round.
"I'll drop off his feed a bit and we'll race regularly now on Saturday nights.
"You don't mind making mistakes so long as you learn from them and I'd rather make the mistake now than down the track. It's nothing we can't fix.''
Barnes says he's still learning about the horse and has plenty of time to get him fit before the A$250,000 Blacks A Fake on July 20.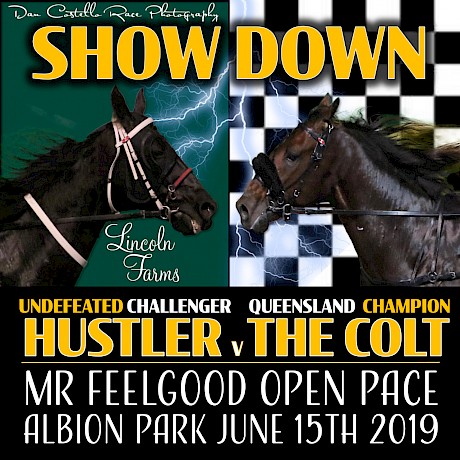 How the Albion Park club promoted Saturday night's clash.Billed by the club as a match race between the Hustler, who was unbeaten in three starts at Albion Park, and local star Colt Thirty One, the Mr Feelgood delivered in spades with Barsby declaring: 'We're here to race' as the two went head to head from the mile.
But it all went Colt Thirty One's way early as he forged to the lead from a good front row draw, while Barnes' hopes that the Hustler would be able to punch through from the second row evaporated when Slice Of Heaven didn't leave swiftly.
Driver Hayden Barnes had to angle three wide and really plant his foot to get Hustler round to the death seat at the mile peg and quickly found out that Grant Dixon had no plans to hand up on the local champ.
And with sectionals of 29.7, 29.3 and 28 in front, Hustler's petrol tank was running on empty well before the home turn.
"Hayden said he gave him a little flick with the whip at the 800 and there wasn't much there.''
When it was obvious the horse was beaten, he didn't punish him on the 27.7 last 400 and let him drift out to run last, 28 metres from Colt Thirty One who's winning mile rate of 1:53.4 was just one second outside Bling It On's track record.
"Colt Thirty One was good but change the draws and you change the result,'' says Barnes who expects to get a rematch at Redcliffe.
Given Northview Hustler will probably be off a handicap in next Saturday night's Redcliffe Cup, Barnes says they won't drive him as aggressively and use more sit-sprint tactics.
The switch to a standing start in the 2613 metre race should also swing things the Hustler's way.
"It definitely helps us - draws won't be so important - and we may even get a start on Colt Thirty One. That would change the race as he would have to do a lot more work.''
Our runners this week
Friday night at Auckland
Sunday at Menangle
Make Way.