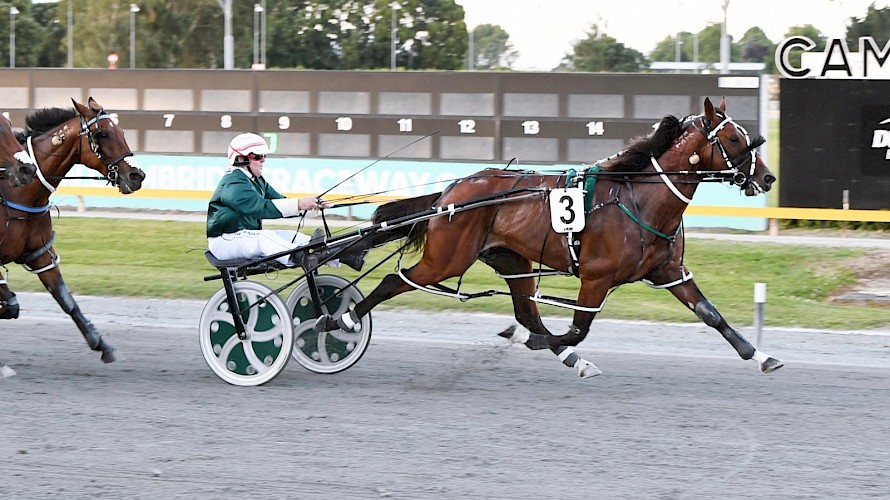 Copy That all the way in 1:53.2 demolition but Miracle Mile looking increasingly unlikely
Copy That's dominant win in tonight's $42,750 Flying Mile at Cambridge is unlikely to sway his connections into risking a trip to Australia for the $1 million Miracle Mile in March.
Neither owner Merv Butterworth nor Lincoln Farms' trainer Ray Green is keen on the big Sydney sprint even though Copy That showed just how potent he is at the distance with a 1:53.2 clocking, the second fastest in the history of the Cambridge race.
From the time driver Maurice McKendry secured the front after a brief early duel with Mach Shard and Thefixer, the result was never in doubt as he reeled off a 55.9 last half and 26.8 quarter.
The task of sitting parked was too much for Spankem who weakened to fifth and the late chasing was left up to New Zealand Cup winner Self Assured who could get only within a length and a half at the line, a nose in front of third placed Thefixer.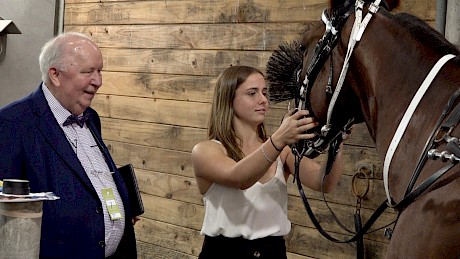 Merv Butterworth admires his champ Copy That.In Melbourne Butterworth, while very pleased at the dominance of the win, was not getting too excited.
"We shouldn't get carried away. It was a small track, he was in front, the others were out the back and Maurice controlled the race.
"I suppose that's all he had to do and it's nice to get the win after all the bad luck we've had and the team driving against us."
Butterworth, however, said tackling the Miracle Mile was not simply a question of getting on a plane to Sydney and nominating for the race.
"You've got to run in other races like at Newcastle or the Chariots Of Fire and finish first or second, to get an invite.
"And I don't like Menangle. It's a tougher track than Cambridge. It takes many horses a few runs to get used to the track and the way of racing.
"We had everything in our favour tonight. What happens if we draw wide at Menangle?
"I know people will say 'but it's a million dollar race'. Well, the first prize isn't a million."
The logistics of racing in both New South Wales and Victora were also now very clouded with the borders closed because of COVID-19.
Butterworth said he'd ideally love to see the horse eventually race at Gloucester Park in Perth.
"They've got the best prize money in Australia but that's only a dream because I'm a Perth boy. I've got four racing there tonight."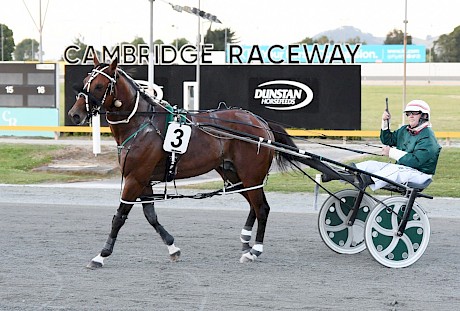 Maurice McKendry brings Copy That back after the Flying Mile. PHOTO: Chanelle Lawson.Butterworth said he was cautious about making a final decision on the Miracle Mile just yet but he will get no argument from Green.
"It doesn't make any sense to me. Why kill the horse over there this year when we don't have to?
"He's got lots of age group racing coming up that are Group Ones and they'll be a stroll in the park compared with what he's been racing.
"He'll have to do hardly any travelling and we'll have a nice, fresh horse for next year."
Green said he didn't fancy the idea of sending Copy That to another trainer in Australia with COVID-19 restrictions and quarantine delays.
"We could ship the horse there but personnel can't travel and I wouldn't like to send him to someone who doesn't know the horse. I don't see that as a smart move.
"Gary Hall has decided against sending Chicago Bull and Self Assured and Amazing Dream aren't going any more.
"We can run in big races here without the risk and expense. The only four-year-old race in Australia he'd miss is the Chariots Of Fire. He can do the other races next year and the year after."
Likely programme
The programme Green favours revolves around the following races:
* February 26: Group III $30,000 Lincoln Farms Founders Cup at Auckland
* March 5: Group II $50,000 City Of Auckland Free-for-all at Auckland
* April 3: Group I $100,000 Easter Cup at Addington
* April 23: Group I $100,000 Taylor Mile (4yo) at Auckland
* April 30: Group I $100,000 Messenger (4yo) at Auckland
* June 6: Group I $100,000 Harness Emerald (4yo) at Cambridge.
Hopefully by the end of all that Green says Copy That will have well and truly broken his Group One duck.
"I'd like to get that monkey off our back. It will come and he stood over them so much tonight I'm convinced he would have won the Auckland Cup if he'd led."
Green says Copy That is likely to have a brief freshen up now before his autumn assignments.
Our runners this week:
How our trainers rate them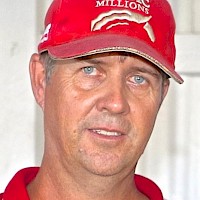 Al's comments
Tuesday at Albion Park
Race 6: Bondi Shake
7.17pm NZ time
"It's a very good race, the hardest he's tackled, and if he can run a place he'll be doing well. I'm really interested to see how he goes because he's improving all the time and hopefully he can step up again."
Race 7: Larry Lincoln
7.57pm NZ time
"Larry got away on us a bit over Christmas but we've worked him a bit stronger since. He's up to them but, from the draw, he'll get back. We'll drive him for luck. If the pace is on, he'll run on. If they walk and sprint, it will make it tough."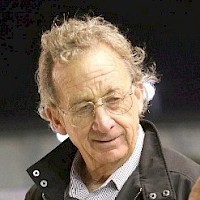 Ray's comments
Thursday night at Cambridge
Race 2: Themightyserina
5.58pm
"One the second row is probably a good draw for her. Hopefully from there she can get a good trip and run into a place."
Race 4: Brodie Lindenny
6.48pm
"If he can get away a bit quicker than last time from the pole he could finish a lot closer. He won't be setting the world on fire but he's honest enough."
Race 5: Brian Christopher
7.13pm
"He led easily enough when he drew one at Palmy so hopefully he can do that again. That suits him as he's not a sit-sprinter, he's better when he can roll along a bit."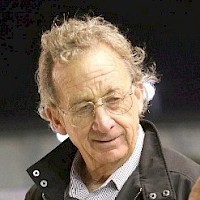 Ray's comments
Friday night at Auckland
Race 7: Argyle
9.09pm
"He looks our best early runner. He's a big, powerful boy and from the one draw looks to have the best chance of our three on Friday night."
Race 7: Sugar Apple
9.09pm
"You can't fault what he's been doing at the workouts and trials. He's a neat little horse and I'm picking he'll go a good race. Drawing wide will inconvenience him a bit. He'll go back and hopefully get home really well."
Race 7: Simply Sam
9.09pm
"He's an improving horse, I like him a lot. I think he'll be the big improver. If Argyle holds up from one, and he can sit behind him, he won't be far away."
Race 9: Major Grace
9.58pm
"Seven is a tough draw for her. If she'd drawn in closer I'd have been happier. But she's a nice filly and won't be far away."
Race 10: Captain Nemo
10.22pm
"He hasn't got the greatest record at Auckland. He tends to hit a knee going that way. He was good the other day at Cambridge. If he doesn't pummel his knees he shouldn't be too far away."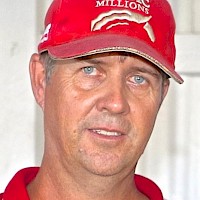 Al's comments
Friday at Albion Park
Race 3: Bondi Shake
4.03pm NZ time
"It's a nice race for him and he'll be hard to beat. He's come through Tuesday's run as good as gold. That race was brutal. He was a little weak at the finish but that's the quickest he's gone. It's not an overly strong field."
Saturday night at Albion Park
Race 3: Northview Hustler
9.35pm NZ time
"The draw's not a bad thing as he's still following speed. If he trails Watch Pulp Fiction, he wins, but it's more likely he'll be three fence, in which case he can run second. He's trained really well this week."