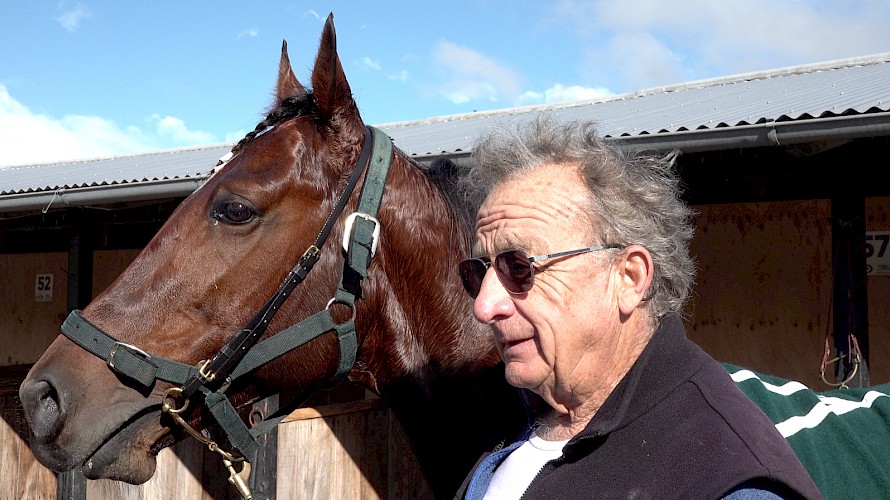 Copy That coping well in confinement but what's stranded Ray to do for two months?
Copy That is such a good patient, he'll handle his confinement better than his trainer, says Lincoln Farms' Ray Green.
Copy That, lame with a fractured splint bone, has handled the first day of three weeks' box rest like a pro.
But Green is far more stressed, joining thousands of fellow Kiwis stranded overseas with New Zealand's borders closed by Covid restrictions.
"It looks like I'm stuck here at least until the end of February, when MIQ changes, unless I can get a spot in the next lottery on January 6.
"But I'm not worried about how the horse will handle it. He's a cool little guy who is great with vets and farriers. He's not a difficult horse to deal with and all he has to do now is chill in his box and let nature take its course."
Green says the injury to Copy That's off hind leg, suffered when he struck out at a rail in his paddock, will be X-rayed again in three weeks before any decision is made on where he will continue his recovery.
"A blind man could see how lame he is and he's on medication for pain and inflammation. He'll probably be out of work for four months, but the good news is it's not like this is a wear and tear problem or an injury he's done during a race.
"And the bone, while fractured, is still perfectly aligned so the prognosis for healing is good. I had one horse who had a broken splint which had completely separated."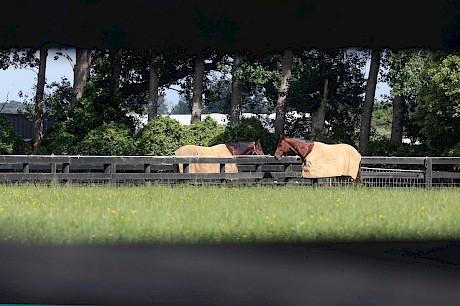 Copy That, right, with Simply Sam at Lincoln Farms before his departure for Australia. PHOTO: Trish Dunell.Green says there was always a risk that a lump could develop if too much calcium was laid down while the bone was knitting.
"But it won't stop him from being a racehorse. This is just a horrible inconvenience."
X-rays revealed the hairline fracture to be roughly in the middle of the splint bone, just under his hock.
"If it had been in the bottom third you could have taken it out and that would be that, but this is a bit too high to do that."
Green says there was no way to predict how quickly the fracture would heal but owner Merv Butterworth was keen to send the horse to Ballarat when he can travel to be looked after by a woman who had successfully convalesced a number of other horses for him.
"Merv might want to leave him here for a while - we won't be taking any chances with the horse. Obviously there's no chance he'll race for the rest of the season (the next seven months). He can't have just a few weeks off and go back into work.
"Merv has been loyal to us - and we've done a good job for him - so hopefully he'll come back to Lincoln Farms to fully recover."
Green says while the summer campaign in Victoria had quickly gone pear shaped, they just had to "cop it on the chin and move on.
"We've had a good run with the horse - until now he's never taken a lame step or had any other soundness issues - and, who knows, it might be a blessing in disguise.
"He might come back better than ever. Those top races he'll miss like the Auckland Cup (in May) will still be there the next year, it's not like they're a oncer like the derby."
Copy That's career record stands at 24 wins from 46 starts for $965,797 in stakes, all but two of those wins for Merv and Meg Butterworth.
Our runners this week:
How our trainers rate them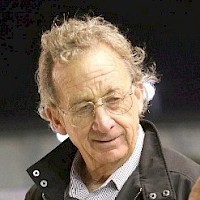 Ray's comments
Thursday night at Cambridge
Race 2: Next To Me
5.50pm
"He's starting to put it together and looks a serious chance. He's gone some nice races. He was entitled to run last there one night (when badly checked) and finished fourth so he's tough enough. He should get every chance from the draw."
Race 2: Whiz On Bye
5.50pm
"I don't think there's much between him and Next To Me. He's pacing much better now and he was quite good in the last of his three workouts. I hope they can both run in the money."
Race 3: Riverboy Ben
6.15pm
"The second row draw is awkward for him over only 1700 metres - obviously he'll get back. I think he's a horse who will need a trip and he's not likely to get one from there. He'll need to be lucky."
Race 7: Riverman Sam
7.55pm
"I think he's the best horse in the race and I don't see why he can't do it again. The 2200 metres won't worry him. He's no slug, he's got speed. I got him home in 27.2 when he won over 2700 metres."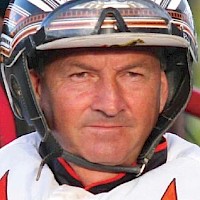 Mark Dux's comments
Friday at Albion Park
Race 6: Captain Nemo
6.07pm NZ time
"It's a pretty strong field - every bit as good as last week, maybe stronger - and while he's starting to get back to where he was, he's not quite there yet. We'll come out steady on, get into the running line, and play it by ear."
Saturday night at Albion Park
Race 1: Tommy Lincoln
7.15pm NZ time
"He's first emergency so I'll give him a week off to freshen up and then start again. I don't know whether he just had an off night last week or if the 26.6 first quarter played into it. That other horse was in our face the rest of the way too."