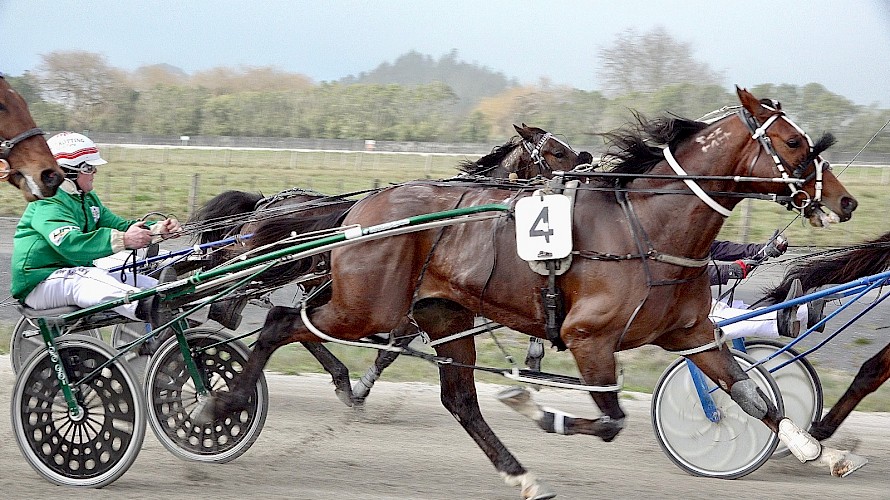 Copy That puts on a show for Merv and Meg at Pukekohe and his recovery thrills Ray
New Zealand Cup hero Copy That turned on an encouraging display at today's Pukekohe workouts in front of Melbourne owners Merv and Meg Butterworth, visiting New Zealand for the first time in more than two years.
In his first serious hitout since fracturing a splint bone in Victoria seven and a half months ago, Copy That did everything Lincoln Farms trainer Ray Green could have wished for, beginning fast for driver Maurice McKendry, trailing the pacemaking Alta Wiseguy throughout, and closing to a length at the line.
Merv and Meg Butterworth listen to Maurice McKendry's report.While rapt with the rapid closing sectionals of 55.2 and 25.8 in the 2500 metre heat, Green was even more heartened by the way the horse recovered afterwards.
"I thought it was a really good run but more pleasing than anything was the way he pulled up," Green said. "You'd think he'd come back in from a quiet jog. He wasn't blowing at all in the wash bay. That's why he's so good."
Merv Butterworth said he was impressed by what he saw. "The run obviously didn't do him any harm," said Butterworth pleased with how the horse had developed physically.
Green pointed out how much thicker through the neck and shoulder Copy That was and how much taller he'd grown. "He's come up in the wither - that's the first decent break he's had - and I pick I might have to let his hopples out.
"You always worry when they have their first run back but that was encouraging. We're on target."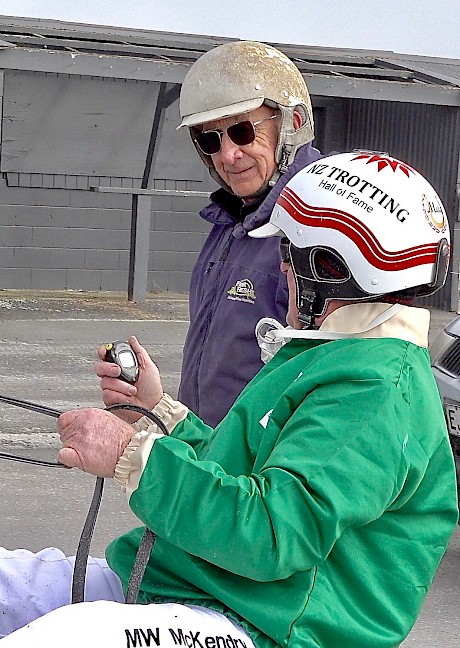 Maurice McKendry reads out Copy That's sectionals to trainer Ray Green after the heat.McKendry said while Copy That was a little fresh, which was only to be expected in his first fast run for so long, he felt really good in the running.
"He didn't have much left at the finish but he was still right there and he'll improve a lot with the run."
Green said Copy That would trial again but he was hoping to find a race for him in the next few weeks.
"Auckland is trying to get the Spring Cup off the ground but those two of Steve Telfer's that he raced against today - Alta Wiseguy and B D Joe - are apparently on the next float south."
Geen said all going to plan Copy That would then fly to Victoria a couple of weeks before the first of two lead-up races before the A$300,000 Victoria Cup on October 8.
"One is worth A$100,000 and the other $A50,000 so if we could get one of those it would pay the expenses.
"He missed out on a lot of money through his injury but hopefully we're back on track. And he'll have plenty of time after the Victoria Cup to come home and prepare for the New Zealand Cup."
Alta Wiseguy clocked 3:15.2 for today's 2500 metres, a mile rate of 2:05.6. Up-and-comer Old Town Road finished third, three-quarters of a length behind Copy That, with B D Joe fourth and last after bungling the standing start.
Copy That strides out during the running.Five heats later, Copy That's half brother My Copy, showed he had come back well from a break when he downed a seven-horse maiden field over 2050 metres, home in 57.2 and 27.6.
The Highview Tommy three-year-old has raced only twice for a fourth and a narrow second.
Our runners this week
Thursday night at Cambridge
Whiz On Bye (Scratched).