Crack jockey Blake Shinn commits to Invador who's loving a splash this week
Top jockey Blake Shinn has been secured to ride Lincoln Farms' smart three-year-old Platinum Invador during his upcoming derby campaign in Sydney.
Shinn was one of three jockeys part-owner Neville McAlister had on his hit list, the others Kerrin McEvoy and Hugh Bowman, and he was delighted when Shinn confirmed the engagement today.
"It turns out Bowman will be in Dubai but Shinn was the first one we approached anyway. His manager said they were considering one other ride but after Blake watched Platinum Invador's videos (including his third in the New Zealand Derby), he said: 'That's the horse I want to ride'.''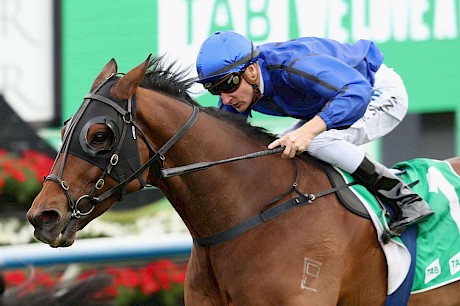 Blake Shinn on star Australian galloper Happy Clapper on whom he has won three Group I races.McAlister says you can't stress too much the importance of having a local jockey who knows the Sydney tracks. Platinum Invador starts his campaign at Rosehill on March 30 and then moves to Randwick for the A$2 million Australian Derby on April 6.
"It makes a big difference when your jockey rides the track every week and knows how they run.''
McAlister says he'll be telling Shinn only one thing before he is legged up for the Group II A$200,000 Tulloch Stakes (2000m).
"I'll say jump him out and get him relaxed off the bridle but that's all. You don't get jockeys like Shinn then tell him how to suck eggs.''
Ideally, Platinum Invador can draw inside seven or eight so he can settle midfield, says McAlister.
"He's got to cop a good draw some time. If he's out wider he'll have no choice but to go right back. If he goes forward on him, he'll get up on the bridle and pull.
"We just have to rely on him to run a fast last 600 metres.''
McAlister says it's too early to know exactly the strength of the opposition Platinum Invador will face - many of his rivals, while big on stake earnings, have yet to tackle middle distances.
"He's about 15th in the order on stake earnings but it won't be until after the Rosehill Guineas when many will decide if they can run the derby trip.''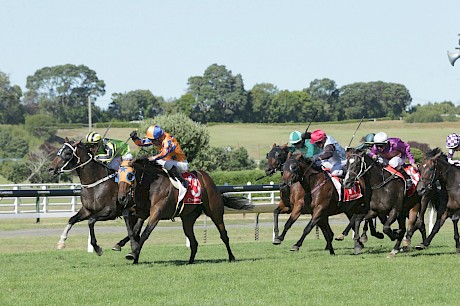 Platinum Invador, in the purple colours, charges home when clear to run third in the New Zealand Derby. PHOTO: Trish Dunell.Shinn is well known to Kiwi racegoers after winning the Sistema Sakes here on Summer Passage in 2017.
He also teamed with Kiwi owned Who Shot Thebarman to win the Sydney Cup in 2018.
Shinn is a whiz at tackling all distances. His Group I wins stretch from the Golden Slipper (1200m) on Capitalist in 2016 to the Melbourne Cup (3200m) on Viewed in 2008.
In more recent times he is best known as the regular rider of Happy Clapper, on whom he has won three Group I races, including the Doncaster last year.
Shinn again partners Happy Clapper on Saturday when he will start one of the favourites in the A$5 million All-Star Mile at Flemington.
Shinn made an emotional comeback to riding in January with a winning ride on Dawn Passage, after five months on the sideline with a serious neck injury.
McAlister says Platinum Invador only has to travel well on March 26, and settle in well, to be in with a real chance in Sydney.
The horse has thrived this week on the water walker at Tony and Chrissie Banbury's on the outskirts of Palmerston North.
"He loves it. They said he took to it on the first day like an old pro.''
Platinum Invador is set to rejoin trainer Lisa Latta's stable next week.
Our runners this week:
How our trainers rate them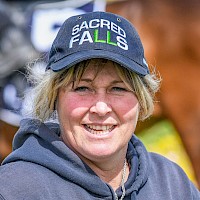 Lisa's comments
Wednesday at Hastings
Race 5 & 7: Platinum Appeal
"She hasn't been 100% in her action in the last three or four days and we have some foot issues to sort out. She won't be running. We'll wait for Palmy next week.''
Race 6: Authentic Charm
"I have chosen to back her up as this will be one of the last good tracks we will get - it's a dead 4 today. We've got the in-form Zinjete Moki who claims 2kg down to 54.5kg. She meets a small line-up and this looks like a nice race for her in her last run for the season.''
Race 8: Lincoln's Gal
"She has come through her last start at Woodville very well. She beat herself that day when she missed the kick and ran home very well. With the rating 65 having being split, it means she meets a small but even field. From the good draw Jonathan Riddell should be able to possie up and be right in the finish.''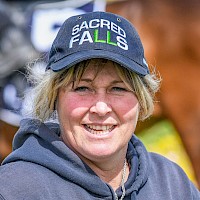 Lisa's comments
Saturday at Trentham
Race 7: Platinum Rapper
"She galloped really well on Thursday and has progressed very well since her last run. The big, roomy track suits her and the conditions won't worry her so I'm confident she's a big chance."
Race 8: Lincoln Fury
"I don't want the track too heavy for him. I'll wait until race morning to see how it is and what's scratched but we may wait for Wanganui next Saturday. His work has been good but he just may be coming to the end of his preparation.''
Lincoln light
News in brief
GREEN FIBRILLATES: Lincoln Green had an atrial fibrillation at Otaki on Thursday and will need a vet clearance before racing again. The horse raced keenly early but gave ground quickly near the 600 metre mark and rider Robbie Hannam did not persevere with him in the run home when he suspected there was something amiss.