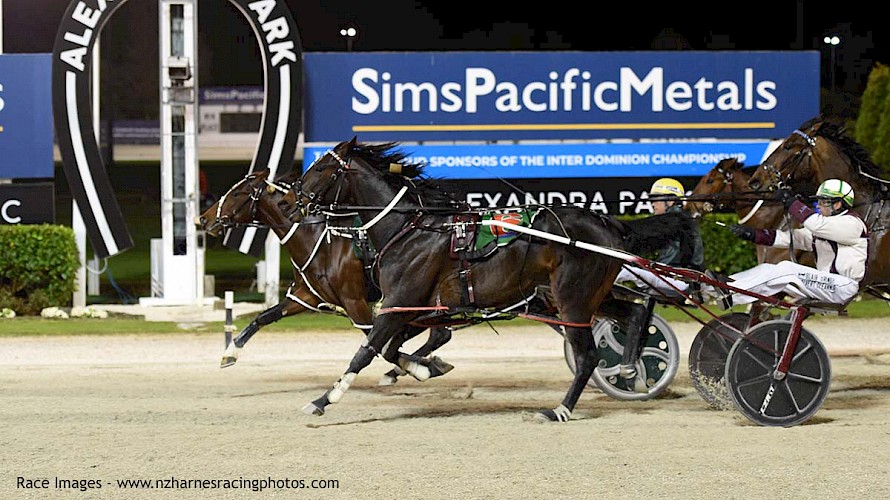 Dealer's Group I upset one of owner's best in 40 years - and he missed the finish!
Miami owner Gordon Banks rated American Dealer's upset Sires' Stakes Final win over white hot favourite Krug as one off his most thrilling wins in nearly 40 years of racing horses.
But, unbelieveably, Banks missed seeing the last 100 metres of the thrilling duel when his excited partner in the horse Marc Hanover rang.
Banks' mobile phone was in delay and Hanover, watching 6km away on his laptop already knew the result, unable to contain himself over winning a Group I feature in the middle of the night.
"I knew it was going to be close but I had to answer the call as I knew it would be Marc. I could still hear the commentary in the background and Marc was very excited so I thought he must have won."
It was 3.40am Miami time and Banks says the Alexandra Park race played out like comedy central as he got more and more excited throughout the race but was unable to shout out with his 98-year-old mother sleeping only two rooms away.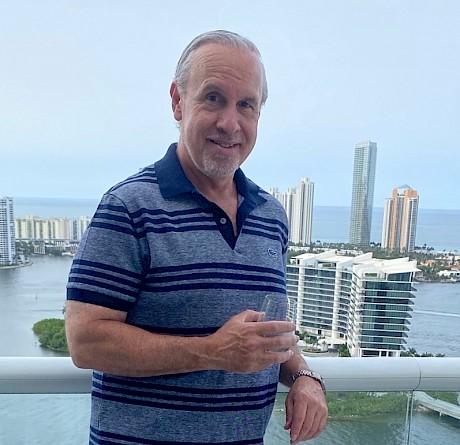 Gordon Banks … muffled cheers in his Miami apartment.But when he saw American Dealer full of running turning for home, his muffled urgings became ever louder.
"I got really excited and was screaming under my breath. It was a good test for a healthy heart.
"That was a very special win, probably because it was unexpected. I thought he'd race well but Krug is special and that makes the win even better.
"He did all the work in front and wouldn't give in. The little guy thinks he's a giant. I like horses who fight like that.
"We've had some champions before but this was one of the most fun wins even though we couldn't share it with anyone."
It's not the first Group I race Banks and Hanover have won in New Zealand - they took the Sires' Stakes Two-year-old Fillies Championship at Auckland with Joanne's A Delight in 2014.
"We've raced very few horses in New Zealand since then but I liked this little guy as soon as I watched his early races on video.
"On debut that big horse (It's All About Faith) came up outside him and he just stuck his neck out and wouldn't let it get past him."
It was the end of July when the cousins decided to buy American Dealer from Lincoln Farms' owners John and Lynne Street and their partners - and now less than two months later they have won a $140,000 Group I race and have a serious contender for next week's $200,000 Harness Millions.
Not since they bought Alert Fulla a week before he won the 1990 Group I Messenger at Auckland have they struck paydirt so quickly.
Banks said he was rapt too for American Dealer's trainer Ray Green who had impressed him in his conversations in recent weeks.
"Great trainers know how to protect and develop horses and not ruin them early and I like the way Ray has prepared this horse and built up his confidence."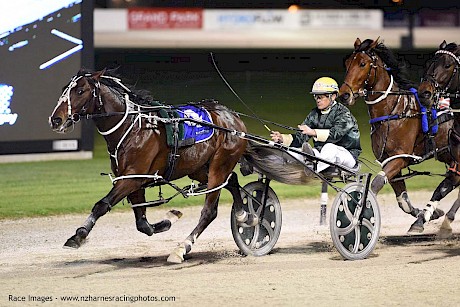 David Butcher is in control on American Dealer with a lap to run. PHOTO: Megan Liefting/Race Images.Banks said he believed American Dealer had stayed a bit under the radar in the run-up to the Sires' Stakes Final, people perhaps under-estimating how hard he had to work in his lead-up race to hold the lead.
Hanover, known for kissing his charges in post-race celebrations, showered praise on David Butcher for his outstanding rating of the horse in front.
And running a 1:54.4 mile rate over the 1700 metres, with final sectionals of 55.4 and 28.2, he was always going to be hard to get past.
At the line the Dealer held a head over Krug, with one and a quarter lengths to It's All About Faith.
"Coming down the straight I thought Krug was going to get us but I reckon if Dealer had gone round again he still would have won, he never gives up," Hanover said.
"Unfortunately with COVID we couldn't be there but we can still celebrate. I know Gordon won't be able to sleep for the rest of the night."
Banks said he was on the hunt for a bottle of Krug champagne to celebrate - but he didn't fancy his chances with a 10pm COVID curfew in place.
Our runners this week:
How our trainers rate them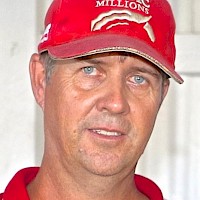 Al's comments
Tuesday at Albion Park
Race 8: Man Of Action
7.38pm NZ time
"He's come through his win last week really well and should run first or second again from another good draw. Soho Tsunami will be a big danger. He'll get a good trip on our back."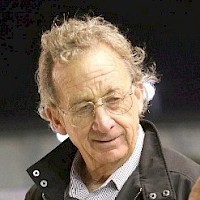 Ray's comments
Friday night at Auckland
Race 1: Apieceoflou
6.19pm
"He's just been incredibly unlucky - he was knocked over at the start last time - but if things go his way we'll see a better animal."
Race 1: Captain Nemo
6.19pm
"If he gets the right trip from five, he'll be right there at the finish. This is little more than a jumped up maiden race."
Race 4: Tommy Lincoln
7.39pm
"He's in a grade now where he can't get away with being driven like a toe rag all the time and from the second row he's obligated to have a much more conservative trip. He'll need a bit of luck but, if he's not put in the race too soon, he shouldn't be too far away."
Race 7: Revitalise
8.59pm
"I've scratched him. He's recovering from a foot abscess."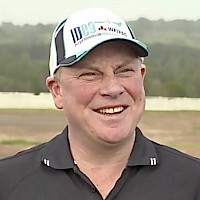 Ants' comments
Friday night at Melton
Race 1: Make Way
7.33pm NZ time
"He pushed them over the line last week and felt really good - he was only jogging at the finish. The (seven) draw has killed our hopes a bit but you never know …"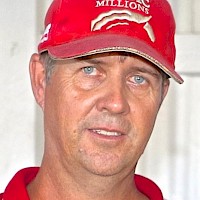 Al's comments
Friday at Albion Park
Race 5: Larry Lincoln
10.18pm NZ time
"We'll drive him quietly on Friday, just hold our position out of the gate, and give him some confidence. It's not a strong field - it's a bit of a drop in class on what he's been racing - and on the times he's been running in training this week he should be winning."
Saturday night at Albion Park
Race 3: Northview Hustler
9.48pm NZ time
"His run last week was exceptional. His chances depend on how the race is run. With the one and three horses having gate speed there could be early fireworks, which would suit him, as we'll probably drive him the same and use his speed late."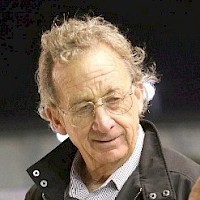 Ray's comments
Sunday at Cambridge
Race 6: Bondi Shake
5.47pm
"He would have won had he not galloped close to home last time. He just turned his head to one side when he got alongside that other horse and might have touched a knee. We'll rectify that by putting two poles on him."
Monday at Ashburton
Race 5: American Dealer
2.27pm
"From the pole, he should get a perfect trip. It's hard to know what the others will do but we get out well enough to be handy. He'll go well but he's already qualified for the final so there's no urgency. It would be nice to win it but we don't have to."
Race 7: Copy That
3.37pm
"He's never gone away badly from a stand - he's always reasonable and safe - so he shouldn't be far off them when they settle. I see him in midfield. I'm not expecting too much from him. So long as he goes well, I'll be happy."