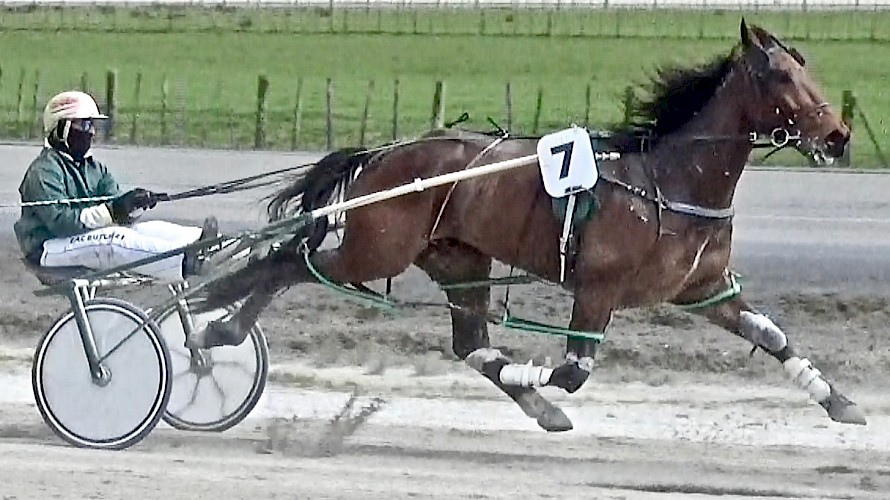 Denny's prayers for Sir Lincoln strength answered by Cambridge winner Abraham
Denny Baker's been around racing long enough to know breeding winners isn't easy.
While he stands successful thoroughbred sire Super Easy at his Hallmark Stud in Te Kauwhata, Abraham's maiden win at Cambridge last night was the first standardbred winner he's bred.
And Baker, 77, had a simple formula for his success - he chose Sir Lincoln to mate with his old mare Focussed because he wanted to impart more strength into her foals.
While he was initially attracted to the mare because she had a thoroughbred's hind end, her foals were weak and the first one he bred He's A Hobo, "had no bottom to him.''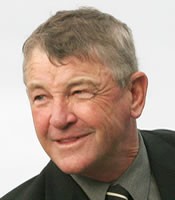 Denny Baker … got a real sense of achievement from breeding his first harness winner"But I'd always admired Sir Lincoln - he was a big, powerful, hard-going customer, almost like Colin Meads, a tough bugger. It took a clever man in Maurice McKendry to drive him well.
"He was the right horse for her - she needed something big and strong.''
It also helped that He's A Hobo had been trained by McKendry who just happened to have a service nomination to the sire.
So the pair went halves and Abraham was the result, a strong type in the Sir Lincoln mould.
When it became obvious Abraham was "never going to reach town hall company'' McKendry opted out, however, and Baker decided there was nowhere better to send him than to the stable that had so much success with Sir Lincoln.
So Abraham was dispatched to Lincoln Farms for Sir Lincoln's trainer Ray Green to work his magic.
And it was only the four-year-old's fifth start for Green at Cambridge when he showed high gate speed to cross from the outside of the arm and lead just 100 metres after the start.
Baker admits he let out a few good shouts for the horse when David Butcher still had him humming turning for home and he hung on to beat the favourite Ideal Tiger by a neck.
"I wouldn't have missed that for the world,'' says Baker who managed to pull himself away from his stud where they are foaling 86 mares this season.
Baker knows he'll get offers for Abraham now. "If you get the opportunity to trade in this game you trade, but it won't bother me if he doesn't sell.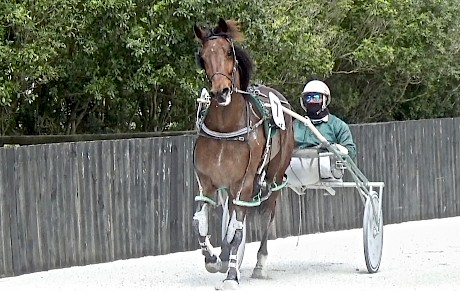 Abraham scored at just his fifth start"This is only a hobby for me. And I got a real sense of achievement out of the win.
"My old boss John Malcom used to tell me this racing game is a difficult pursuit. If you win half a box of carrots at a Taupo picnic meeting you're going OK.''
While Baker has put the old mare Focussed down, he has a Bettor's Delight filly to carry on the family, which dates back to broodmare gem Black Watch.
And he reckons he might just have some fun with Focussed's last foal, a colt by Sweet Lou, who has so much bling on him (white markings), he plans to call him Liberace.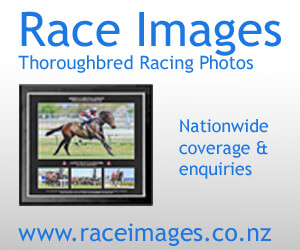 Sir Lincoln Top 10
Did you know…
1. CUP DAY BIRTH: It was preordained Sir Lincoln would be a headliner when he was born just hours before the 2006 New Zealand Trotting Cup at Addington. Three years later to the day, and almost the hour, he annihilated his rivals on the same course in the Sires' Stakes Final.
2. AGE NO BARRIER: In his second last race start, at the age of six, Sir Lincoln paced the fastest 1700 metres in New Zealand history, 2:00.5, beating Gold Ace and clocking a mile rate of 1:54 at Alexandra Park. Champion pacer Elsu held the previous record at 2:01.1.
3. ON THREE LEGS: Sir Lincoln ran his last race virtually on three legs, when second to Terror To Love in an Interdominion heat at Auckland. He had to be pulled out of the Melbourne series, and retired, when found to have a subluxated pastern joint - basically his ankle joint was dislocated.
4. SWIFT GOLDEN MILE: Sir Lincoln's fastest mile was recorded in the 2012 Group III Golden Mile at Menangle in Sydney when he was nosed out by Captain Joy in 1:51.4. He was known by the name Lincoln Royal in Australia.
5. AT THE REINS: One for the trivia fans - how many drivers did Sir Lincoln have in his 57-start career? Maurice McKendry was Linc's pilot throughout his career but he was MIA four times when the horse was handled by James Stormont, Ken Barron and Blake Fitzpatrick (twice).
6. WINNERS KEEP COMING: In only his third season with runners on the track, Sir Lincoln has already sired the winners of 30 races despite having limited numbers to represent him. Last season in New Zealand alone he had 16 winners from only 39 starters and this term he already has six winners from just 18 starters.
7. SOMEBEACH SOME RAP: Breeding buffs made a beeline for Sir Lincoln after superstar racehorse and stallion Somebeachsomewhere had to be put down with cancer. Sir Lincoln is 7/8th bred on the same cross as Somebeachsomewhere - by Mach Three out of a Beach Towel mare who is in turn out of a Cam Fella mare.
8. DISCOUNT FOR LOYALTY: Broodmare owners are returning to Sir Lincoln in droves. Taken by the attractive foals he is leaving, many book straight back to the Alabar-based sire and take advantage of Lincoln Farms' loyalty scheme which cuts his service fee in half to just $1250 plus GST.
9. TIME BEST FRIEND: Sir Lincoln's progeny are mirroring the sire's own start on the racetrack, benefitting from a little time to mature. The best the horse himself could manage as a two-year-old was one third from four starts but he was a different animal at three, winning four of his first five starts.
10. MEGASTAR'S FREAK DEATH: A freak accident claimed the life of valuable broodmare Lincoln's Megastar, a full sister to Sir Lincoln. The mare, who opened her career with a nine and a half length walloping at Auckland, was retired after six wins, but left only one foal. She was killed when crushed by a fallen tree in a violent storm. Woodlands Stud has another full sister in two-year-old Moonlighting who is in training with Ray Green.