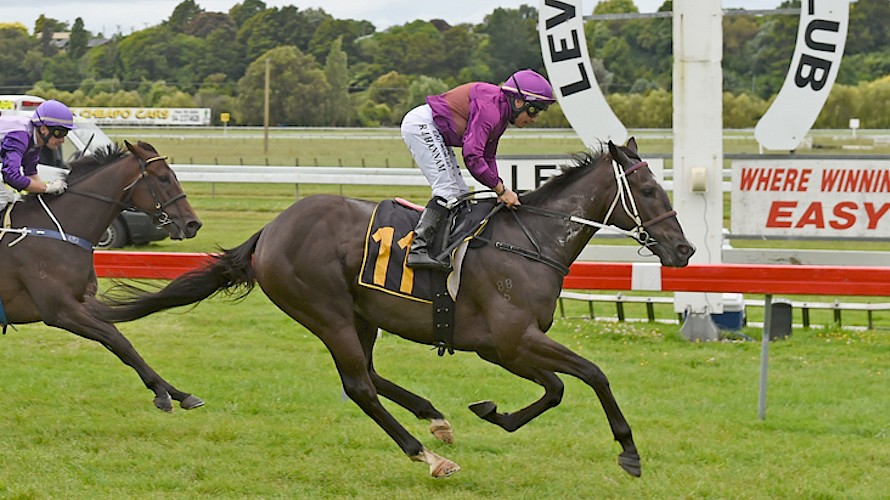 Derby aspirant Platinum Invador the standout for Lincoln Farms on Monday
Trainer Lisa Latta is looking forward to seeing what Platinum Invador can do at Otaki on Monday in his first big step on the road to a possible New Zealand Derby start.
The Redwood gelding, who was so impressive winning on the course in December, steps up to a middle distance for the first time in the last race, a rating 65 event over 2100 metres.
"It's always a big ask for a three-year-old to take on the older horses, and it's his first try over ground, but he's bred to stay and the field doesn't look overly strong.''
Latta says she's been very happy with how the horse has been working and from the inside gate she expects he will get a nice, economical run.
That would be in direct contrast to his last start when rider Robbie Hannam had to snag back to second last from the extreme outside draw and was forced three wide when starting to improve at the 800 metres.
Given how powerfully Platinum Invador finished over 1600 metres that day, taking five lengths off the leaders from the home turn, you'd have to think he will be even more potent at 2100 metres.
"He's still a bit of a baby but he's getting better and better,'' says Latta.
Safely through Monday's run, Latta will test Platinum Invador further in a rating 72 event over 2200 metres at Trentham on Wellington Cup day, January 19.
His final derby test would then be in the $100,000 Avondale Guineas (2100m) at Ellerslie on February 16, two weeks before the $1 million New Zealand Derby (2400m).
Best of the others Latta will line up on Monday for Lincoln Farms would be a toss up between Platinum Spirit, who debuts in the second race, and Port Lincoln in the fourth.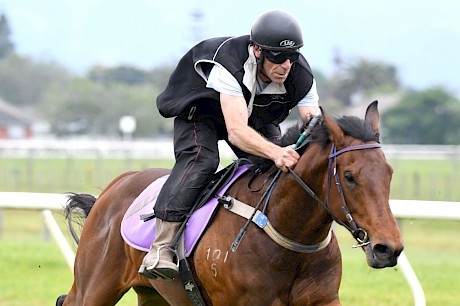 Platinum Spirit was timid when ridden in this jumpout by Bruce Herd. PHOTO: Royden Williams.Two-year-old Platinum Spirit has only five rivals but Latta points out they're a handy lot with Toby Autridge's Fleurgundy unextended to win his Cambridge trial and Fraser Auret's Trifolium having finished alongside Platinum Spirit in her jumpout win on December 19.
The form book doesn't show that effort but Platinum Spirit led the four-horse heat at Levin and quickened nicely to just get the judge's nod over Auret's Krupt filly.
The Charm Spirit colt clocked 48.32 for the 850 metres and with Monday's race over only 800 metres Latta quite rightly points out there's no room for error.
"We'll go forward on him as he's still a bit green and timid around other horses but the others will be trying to do the same no doubt. And you never know with two-year-olds what's going to happen.''
Platinum Spirit is eligible for the Karaka Million on January 26 and would need to win on Monday to have any chance of making the field.
Latta says it might be too big an ask at the moment anyway to throw Platinum Spirit into that furnace.
"But I'm very happy with him. He's trained on really well since the jumpout and galloped nicely on Thursday morning.''
Port Lincoln dogged by bad draws
Port Lincoln has continued his run of bad luck, again drawing the outside gate but Latta says there'll be no mucking around this time and he will be punched forward by new rider Robbie Hannam.
The giant galloper hit every red light going last time at Waipukurau, rider Tim Johnson unable to find a way out for almost the entire length of the home straight.
"Robbie will go forward and try to slide across and get in.
"His work has been good and with some luck in the running I expect him to be right in the finish.''
Latta has her fingers crossed that Lincoln Melody (race 6) and Lincoln's Secret (race 8) can erase memories of their inexplicably bad last start runs.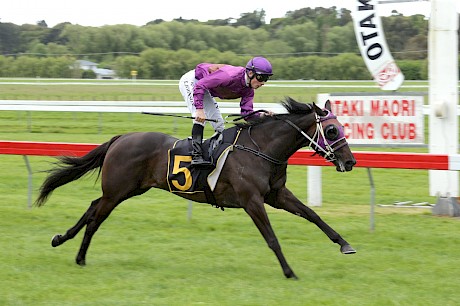 Lincoln Melody … cruising home in her upset first-up win. PHOTO: Race Images.Latta will instruct new rider Samantha Collett to ride Lincoln Melody quietly after she was ridden on speed at Awapuni and was going backwards all of 800 metres out.
"After such a bad run I am worried but she has a good rider and a nice draw and it's not a strong field.''
Latta has also dropped Lincoln Melody back to 1600 metres, the distance of her first-up win at Otaki in October.
Lincoln's Secret's last start flop at Awapuni was even more bizarre, rider Michael McNab not persevering with the four-year-old from the 600 and later reporting he was reluctant to hit out.
"The horse has a really good action but he never seemed to try on him,'' says Latta. "He's much better than that.
"He has a nice draw this time and I've got a kid on (Madan Singh) who can get him up there so I'm hoping for an improved run.''
Lincoln's Secret's first-up run was better than it looks on paper.
While he beat only three home at Awapuni on November 15 he was racing over only 1550 metres and was laying in and tied up in heavy traffic all the way down the home straight.
Lincoln light
News in brief
GREEN FIBRILLATES: Lincoln Green had an atrial fibrillation at Otaki on Thursday and will need a vet clearance before racing again. The horse raced keenly early but gave ground quickly near the 600 metre mark and rider Robbie Hannam did not persevere with him in the run home when he suspected there was something amiss.