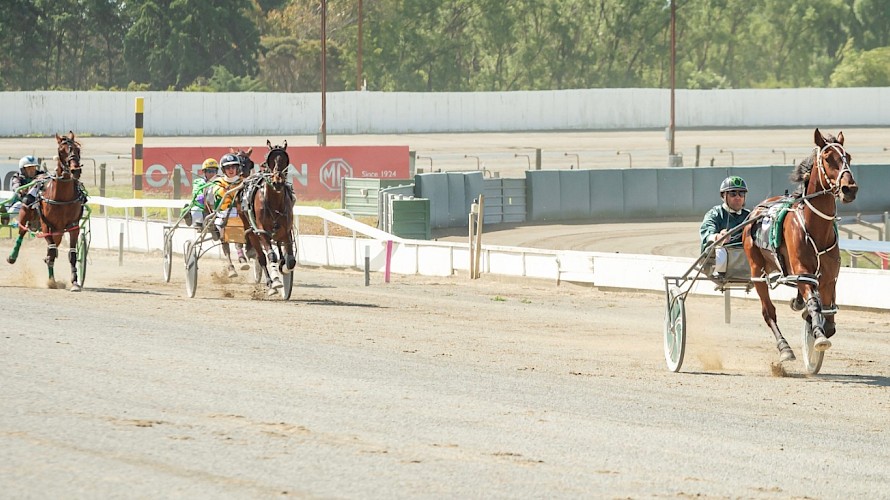 Dragon breathes fire at Palmerston North but how does that 15-length margin compare?
Obadiah Dragon's 15-length win at Manawatu on Monday had harness racing aficionados wondering how it ranked with the biggest winning margins of all time.
When driver Andre Poutama released the brakes on trainer Ray Green's two-year-old, he had commentator Aaron White struggling to keep up counting the ever-increasing margin.
But, incredibly, while horses seldom trounce their rivals by so much, the feat was trumped only 21 months ago when Cosmic Angel scored by 16 lengths in a trotting race at Ashburton.
And Manawatu was also the scene for the biggest recent pacing margin when in November, 2020, Richmond Tiger also scored by 15 lengths.
You have to scale up by 100% though, to find the biggest all-time margin on record. At Wyndham, in 2018, the trotter Super Fast Pat won the Gold Chip Final by 30.5 lengths after being a clear leader throughout for driver Brent Barclay.
And Camsplace Cam holds the record margin for pacers in Harness Racing New Zealand's data base, when he won by 28 lengths at Manawatu in November, 2001.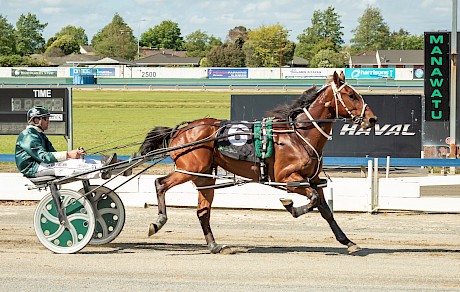 It's a cakewalk for Obadiah Dragon and Andre Poutama. PHOTO: Jack McKenzie.While it's likely other horses back in the day won by even more daylight (early feedback has already revealed David Moss won a 2700 metre race at Invercargill in September, 1990 by 41 lengths) part-owner Ian Middleton was both thrilled and surprised by Obadiah Dragon's feat.
Middleton, business manager for Lincoln Farms, admits he was starting to wonder whether he should be finding a new home for Obadiah Dragon when he hadn't found any form in six starts.
"But Ray said no, he'll get there, he just needs a bit of time.
"His biggest problem early on was in his head. The boys at the stable all said he'd win races, he just wasn't concentrating, so we gelded him after two starts."
Middleton reckons the making of the horse was sending him south to Manawatu in October when he ran a very unlucky fourth.
At his next start he finished second to the impressive Cambridge debut winner Minjee, run down only over the last 75 metres.
"And yesterday you could see he knew what he was doing."
Middleton said he was "absolutely delighted" for his two partners in the horse, long time friends, Ian Harris and Paul Humphries.
Harris watched the race with him at the Elmwood Tavern in Christchurch, while RACE chairman Humphries was out on the golf course.
While Harris has been involved in other standardbreds, and has a share in today's New Zealand Trotting Cup contender Republican Party, Humphries was a rookie with "the wobblies".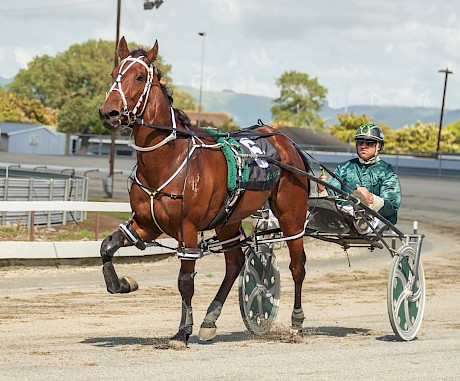 Obadiah Dragon was the middle leg of a hat-trick for Andre Poutama at Manawatu, the first behind Toe The Line, raced by his parents Warren and Liz on lease from Lincoln Farms, and the last on eight-year-old Proviseur, trained by Craig Sharpe, who works for Lincoln Farms. PHOTO: Jack McKenzie.They're now two from two after their other two-year-old, Sweet Lou filly Onyx Shard, scored at her third start on Grins night at Cambridge in April.
Both were bought relatively cheaply by Green's wife Debbie at New Zealand Bloodstock's yearling sale in Christchurch, Obadiah Dragon for $27,000 and Onyx Shard for $30,000.
Middleton knows his Fear The Dragon gelding did not beat a stellar bunch at Palmerston North but the big winning margin raised his hopes for more wins in the future.
"He's no champion but we know he's an improving horse and he'll get stronger as time goes on."
It's been a good cup week for Middleton already, with Obadiah Dragon's whitewash following Kana's stylish late-closing win on the first day at Riccarton.
Middleton paid $65,000 for Kana as a yearling and now races the four-year-old with friends out of Peter Didham's Awapuni stable.
"We're backing her up in the Stewards on Saturday against Lincoln's Kruz and I'll be happy to see either of them win."
Lincoln's Kruz, raced by Lincoln Farms and partners, looked unlucky not to win the Pegasus on the first day, bottled up in tight quarters until too late, and going under by only a half a neck at long odds.
Our runners this week
Friday night at Auckland
Saturday night at Albion Park
Tommy Lincoln, Argyle.