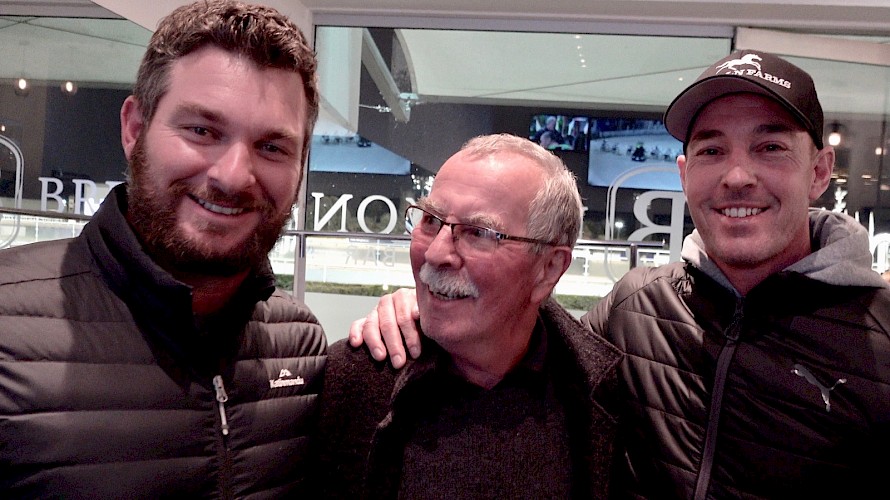 Duncan happy to celebrate American Dealer's bizarre hole-in-one win with top golfers
Duncan Chisholm couldn't have thought of two better people with whom to celebrate one of his most exciting wins than top golfers Ryan Fox and Gareth Paddison.
In a bizarre finish to the fourth race at Auckland tonight Chisholm, 67, cursed as he watched his horse Man Of Action throw away a seemingly winning break with a mid stretch gallop.
Then, seconds later, when he heard commentator Aaron White call American Dealer home, he realised the other horse he had shares in won the race anyway.
"I didn't even see American Dealer come through, I was too busy tearing my hair out after Man Of Action broke," said Chisholm who has a share in both horses along with his brothers John and Dave and their golfing mate Warwick Orr.
Chisholm made sure he had his photo taken with the two famous golfers after the win to show off to his Mangawhai buddies, Fox and Paddison there for the first time as guests of Lincoln Farms' boss John Street.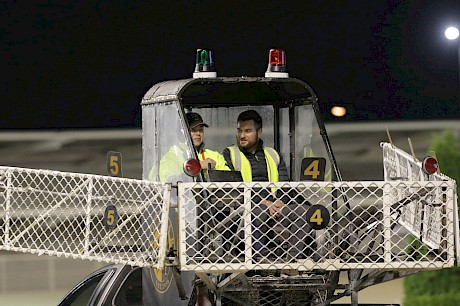 Ryan Fox chats to starter Frank Phelan as the mobile pulls away for the start of the sixth race. PHOTO: Trish Dunell.The pair were gifted shares in Franco Nandor and Captain Nemo after filling the top two spots at the recent Wairakei Invitational and, while their charges could finish only fourth and fifth earlier in the night, they joined in the celebrations after American Dealer's win.
Fox, who has just been issued an invitation to play in the US Open, later enjoyed a ride in the mobile alongside starter Frank Phelan for the sixth race.
Ironically it was through golf that Chisholm first got to know Street and became involved in his unique partnerships.
By sheer chance, Chisholm caddied for the pro golfer who was part of a team comprising Street, his business manager Ian Middleton and Richard Lee at a pro-am Street sponsored at Mangawhai four years ago.
"John said I should get a bunch of guys together and take a share in a horse. It just happened that I already knew his trainer Ray Green from way back and had always followed and backed the Lincoln Farms' horses."
In less than three years the lucky golfers have now shared in 20 wins, 14 with Make Way, two with Man of Action, two with American Dealer, and one each with Linc's Tiger and Linc's Grace.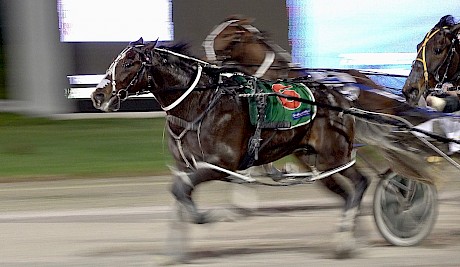 American Dealer powers home to score a fresh-up win.Chisholm said tonight's win would be a real boost for his wife Kathy who is unwell with an abdominal cyst and watched the race with her sisters from a motel just down the road.
In accepting the trophy for the race from Street, Chisholm thanked him for what Lincoln Farms was doing for racing through its partnerships.
The partnership which races American Dealer have certainly lucked into an exciting prospect. Also in the team with John and Lynne Street, Middleton and Green are Tim White, Annette and Kevin Crosswell, Ian Kedzlie and Bob Best.
Green described American Dealer as a real little racehorse and praised his effort to come from three back in the running line, mount a four-wide challenge on the home turn and still get up by a head over Christianshavtime.
The leaders paced the last 800 metres in 57.9 and 28.6 so the American Ideal colt's effort was full of merit and credited him with his second win from just three starts.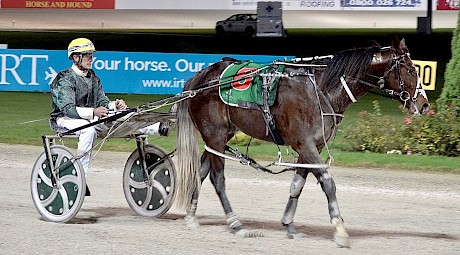 David Butcher brings American Dealer back after his excellent win.Driver Andre Poutama told Green Man Of Action dropped the bit and seemed to lose concentration when he pulled the plugs.
"He would have been better if another horse had been beside him," Green said.
Larry Lincoln showed he might not be strong enough yet to burn the candle at both ends when, after being lit up by Zachary Butcher from wide out to lead, then trail, he weakened in the run home to finish last.
Our runners this week:
How our trainers rate them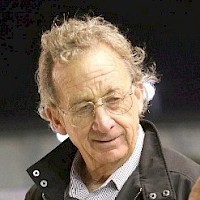 Ray's comments
Thursday night at Auckland
Race 1: Franco Nandor
5.24pm
"From a decent draw this time he'll be one of the hardest to beat because it's not a strong field. He lost a lot of muscle and strength when we gelded him but he should do better from now on."
Race 4: Larry Lincoln
6.49pm
"He'll lead easily and he's good in front so he's a chance to run a hole. But he can't burn at both ends so it depends on how the race is run and in these junior drivers' races they can be quite aggressive."
Race 6: Louie The Punter
7.41pm
"He's a big, dumb sort but he goes well enough. If he could be put on the front end on a nice steady rhythm I think we'd see a different horse. He just gets a bit lost and awkward in the field and the stop-start racing confuses him."
Race 6: Apieceoflou
7.41pm
"Second row draws can be good and if Gopati goes out he'd be right in it. He's come from way back in all his runs and he got held up in the run home last time. He's developing into a tidy horse."
Race 7: Tommy Lincoln
8.06pm
"The wide draw shouldn't worry him - he'll just mooch forward. It's pointless for him to go back, his MO is to get rolling. I thought he was travelling easily at the finish last time."
Race 7: American Dealer
8.06pm
"He's a little tradesman who never goes a bad race. He'll need a bit of luck from the draw but you can be sure he'll be running on strongly at the finish. He was good here last time."
Race 9: Copy That
8.56pm
"This is his most serious test. It usually takes the top age group horses two or three runs to find their feet against the tough older ones but he's exceptional and I expect Maurice will have a dab for the front."
Race 11: Man Of Action
9.46pm
"He'll be at the mercy of the ones he's following out but he's trained super this week and I think he's a definite chance. He's improving all the time."
Race 12: Captain Nemo
10.09pm
"He's a lovely big horse who's also on the up. I think he'll improve on last time here when he got pulling just when he was going to get a good trip and had to come out."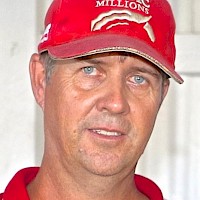 Al's comments
Saturday night at Albion Park
Race 3: Northview Hustler
8.14pm NZ time
"He ran some terrific sectionals last week coming from the back. He's improved through the week and I can't fault him. After his work his heart rate was down to 91, which is a lot better than it's been. He's at his best when it's in the 80s. He's a live chance and I think we'll see a different horse on Saturday night."