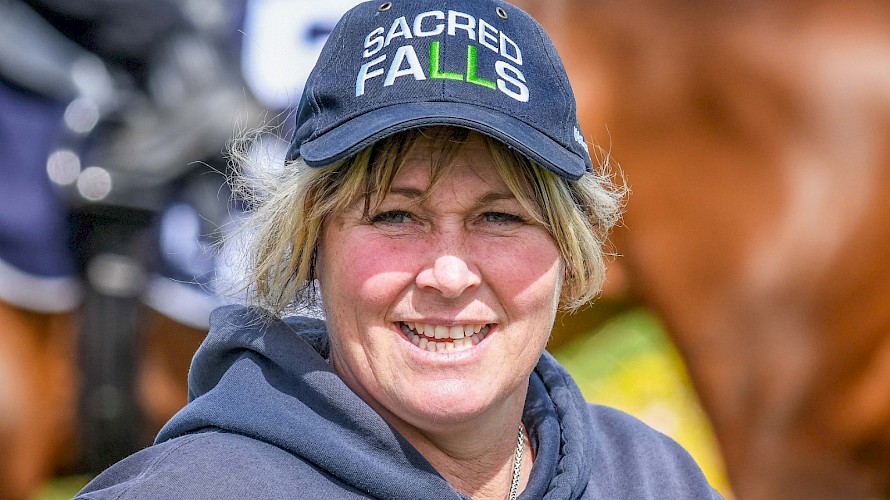 Exciting season ahead for Lisa as quality three-year-olds prepare to strut their stuff
Lincoln Farms' trainer Lisa Latta admits to plenty of excitement at the season ahead with the chance of achieving a long held dream and a couple of real milestones in sight.
Latta, 50, has high hopes that smart colt Lincoln Falls will fashion into a New Zealand Derby chance, so much so that she has put him out for a break now to concentrate on the Ellerslie classic in March.
And the Dundeel colt is just at the tip of a phalanx of talented Lincoln Farms three-year-olds which Latta has been quietly putting through their paces.
"I usually have one or two nice young ones but I have an exciting team this year. I've always wanted to win a derby and Lincoln Falls isn't my only chance.''
The 15 three-year-olds Latta has in work for Lincoln Farms should certainly help propel her towards a target of training 300 winners for Lincoln Farms.
Since John and Lynne Street first gave Latta a horse in 1998, best calculations put her tally now at 279 for the Auckland couple.
It was the Streets who encouraged Latta to try her hand at training when her then partner, Malcom Smith, died suddenly in December, 1998.
"I had only eight horses but John told me that if I wanted to have a go [as a solo trainer], that he would support me," Latta said. "Who knows whether I would have had a go without his support and who knows whether I would have got this far?''
Latta made an instant impression on the Streets, training her first winner for them on January 2, 1999 when Resonare scored at Tauherenikau.
Resonare went on to claim the Group III Thompson Handicap and that sealed their relationship.
In the interim Lincoln Farms has been instrumental in helping Latta to become the first woman to win the national trainers' premiership when in 2013-14 she saddled 87 winners.
Latta is now on the downhill stretch to a milestone reached by few trainers - that of training 1000 winners.
New Zealand Thoroughbred Racing records have her present tally at 908, suggesting all going well she should achieve the feat in the next two seasons.
Latta says she has a big team helping her at Awapuni, about 20 in all, and now that it's school holidays son Josh, 14, and daughter Jaime, 12, are there at the stable chipping in too.
That's when they can be dragged out of bed at 5am!
Our runners this week:
How our trainer rates them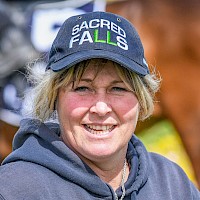 Lisa's tips
Thursday at Woodville
Race 3: Lincoln's Gal
"She has a nice barrier to use and has improved since placing in her trial at Foxton. She galloped nicely on Tuesday morning and from the draw I expect her to be right in the finish."
Sunday at Otaki
Race 1: Dreams Of Platinum
"She does go well fresh and she'll jump and put herself right there. But her coat's not quite there yet and she will improve with the run.''
Race 3: Lincoln Melody
"I'll be happy to just see her working home strongly. It's a good race for her to start in, against her own sex, and she'll have a soft run with Tim (Johnson) claiming 2kg.''
Race 7: Master Lincoln
"It's well short of his best and I just want to see him getting home. He has a fair amount of staying ability.''
Lincoln light
News in brief
ALMO OUT FOR SPELL: Almo Street's much awaited racetrack return, with the aid of a blindfold to help him jump out of the gates, has been put on hold. Trainer Lisa Latta says the normally good trackworker has been decidedly average in his last two gallops and, after nearly a year in work sorting out his problems, is simply over the top.
FATHER BOLD: Father Lenihan ran a bold race fresh-up at Hawera, box-seating behind the leaders and sticking to his guns in the run home to finish just two lengths from the winner Empress Tzu Hsi in fifth spot. He was heavily backed down to second favouritism at the jump.
RAIDER ROUGHED UP: Lincoln Raider's fresh-up run for fourth at Hastings was full of merit. He finished only 1.3 lengths from the winner at a distance well short of his best despite being crowded leaving the barriers and hampered passing the 400 metres.
AJAY ON HOLD: Ajay Lincoln's debut has been delayed, trainer Lisa Latta scratching him from Waverley to allow him to get over a stone bruise. The promising colt had galloped in great style with Lincoln Falls and looks to have a nice future.