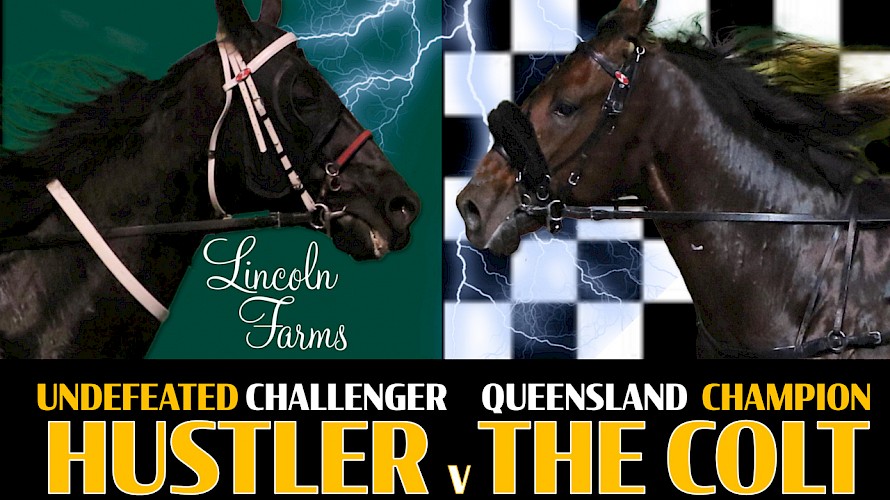 Fighting talk from Al: It's time to make a statement with Hustler to earn some respect
It's time for Northview Hustler to make a statement.
Trainer Al Barnes doesn't mince his words when he says Lincoln Farms' flag bearer will be driven aggressively at Albion Park on Saturday night to earn some respect for the upcoming Queensland winter carnival.
"We're going to run time and let them know we're here,'' says Barnes who is delighted that prize money for the two feature races Hustler is being aimed at has just been increased to A$100,000 (Sunshine Sprint) and A$250,000 (Blacks A Fake).
"He's done well so far, winning class races, but now we're up against the best of the best and he's got to stand up and earn some respect.
"We're going to make a statement for the rest of the carnival, show them he's ready and will be a force.''
It's fighting talk from the Marburg trainer who last night won his sixth straight race with Trojan Banner and has yet to see the Hustler beaten in three starts in Queensland.
Especially bold too since the little colt has drawn the second row and has some accomplished pacers in front of him, including reigning Queensland horse of the year Colt Thirty One, drawn in four.
"I don't mind the draw as there will be fireworks early,'' says Barnes who had to withdraw Lincoln Road from the Mr Feelgood today with filling in his nearside leg.
"It means we will be following out the three horse (Slice Of Heaven) who is the leader so if we can punch through hard on his back we might even find the top before Colt Thirty One.
"Then we'll find out if Slice Of Heaven wants to hold the top or hand up. Hopefully we'll be either in front, the chair, or the one-one.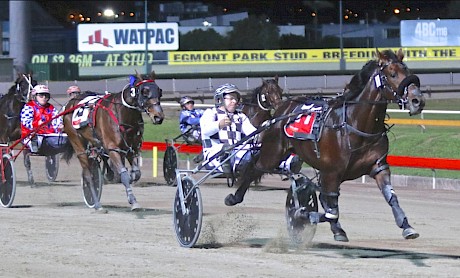 Northview Hustler meets Queensland kingpin Colt Thirty One, pictured, for the first time on Saturday night."If Grant (Dixon) tightens us up on Colt Thirty One we might end up posted three wide under the whip but we're still going to be aggressive.
"When Hustler clocked 1:53.1 he ran a 35.8 lead time, a 28.5 first quarter and came home in 27.1, untouched and running away, and they won't go any quicker on Saturday.
"Colt Thirty One is a good horse but he's not that brave. The times he's been tested, he's been beaten and I doubt they'll want to kill him in this race with the big ones coming up.''
Colt Thirty One will however be a formidable foe. The winner of 28 of his 41 starts and A$500,000, he is sure to start a warm favourite. He is at the peak of his powers, winning five of his last six starts, including a 1:54 mile rate two starts back over 2138 metres.
Dixon rates the four-year-old right up with the best pacers he's trained. And owners Kevin and Kay Seymour will be keen to win Saturday night's race, named in honour of their best ever horse, Mr Feelgood, winner of $3.3 million including the 2009 Interdominion Grand Final at the Gold Coast.
Barnes also lines up Vasari in the following race, a class two and faster 1660, and says he should be in the money again.
"His run at Redcliffe last week was huge. They just don't do what he did round that track, run 1:55.9, and to do it three wide to the chair was massive. Even though he went under, he showed a lot of heart.''
While drawn nicely in three, Barnes says Vasari won't have the speed to lead on Saturday night.
"I can't see the two horse, Ashkii, handing up to him but Vasari is flying and he's honest and he'll be right in the money.''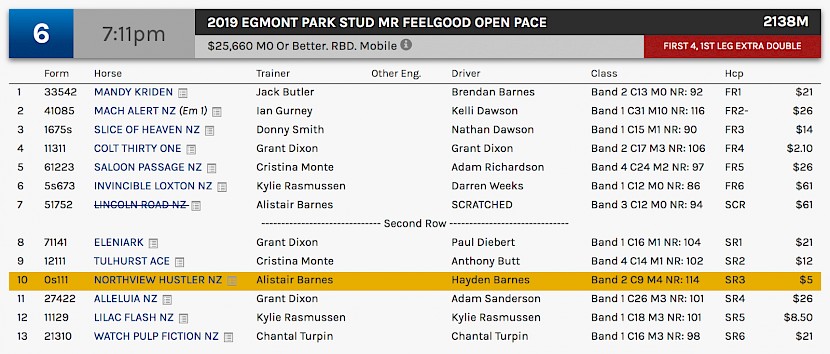 Northview Hustler races at 9.11pm NZ time at Albion Park on Saturday night.

Vasari races at 9.41pm NZ time at Albion Park on Saturday night.