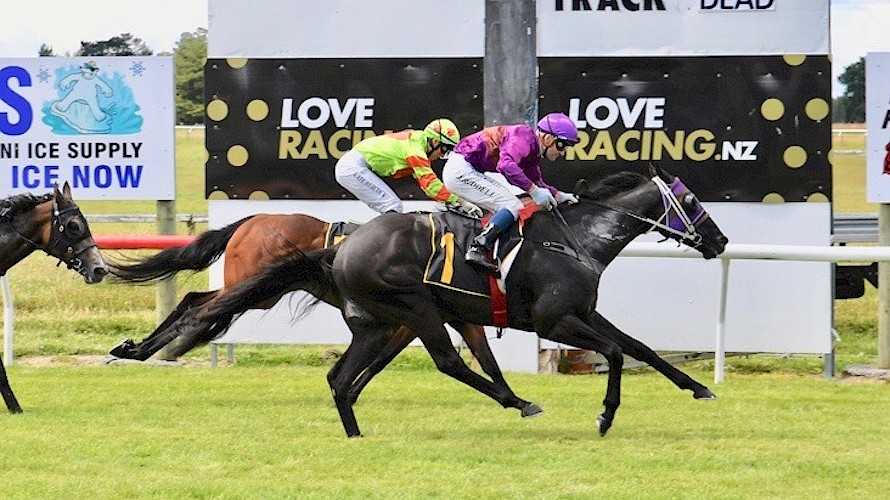 First time owners having a ball with Lincoln's Kruz - but they missed his breakthrough win
First time owner Jeff Roach had only one regret when Lincoln's Kruz broke his duck with a powerhouse win at Tauherenikau today.
Roach and his wife Vicky are enjoying racing their first horse with Lincoln Farms so much they've been going to see Lincoln's Kruz at every opportunity - not just when he races but his trials and jump outs too.
But today, "stuck" in Taupo on their Christmas-New Year holiday, they had to make do with watching the race on TV at the Taupo Cossie Club.
But the place erupted when the showy black came from well back with a barnstorming run to score by a long neck at odds of $8.50.
"He's the first horse we've raced," said Roach who has a 15% share with his wife in the $150,000 ready-to-run buy.
"I've been watching racing all my life and to actually own one is fantastic. We're really enjoying every part of it."
When Roach moved south to Otaki he saw it as an ideal opportunity to join one of Lincoln Farms' partnerships.
"I've played golf with John (Street) and Ian (Middleton) for many years and I knew they raced horses down there with Lisa Latta.
"Lisa has been fantastic. I've learned so much in the last 12 months - probably because the horse hasn't been winning!"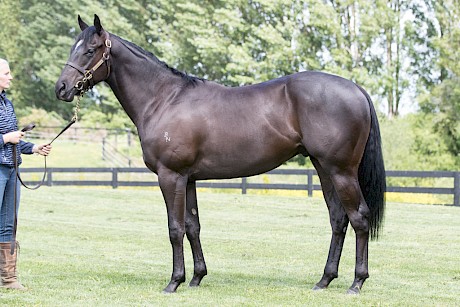 Lincoln's Kruz came with a $150,000 price tag at the ready-to-run sale because of his stunning looks.Roach said he had no illusions that Lincoln's Kruz would start winning from the get-go just because he came with a big price tag.
"You go into these things with your eyes wide close and just hang on for the ride.
"This has been a while coming but maybe he's turned the corner now.
"We thought he'd go over longer distances but he's been pulling himself to bits. I'm sure having a strong rider like Jonathan Riddell really helped today."
Roach said he and his wife really enjoyed visiting the good looking horse at every opportunity.
"He'd win any beauty contest. And he's so relaxed he always looks like he's been smoking something."
The Roaches race Lincoln's Kruz with Peter and Bridget Morris, Sue Croft, Steve Haylock, Lincoln Farms' owners John and Lynne Street and their business manager Ian Middleton.
The four-year-old was having his 11th start today and, while he had notched only one third and three fourths, Latta was quite hopeful that he would finally show something.
Knowing the horse had been over-racing, she figured he wouldn't get the chance to undo himself in a 1000 metre race at a hectic pace round the turning country track.
And so it proved with Gee String ripping along in front, while Riddell was able to get cover one off the fence from a wide draw.
Riddell was on the move before the home turn and, while widest on the home turn, the horse unleashed a big sprint to get home and clock 56.47 for the trip.
Latta said it might be that Lincoln's Kruz will be best at short distances, being by sprint sire Kuroshio.
A son of Exceed And Excel, Kuroshio had blistering early two-year-old speed and made a big impression with his first European crop.
Lincoln's Kruz is out of Myskina, who is a half sister to the speedy Miss Kournikova, who numbered among her five wins the Group I Oakleigh Plate.
Lincoln's Kruz had little luck in his early racing and was held up by persistent bruising in a foot last year, but he showed Latta enough to know he had ability.
"He's worth waiting for," she said after one of his early setbacks.
Our runners this week:
How our trainer rates them
Saturday at Trentham
Race 2: Lincoln Hills
12.45pm
"He has freshened up really nicely and hopefully we get the fire out of the ground which he really likes. His work has been really good and, while there are a few nice horses against him, we know he performs fresh-up. Sam O'Malley will claim 3kg down to 58kg."
Race 6: Father Lenihan
3.05pm
"This is a big drop back in class for him and Temyia Taiaroa's 3kg claim will bring him down to 58.5kg which I think will be a competitive weight for him. The key to him is having a nice draw and being able to sit just in behind the speed. His work has been very good and hopefully with rain about, the track comes up dead."
Race 7: Platinum Spirit
3.40pm
"Ryan (Elliot) didn't have any luck on him at all last week - he elected to go in and the gaps all closed up. He's thrived since and all the rain has really sparked him up. He looks fantastic and I couldn't be happier with him. Jonathan Riddell will ride and on his run last week you would expect him to be very hard to beat."