From go to whoa - Hustler plays with his rivals in long overdue and deserved win
Northview Hustler put a string of setbacks behind him and broke through the $200,000 barrier in stake earnings when he led all the way at Albion Park in Brisbane tonight.
And while it had been 11 months since his last win, neither trainer Al Barnes, nor his loyal Kiwi owners ever doubted the Bettor's Delight six-year-old.
The Hustler made the most of a rare position on the pole to streak to an early lead before slowing the pace right down in the middle section and unleashing a devastating 54.7 last half, his 26.1 final 400 giving chasers Kid Montana and Ashley Locaz no chance of catching him.
His overall mile rate for the 1660 metres was a pedestrian 1:54.9 but Barnes was delighted to see the horse get an easy kill after weeks of running some of the fastest sectionals with little reward.
"I think he needed that. It will be good for his confidence," said Barnes.
"He tries his best every week and hopefully now he's earned back his respect and can get a similar run from good draws in the future."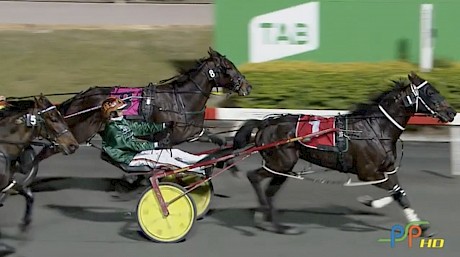 Northview Hustler has Kid Montana and Ashley Locaz well covered at the finish tonight.Barnes said he was delighted for Lincoln Farms' owners John and Lynne Street and their partners in the Hustler watching back home in New Zealand.
"The horse has had a ton of problems but we're right on top of them now. We've worked him out and know how to treat them all."
After a terrific start to his Queensland career when he won the Flashing Red and looked like claiming a spot in the top three horses in the state, the Hustler has had a succession of injuries - a tendon tear, persistent bleeding in a fetlock, joint soreness and feet infections among them.
Those issues, combined with persistent bad draws, had kept him out of the winners' circle in 13 previous starts this year but Barnes is hoping he can now keep the till ringing for his owners.
"He's still not at his best - like he was when he first came over - and he might never get back to that level because of his injuries. You never know when they're going to flare up.
"If that race had been 12 months ago he might have won it by 10 lengths.
"But I was pleased to see Hayden drive him so well. To see him thinking and do what's best for the horse was great."
Barnes said the timing of the win couldn't have been better now that Hayden and his other son Brendan were both back home "doing the hard yards."
"It means they'l be able to have a day off here and there and not get stale.
"It also shows we can still do the job. We've had a pretty lean run but with new stock arriving next week it's a real boost for everyone."
Man Of Action and Larry Lincoln are due to fly in to Brisbane on Monday to replace some of the string of horses Barnes has sold on for Lincoln Farms in the last 12 months.
In winning his first race over a mile, Northview Hustler took his Australian earnings to more than A$75,000 and along with the $127,471 he banked in New Zealand, his earnings have now topped $200,000.
Northview Hustler had 2.3 metres to spare on Kid Montana, who made a little ground from the trail, with another 1.2 metres to hot favourite Ashley Locaz who sat parked and was under pressure turning for home.
He paid $5.20 on the New Zealand tote but that was of little significance to Carl Officer, spokesman for Waikato's Four Legs syndicate.
"He's our wee star and Al is the man. Class always rises to the top and, if you believe in the dream, anything's possible."
The Hustler's other owners are Lincoln Farms' business manager Ian Middleton, Ian Gradwell, Shannon Flay and Chris Western.
They're all flat out trying to keep up with the Hustler after a 26.1 final quarter.
Our runners this week:
How our trainer rates them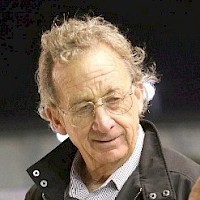 Ray's comments
Friday night at Auckland
Race 3: Revitalise
6.52pm
"Maurice liked his run last week, he has a better draw this time (five) and I'd like to think there's a lot of improvement in him. He should go well and hopefully he'll get a cheque."
Race 5: Captain Nemo
7.53pm
"It will be very tough for him from the outside of the arm. He didn't pace the best last week, Andre (Poutama) had to hold on to him the whole way. But I'll tweak his gear a bit - his hopples might have been a tad long - and hopefully he'll get round OK."
Race 5: American Dealer
7.53pm
"It's difficult to make a plan from four on the second row - you're relying on pure, unadulterated luck - and that's not ideal. I can't imagine anything beating Krug from the one draw - he'll lead out and I doubt he'll hand up - but hopefully we can pick up some of the minor money."
Race 6: Tommy Lincoln
8.24pm
"He's not really a 2700 metre horse so 2200 this week will suit him a lot better. Seven is not the ideal draw on the mobile but if David (Butcher) gets a good trip I'd say he'll be the one to beat."
Race 7: Copy That
8.55pm
"He's absolutely donkey licked everything so far and they're all the same horses again except for Mark Purdon's Another Masterpiece. Now that he's on the front I can't see why he wouldn't flog them again."
Race 9: Apieceoflou
9.52pm
"He was used a bit early last week, and parked for a while, and hung on well for third. I'd like to see him lead and then I think he'd be a serious chance. This is the best draw he's had."
Race 9: Bondi Shake
9.52pm
"He's been training not bad but he's out wide again and will need some luck."