Front row draw puts Hustler right in the frame - just how fast did he go last week anyway?
Northview Hustler has the right draw to pounce straight onto the pace in Saturday night's feature race at Albion Park, a crucial factor which trainer Al Barnes says should see him go close to winning.
Don't be fooled into thinking the little Kiwi warrior hasn't been racing well just because his form line has fallen away. When he ran fifth behind Colt Thirty One in last week's Wondai's Mate his last 800 metres could have been the fastest ever run at Brisbane headquarters.
Stranded out the back from his second row draw, the Hustler was forced to make a solo run three wide over the last half of the 1660 metre race and still clocked a searing 53.22, making up 15.9 metres on Colt Thirty One over the last 800 metres.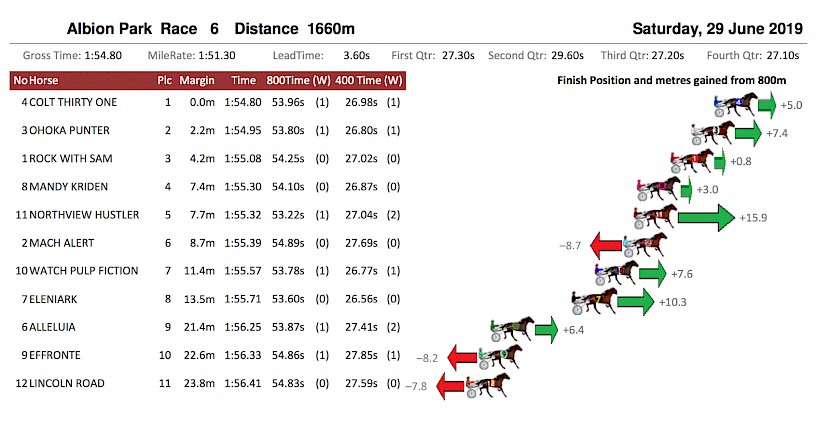 The official stats show just how outstanding Northview Hustler was last week.The Hustler was timed to run his third quarter in 26.18 and never flinched in posting 27.04 home to finish 7.7 metres from the winner who clocked a mile rate of 1:51.3.
You only get a real appreciation of the enormity of the effort when you compare that 53.22 time with the closing splits recorded by previous stars in the state's feature races.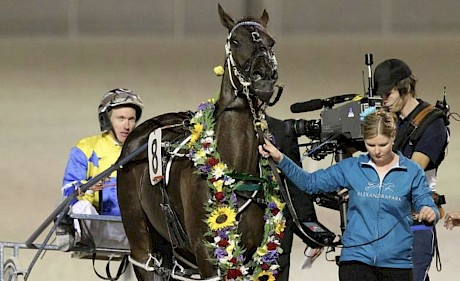 I'm Themightyquinn … champion pacer who clocked a closing 54.4 when setting his Albion Park record.* When I'm Themightyquinn ran his 1:50.4 track record at Albion Park in the 2014 Sunshine Sprint, his last half was 54.4.
* Bling It On, winner of 45 races, ran home in 54.7 when clocking his career best 1:52.6 at the Creek in 2015.
* Local star Mr Feelgood's fastest mile at Albion Park was 1:52.9 but he was positively pedestrian over his last 800 in 55.
* Avonnova, winner of the 2015 Sunshine Sprint in 1:51.3 closed in just 56.1.
Some dedicated statistician might find a horse whose overall time was slower but flew home faster but even when you look at times clocked at Sydney's Menangle it's hard to find quicker last halves.
And Menangle is much more conducive to fast times with its 1400 metre circumference and 350 metre home straight, compared with Albion Park's 1019 metre track and 197 metre run home.
* Consider that My Field Marshal only had to run 1600 metres, not Brisbane's 1660 metres, in last year's Miracle Mile and while he was supersonic all the way in an Australasian record 1:46.9 he came home in only 53.3.
* This year's Miracle Mile winner Spankem is the only horse we could find who has run home faster, low flying in 52.6 on his way to an overall time of 1:47.7.
Hustler wouldn't live with those headliners, or run as fast over a mile, but it gives some insight into just what horses need to do to overcome second row draws in sprints at Brisbane, and how a passing glance at their form on paper can be misleading.
And that's what Barnes is talking about when he paints a picture of how Saturday night's Lucky Creed might be run.
"With a bit of luck Hustler should finish top three because from his draw he won't have to burn to get handy. He should just lob there.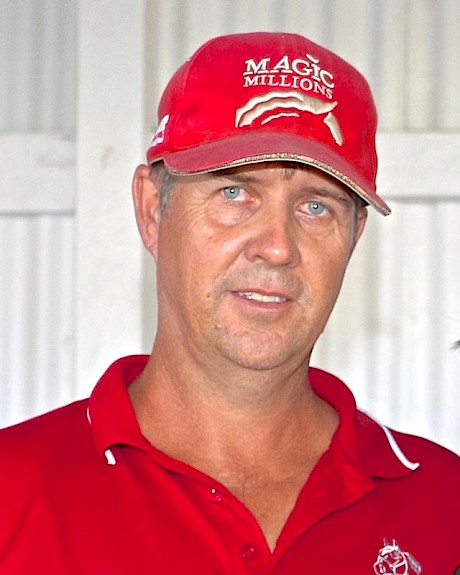 Al Barnes … "we were very proud of Hustler last week.""He's been running fourth and fifth coming from last in super halves in his last two starts so with an easier trip he should he right there at the finish on Saturday.''
Barnes says it's possible Hustler will be left in the chair if Luke McCarthy decides to hold the front on Cullenburn.
"But we'll be happy to be there and Hayden can just sit quiet and see how we go. And if Colt Thirty One comes round from the back and Hayden wants to take a sit, that's perfect.''
Barnes knows it will be a lot easier for Colt Thirty One to move round the field with the pace certain to be a lot less hectic over 2680 metres than 1660 metres.
He's just glad the draws are reversed this week with Hustler sitting pretty on the front and Colt Thirty One behind him on the back row.
Grant Dixon's stable star has tackled the longer 2680 metre trip only twice before - he was pipped half a head by Master Moonlite in the Queensland Derby and won the Christmas Cup last December.
Whether or not that makes him vulnerable, especially from a second row draw, remains to be seen but Barnes is confident Hustler is ready to strike.
"He's in good order - his fitness is close to spot on - and 2680 metres will top him right off for the next two weeks.''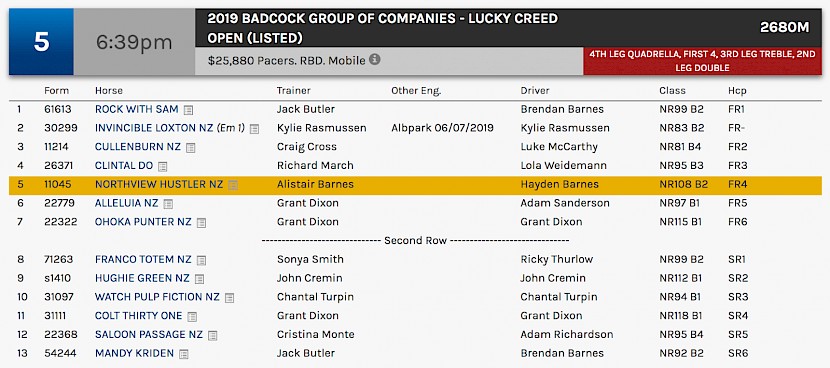 Northview Hustler races at 8.39pm NZ time at Albion Park on Saturday night.
Our runners this week
Friday night at Auckland
Sunday at Menangle
Make Way.