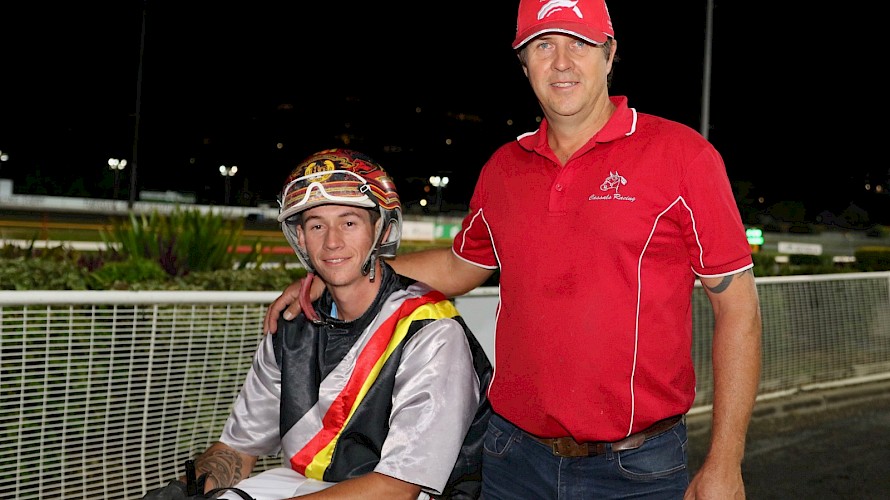 Great job Al - that's 40 wins and A$287,000 in just two years training for Lincoln Farms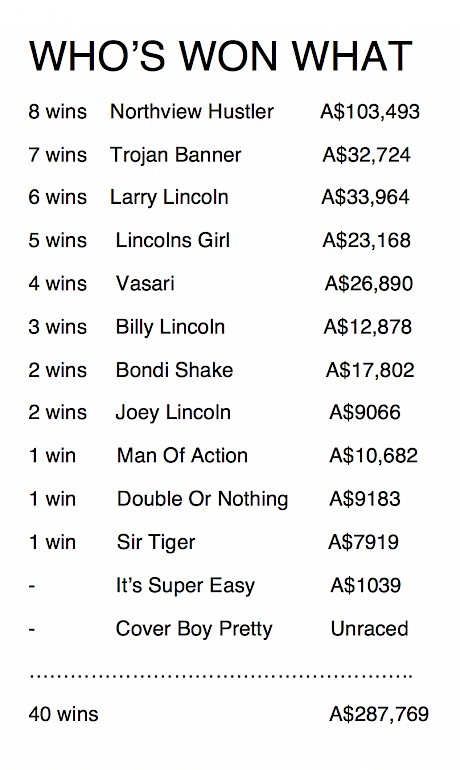 Fresh from achieving a milestone 40 wins for Lincoln Farms, Queensland trainer Al Barnes lines up another solid chance in Bondi Shake at Albion Park on Tuesday.
Barnes was straight back into preparing the next batch of winners after Larry Lincoln's upset win on Saturday night.
But he allowed himself a moment to reflect on what has been a memorable achievement in just two years training for the leading New Zealand operation.
"It's nice to look back on the wins and, until you see them all compiled, you don't realise how profitable it's been for John (Street) and Lincoln Farms.
"I'm very happy with what we've achieved. It's not bad for a small team."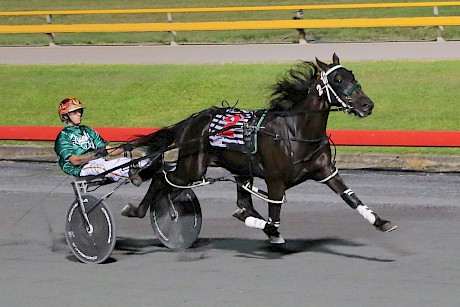 Northview Hustler has been the flag bearer, winning eight races and more than $100,000 in stakes. PHOTO: Dan Costello.Since Lincoln Farms sent its first pair of horses, Trojan Banner and Lincolns Girl, to Barnes at Marburg in February 2019, he has won 40 races and A$287,769 in stakes.
But it's not just the race winnings that have made the operation so successful, hundreds of thousands of dollars more have been reaped with Trojan Banner, Lincolns Girl, Vasari and Billy Lincoln sold to the United States and others locally.
"Between the prizemoney and the sales it's a good amount in two years and shows it's been a successful business model. Hopefully it will be the start of a new wave of horses."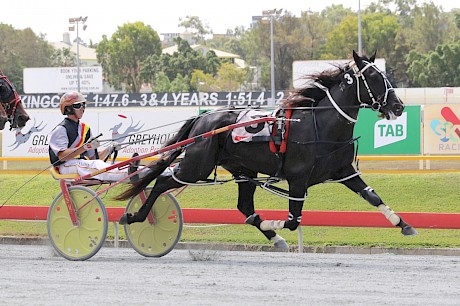 Trojan Banner … won seven straight before a high priced sale to the States. PHOTO: Dan Costello.Barnes' list of winners is headed by the now seven-year-old Northview Hustler, who has won eight races and A$103,493 since arriving in May, 2019.
But undoubtedly one of the most exciting for Barnes and his sons Hayden and Brendan was Trojan Banner who was outmuscled in New Zealand, winning just three of his 18 starts, but won seven straight in Queensland before a high priced sale to America.
Just two of the 13 horses he has taken under his wing have not won races and they left New Zealand with little to no expectations.
Improver
Bondi Shake slots into the improvers' category, having notched two wins, five seconds and three fourths from 12 starts, a consistent record which Barnes expects to improve rapidly.
"He's going really well and hasn't had much luck. This looks a good race for him, it's not overly strong."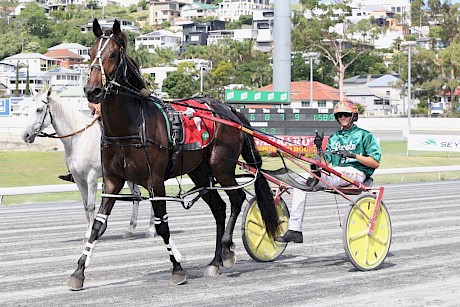 Bondi Shake … improving all the time. PHOTO: Dan Costello.Bondi Shake has drawn one on the second row but Barnes says that will suit the horse who had to cover plenty of extra ground at his last start after drawing widest on the gate and dropping to the rear.
Three wide for the last 800 metres and forced five wide turning for home Bondi Shake still rattled off the fastest last 800 and 400 in the race of 56.02 and 28.22.
His determined home stretch bid carried him within 7.2 metres of the winner Blue Shard and he was just one metre away from second.
"I rate him a top two chance on Tuesday. The one (Coppice) should lead and he'll sit in the trail or three fence at worst and be in the money.
"It's just a matter of whether he can wind up fast enough from behind the leader. He doesn't ping."

Bondi Shake races at 7.03pm NZ time at Albion Park on Tuesday.
Our runners this week:
How our trainers rate them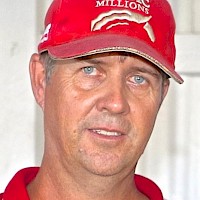 Al's comments
Tuesday at Albion Park
Race 7: Bondi Shake
7.03pm NZ time
"He's going really well and hasn't had much luck. This looks a good race for him, it's not overly strong. I rate him a top two chance. It's just a matter of whether he can wind up fast enough from behind the leader."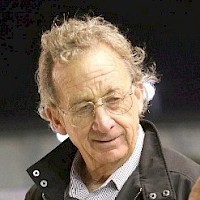 Ray's comments
Friday night at Auckland
Race 2: Captain Nemo
6.45pm
"He's not quite up to the best in there but he's honest enough. He'll go round and get a cheque."
Race 2: American Dealer
6.45pm
"He'll go a good race but it will improve him a lot. David was really happy with him at the workouts and didn't press him too hard. While he'll be better for the run it wouldn't surprise me in the slightest if he won."
Race 4: Smokinhotcheddar
7.45pm
"I thought her run for fifth last time was super. I've taken her off the unruly and she's drawn one. If she doesn't stuff the start, she'll be right in it."
Race 7: Tartan Robyn
9.09pm
"His first run for us was a beaut. He had a bad trip, parked most of the way, and still ran on. If he led, he'd be hard to beat."
Race 8: Copy That
9.34pm
"He was deadly at the trials and Maurice said he couldn't get over how easily he did it. It's hard to imagine them beating him fair and square. He'd have to be exceedingly unlucky or do something stupid."
Race 9: Argyle
9.59pm
"He needs the experience and a run under his belt before the Young Guns Final. I expect David will go back from seven and come into it late. I'm not holding my breath that he can win."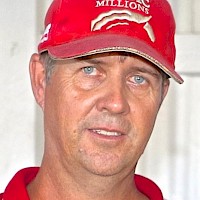 Al's comments
Saturday night at Albion Park
Race 5: Larry Lincoln
10.47pm NZ time
"Larry deserves to be favourite and he's got enough respect to lead and win. There are some capable horses in the race but over a mile Larry will be very hard to beat from in front."
Race 10: Bondi Shake
1.20am NZ time
"He's very bright after his win on Tuesday and will run a cheeky race. This is stronger but he's up to them. Dance In The Sun looks the winner but I'm very confident he can run top three because he chases really well."